Strangers have called them monsters, trolled them on social media and said their living children should be taken away. Their darkest moments are judged and politicized by figures who know nothing about them. They feel like involuntary pawns in an ugly, vicious game they didn't ask to play.
Women who've had abortions later in their pregnancies are "bonded in a sisterhood through a club nobody ever wanted to be a part of," one woman said.
She was one of half a dozen women who shared their stories with CNN earlier this year. They chose to speak up after President Donald Trump called on Congress to pass legislation that would ban "late-term abortion," a phrase derided by ob-gyns.
We heard from women whose lives depended on terminating their pregnancies and others who learned that the babies they desperately wanted would not survive – or would suffer if they did. Some of them had signed onto an online open letter, titled "We are later abortion patients," to give themselves and others voice.
We also talked to young women who felt desperate, alone, terrified and misled. One had been told she could not get pregnant because of various health conditions, including missed periods. Then, when she did, she unwittingly visited a faith-based pregnancy center, hoping to get an abortion. They told her she wasn't as far along as she was, which made getting an abortion elsewhere more complicated.
A normal pregnancy lasts about 40 weeks. About two thirds of abortions happen at or before eight weeks, and almost all – more than 91% – occur before 13 weeks, the US Centers for Disease Control and Prevention reports. Another 8% happen at or before 20 weeks.
According to the professional organization American College of Obstetricians and Gynecologists, abortions after 21 weeks account for "slightly more than 1 percent of all abortions that occur in the United States." Abortions later in the second trimester are "very rare," and abortions in the third trimester are "rarer still."
Because many states impose gestational age limits for abortion and deny insurance coverage for the termination of pregnancy, women who get abortions later in their pregnancies have few options. They often need to travel, adding to the cost of what can be a prohibitively expensive procedure.
One woman said she feels punished – yet again – for the loss of her son each time she makes the monthly loan payment on the thousands of dollars she borrowed to abort him. It was a decision she felt she had no choice but to make; the boy in her belly was missing multiple organs and never would have survived.
Some women insist on being named, refusing to hide. Others want to use first names only or pseudonyms, fearing backlash at a time when people seem quicker to hate than listen.
But by sharing their stories, these women – some mentioned above, others highlighted below – hope they can humanize a subject that's hotly debated and, they say, gravely misunderstood.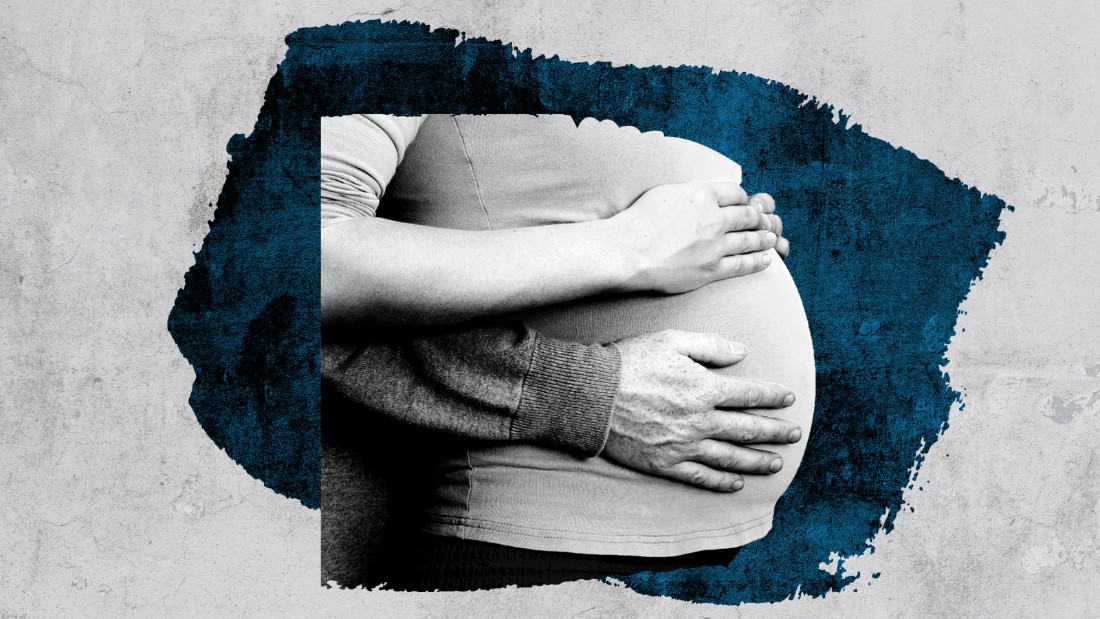 photo-illustration: shutterstock/cnn
She had to choose how her daughter would die
When people ask how many kids she has, Dana Weinstein tells them she has three living children. That's because the daughter she lost 9½ years ago remains part of her.
She was happily married, the mother of a 2-year-old boy and thrilled to be pregnant again. She read stories and wrote a journal to the baby, and she relished when her son rolled his toy cars over her growing belly. Because she was over 35 and in "advanced maternal age," she said, her care included additional sonograms later in her pregnancy.
When she and her husband went in for one at 29 weeks, they were told that the ventricles, or network of cavities, in their baby's brain were larger than normal, she said. The doctor and technician said they weren't "outrageously larger," Weinstein remembered, so she didn't worry. They could deal with whatever this was, she and her husband reasoned. Plus, everything else about their baby was perfect.
Still, she was sent to the Children's National in Washington for further testing. Weinstein, who lives in Rockville, Maryland, was at 31 weeks, well into her third trimester, when they got an appointment. Then came the gut punch.
There are hard-to-spell words for the brain abnormalities their baby had: agenesis of the corpus callosum and polymicrogyria. In simpler terms, as Weinstein described it, a special MRI showed that the baby didn't have the part of the brain that connects the right and left hemispheres. And where a healthy brain "looks like a cauliflower," she said, their baby's brain had concave areas and "pockets of empty."
"What does this mean? What does this mean?" she kept asking, before they were whisked off to specialists who could explain.
Doctors expected their baby would not be able to suck or swallow, Weinstein recalled. They said she most likely would suffer from uncontrollable seizures upon birth and, because of that, a resuscitation order would be necessary. For as long as she lived, doctors predicted, their baby would require medical intervention.
And, as Weinstein understood it, she'd have no mental capacity to dream, love or enjoy life.
Her questions came fast. Couldn't rehab help? What if they took stem cells from her son's umbilical cord blood that she'd banked? Maybe they could regrow what her daughter needed?
Their baby's brain was destined to be this way from the start, experts said. It could not have been detected earlier and would not improve. They never could have seen it coming. The multiple doctors she surveyed, searching for hope, told her the same.
"It's just a fluke," Weinstein said. "Basically, anyone who could get pregnant could be that fluke."
They heard what a resuscitation order would entail. They listened to what an existence, short-lived or otherwise, would look like. They were briefed on hospice care.
At first, no one talked about the possibility of abortion this late in her pregnancy. Weinstein believes this was in part because the doctor to whom the hospital had referred rare patients like her in the past, Dr. George Tiller of Wichita, Kansas, had been murdered by an anti-abortion extremist weeks earlier.
She could carry the baby for six more weeks and deliver it, she was told. But that extended the nightmare she was living in, she said, one in which they had to choose how their daughter would die. She worried about what their choice would do to their son, their family, their marriage.
The endless kicks in Weinstein's belly, the persistent movements that had given her so much joy, became unbearable. She feared that the baby was simply seizing and, worse yet, might be suffering. She fell apart and couldn't sleep. While she had proudly worn cute maternity clothes to show off her bump, she now hid in her husband's clothes. She dreaded the well-meaning question from strangers – "When are you due?" – and refused to leave the house.
"That agony of every moment till I could end her pain was just awful," Weinstein said. Together with her husband, they decided to get an abortion. For this baby they loved, she said, it felt like the "more peaceful path for her passing."