(CNN Business) —
This is what it looks like when a drug store chain and a health insurer merge.
In November, CVS completed its $69 billion acquisition of Aetna, the largest health care deal in history. Now, CVS is piloting three "HealthHub" stores in Houston with a suite of health care services that could be the drug store of the future.
The new HealthHubs fit into CVS (CVS) CEO Larry Merlo's ambitious plan to turn his company's 9,800 stores into a "health care destination." CVS (CVS) wants to arm its sprawling network of stores with a range of health services to protect against competition from Amazon (AMZN) and a wave of mergers in the industry.
"The service component will be an element that is hard to replicate online," Merlo said at a conference last year.
CVS already has 1,100 walk-in MinuteClinics that offer basic care for strep throat or an ear infection. But its HealthHub stores are much better equipped to deal with patients with chronic conditions, such as diabetes and respiratory illnesses. The revamped stores, with on-site dieticians, nurse practitioners, lab services, and medical supplies on the shelves, signal that CVS wants to move its stores beyond aisles of snack food and toothpaste.
"Do you need to have half a row for greeting cards? Probably not. And how many different types of shampoo do you need?" said Lisa Gill, health care analyst at JP Morgan.
Houston stores replace weaker-performing sections like greeting cards with 20% more floor space dedicated to health products, such as those for asthma and sleep apnea and iPads that explore health and wellness apps.
"This is a natural evolution since they recently bought Aetna," said Ross Muken, analyst at Evercore ISI. CVS wants to present a "holistic approach to health care," he added.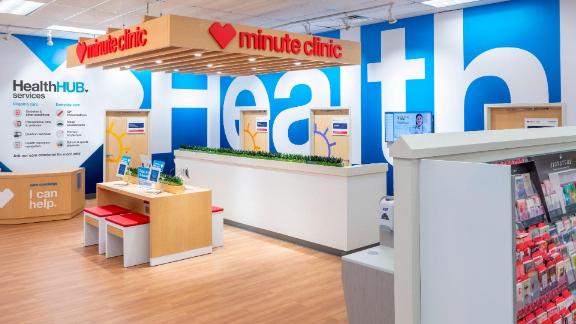 CVS
Spiraling health care costs
CVS starts off with a big advantage. It has been pushing into health care for years: it bought pharmacy benefits manager Caremark more than a decade ago. In 2014, it bought Omnicare to expand its business among patients with chronic conditions and stopped selling tobacco.
It's the largest pharmacy chain in the country, and nearly 70% of the US population lives within three miles of a CVS store.
The company's 30,000-plus health care professionals also make its HealthHub strategy credible with consumers: "In the health care system, one of the most trusted advisers is the pharmacist," Gill said.
CVS bought Aetna to create a gigantic customer base: It collects health care premiums from around 39 million Americans. The company believes the acquisition will help it lower costs and increase profit from those plans.
But these stores will face competition from urgent-care clinics that are popping up across the country, as well as retailers like Walmart that are also making a play in health care.