If you feel your understanding of "Xi Jinping Thought on Socialism With Chinese Characteristics for the New Era" is a bit rusty, you're in luck.
A new Chinese Communist Party app is helping users catch up with the ruling party's latest propaganda and ideology with the ease of a swipe on their smartphones.
On Tuesday it became the most downloaded free app in Apple's app store in China, where it is billed as an "authoritative, accurate, rich and new education resource."
The Chinese-language app was launched on January 1 by Wang Huning, one of the country's most powerful politicians and a longtime architect of the Communist Party's ideology.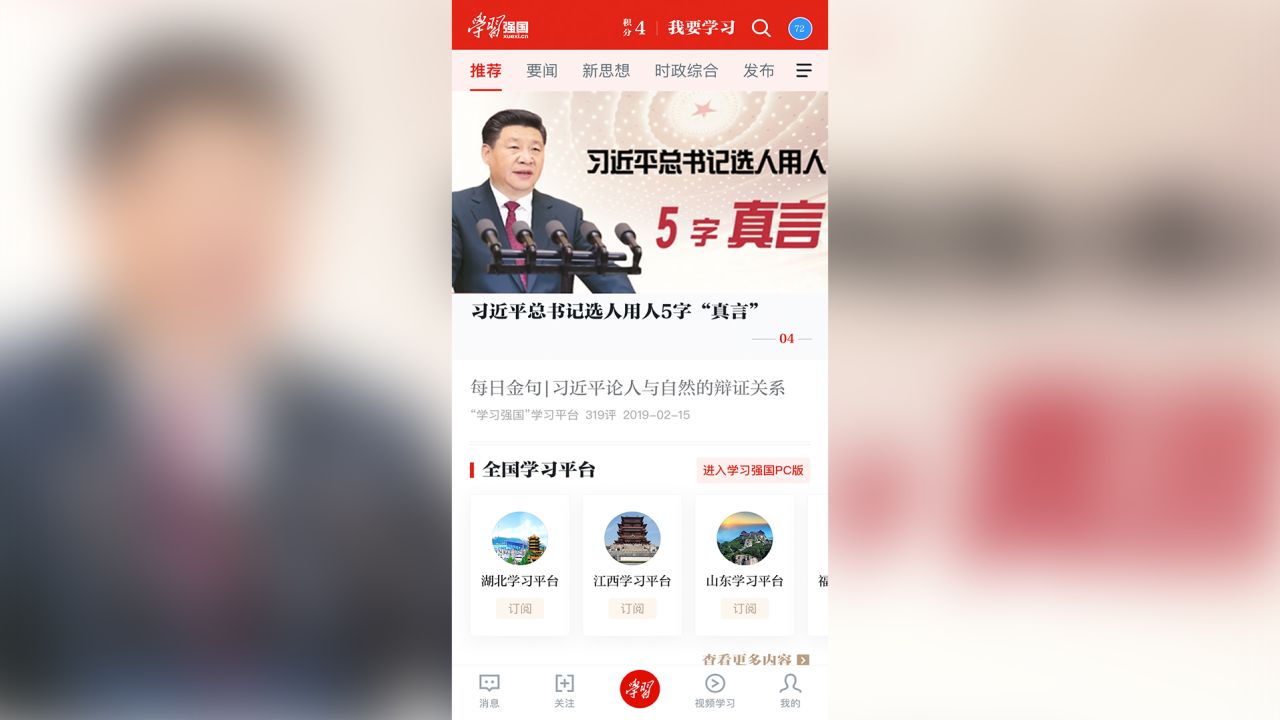 The app is named Xuexi Qiangguo, which translates as Study Powerful Country, and has its own website, xuexi.cn.
The name is also a pun on the Chinese word to study – xuexi – which shares a character in common with President Xi Jinping's last name.
In fact, the app could also be translated as Study Xi, an appropriate title given the Chinese leader's iron grip over the country and its government.
If you want to use the app, you have to give it your phone number and subsequently your real name. You can also add facial recognition.
Once you've joined, you can read Chinese state media news, read Xi's latest theories and watch videos.
Users can even quiz themselves on major Communist Party ideology, such as the decisions of the 19th Party Congress in early 2018.
You gain "study points" for logging in, browsing, succeeding on quizzes and sharing information, which you can compare with other users.
But some online posts have alleged government employees were being forced to raise a certain number of points every day to keep their jobs.
It has reportedly been downloaded millions of times by people across the country.
The app's popularity may have something to with the fact it is a compulsory download for Communist Party members, according to a Hunan province notice released on January 18.
Dozens of notices have been issued to party members across the country mandating they download the app. The ruling party has almost 90 million members across China.
The Hunan notice said non-party members should be "encouraged" to use it and that promotion of the app was a mandatory "ideological task" for party secretaries across the country.
Since January, Xi has stressed the importance of better "communication" by the Communist Party and its propaganda organizations.
At a meeting of the country's powerful Politburo decision making body on January 25, the Chinese leader said that the Communist Party needed to better shape public opinion.
"The work of news and public opinion is facing new challenges as profound changes have taken place in the ecology of public opinion, the media landscape and the means of communication," state-run media quoted Xi as saying.