(CNN Business) —
Apple's iPhone business is in decline – and there appears to be no end in sight.
Apple (AAPL) said Tuesday that iPhone revenue for the all-important holiday quarter fell 15% from the same period a year ago, a steep drop for a product line whose sales growth defied gravity for years.
The shrinking iPhone sales led to Apple's first holiday quarter revenue decline since 2000. Apple posted revenue of $84.3 billion for the quarter, slightly better than it had warned investors to expect earlier this month. But it nonetheless represented a 5% decline from the same quarter a year ago.
On a conference call with analysts Tuesday about the earnings report, Apple CEO Tim Cook chalked up the iPhone sales decline to a mix of factors, including foreign exchange rates, a popular battery replacement program and the decrease in carrier smartphone subsidies.
Cook also noted "more severe" macroeconomic conditions in China, once one of Apple's most promising new markets, reiterating a point made in the stark warning to investors this month.
Apple's sales in China fell considerably. It reported revenue in the region of $13.17 billion, down from $17.95 billion in the same period a year ago.
Worse still: Apple doesn't see the iPhone sales situation improving much just yet.
Luca Maestri, Apple's CFO, told analysts on the call that the company expects some of the factors highlighted by Cook to continue "affecting iPhone performance" in the upcoming quarter.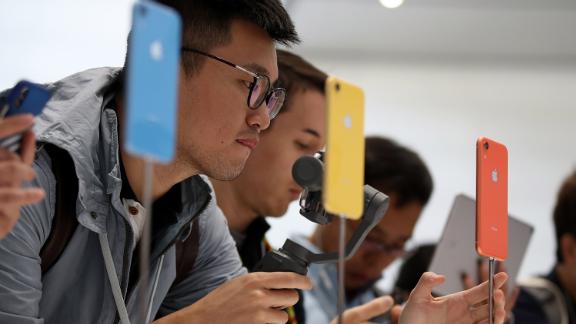 Justin Sullivan/Getty Images
Cook also admitted that the iPhone product line faces what some might argue is a more existential and long lasting problem than economic conditions in any particular country: people are taking longer to buy new phones.
"The upgrade cycle has extended," Cook said. "There's no doubt about that."
Apple said it expected sales to come in between $55 billion and $59 billion this quarter, below analysts' median estimate of $59 billion, according to a survey of Apple analysts conducted by Refinitiv.
"We will grow revenue nicely from the rest of the business," Maestri noted.