Story highlights
Rugby has surged in popularity in Georgia
Lelos 'want to be spoken about' at World Cup
Editor's Note: This article was originally published on January 21, 2019.
You need only look to Graham Rowntree's ears – gnarled and swollen from his days as a front row forward – to see how the game of rugby has weathered him.
In rugby terms, the 47-year-old is a "been there, done that" sort of man. As a player and a coach, his storied career has taken him to four World Cups with England and five tours with the British and Irish Lions.
His 17-year playing career saw him win 54 caps for England and play 398 times for Leicester Tigers – quite a feat in the modern era.
You'd think, then, that when it comes to rugby, few things would surprise Rowntree. But his latest career move to Georgia as a forwards coach has proved otherwise.
Georgia has a reputation for rearing some of the biggest, brawniest forwards the game has to offer, but even Rowntree was taken aback by what he observed in strength and conditioning sessions.
"I'll be sat on a bike in the corner and I can't believe how much weight they can lift. I've never seen anything like it," the Englishman tells CNN.
"Some of the weights! Their DNA must be incredible. I honestly can't believe how strong they are across the squad."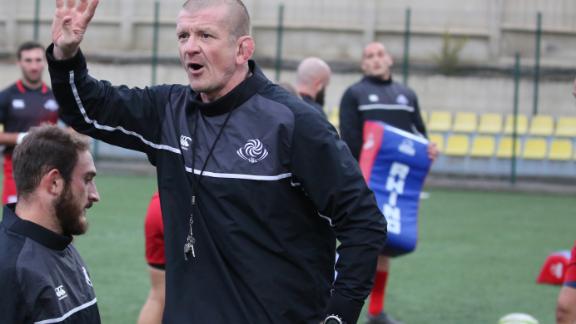 Georgia Rugby Union
Visit CNN.com/sport for more news, features and videos
As a front row forward, Rowntree never scrummaged against a Georgian pack ("thank God I didn't," he laughs), but he has long been aware of The Lelos' firepower upfront.
It was this reputation that first drew him to the job back in September last year, with an eye to bolstering Georgia ahead of the 2019 World Cup.
"I'll be honest with you, when I first met [prop] Davit Kubriashvili in October, it was a bit embarrassing really because I've always been an admirer of him playing in France," says Rowntree.
"I felt like a small child shaking his hand when I met him in October. To work with him was special. But the set piece, the scrum and the maul, I've been a fan of how Georgia operate."
READ: 'No way I would've dreamed of being Springbok captain,' says Siya Kolisi
'Proud, hardworking people'
In his first few months, Rowntree has seen The Lelos – the national team's nickname derived from lelo burti, a traditional Georgian game similar to rugby – record wins over Samoa and Tonga, but lose to Italy in Florence.
Based out of Tbilisi during international windows, he spends intervening periods in France traveling between the clubs where Georgian players are based.
Rowntree's taken to life in Georgia quickly, both as a rugby coach and a tourist.
"I love it. It suits me perfectly," he says. "It's a cracking country. I've only been to Tbilisi, but as a city it's got a nice blend of new and old, modern and old architecture.
"The people are very warm, there are some unbelievable restaurants and wines – believe me, I've tried to taste them all.
"It's not what you'd imagine as a former Russian country, it's beautiful. The people themselves are just so warm, but very proud, hardworking people."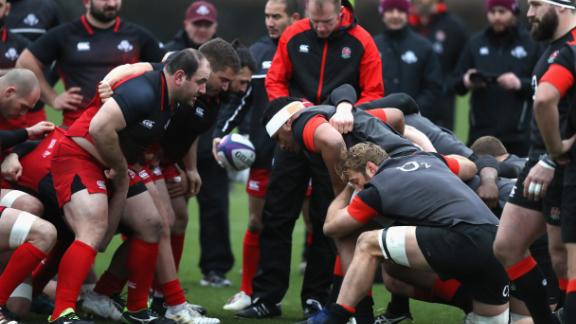 David Rogers/Getty Images Europe/Getty Images
Rugby is still something of a young sport in Georgia, but its recent growth has been impressive.
The Lelos have quickly outgrown some of their traditional competitors, winning eight of the last nine Rugby Europe Championship titles against the likes of Germany, Russia, Spain, and Belgium, with Romania providing the stiffest opposition.
READ: In a world of organized sport, Fiji bucks the trend
Milton Haig has been the country's head coach since 2012. He has long been vocal about welcoming Georgia into the Six Nations with Europe's so-called tier one sides, but while the door there remains firmly shut for now, the New Zealander is confident that the tournament might expand or incorporate promotion and relegation after 2021.
"It's nice to have one tier one per year," Haig tells CNN. "But really does that help us progress?
"Because you play one game, then you don't really get an opportunity to review that and go back in and play the same type of team the following week to see if your performance has improved.
"There's no disrespect to the other tier twos that we play because they're obviously competitive matches, but we kind of think that for us to take the next step definitely we need more tier one games."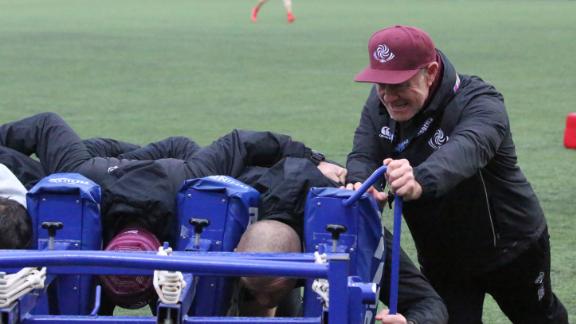 Georgia Rugby Union
World Cup 'chaos'
Georgia has businessman Bidzina Ivanishvilli to thank for its rugby boom – a former Prime Minister and, according to Forbes, the country's richest man with an estimated value of $4.6 billion.
His passion for rugby has seen investment in the sport, allowing a country that reportedly used to conduct scrum practice by pushing Soviet-era tractors to develop its infrastructure at an elite and grassroots level.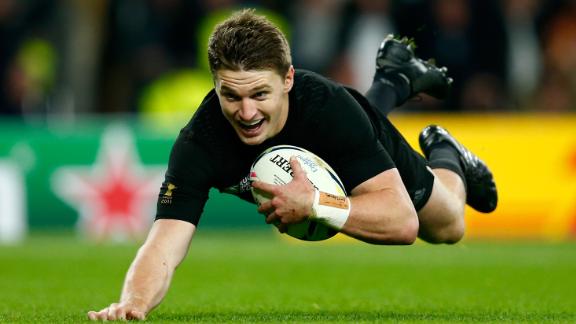 Photos: The Rugby World Cup -- a history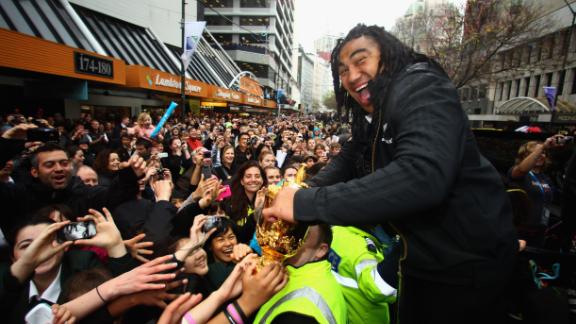 Photos: The Rugby World Cup -- a history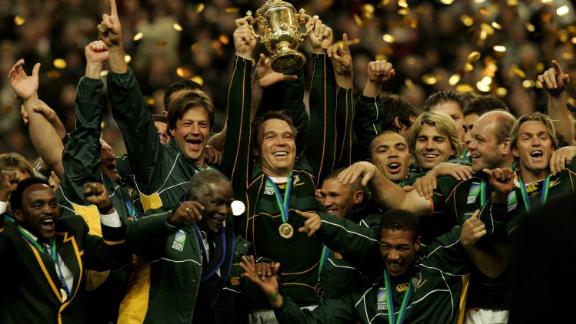 Photos: The Rugby World Cup -- a history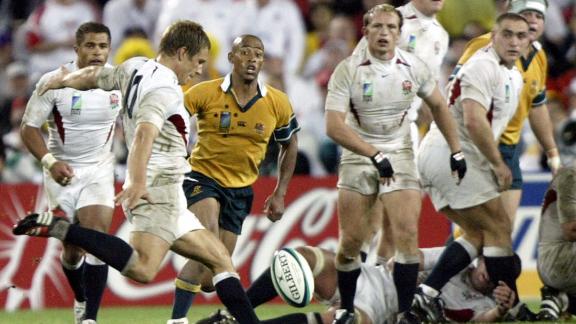 Photos: The Rugby World Cup -- a history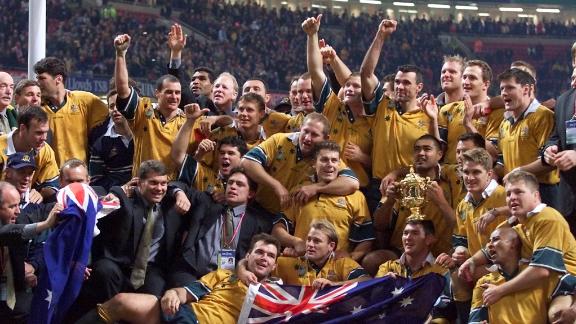 Photos: The Rugby World Cup -- a history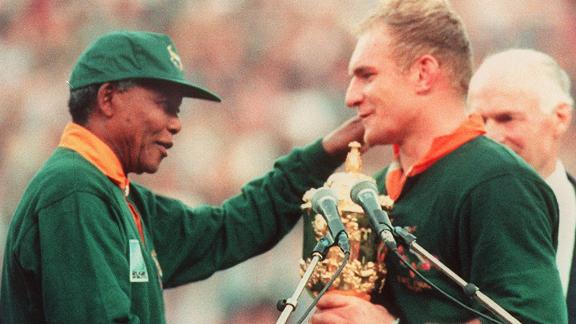 Photos: The Rugby World Cup -- a history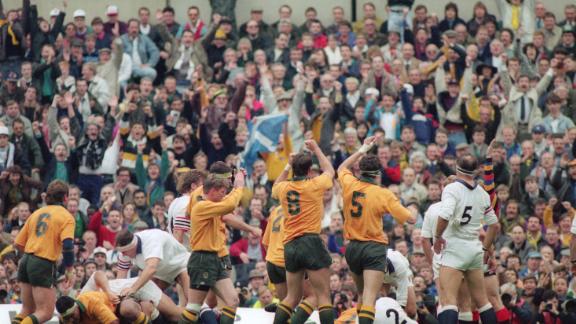 Photos: The Rugby World Cup -- a history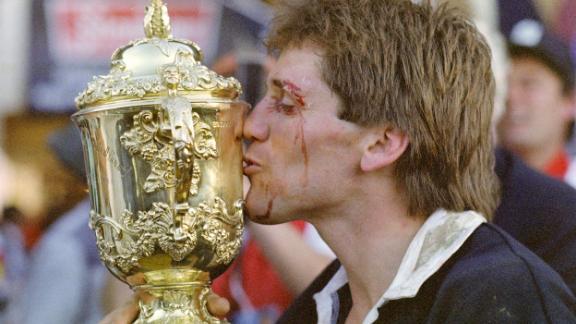 Photos: The Rugby World Cup -- a history
It was the 2015 World Cup that Haig says gave rugby another lift in Georgia as The Lelos secured their spot at the 2019 tournament after victories against Tonga and Namibia.
READ: How rugby players prepare for retirement
"You're always able to walk down the street and one or two people would recognize you and ask you for a photo, but certainly after 2015 players and myself were walking round the streets and it was just chaos," says Haig. "It was quite palpable.
"It was interesting because we played New Zealand at the last World Cup. What [Georgian fans] couldn't understand was that New Zealand was just a small country of the same population. So we should be able to beat them, without the real understanding that New Zealand were the current world champions and the number one team in the world.
"That's just part of our role to educate people and introduce the game properly."
'I want to scare people'
Georgia will negotiate a pool with Australia, Wales, Fiji, and Uruguay at this year's World Cup in Japan, which is where Rowntree, part of the England set-up that crashed out of the competition on home soil at the group stages in 2015, can bring his wealth of experience.
"What I have learnt is that World Cups are about pressure," he says. "I've been there with England myself. The tier one nations are under incredible pressure at World Cups when they play against the likes of Georgia. The pressure's on them, and that's a real strength that we have to play to.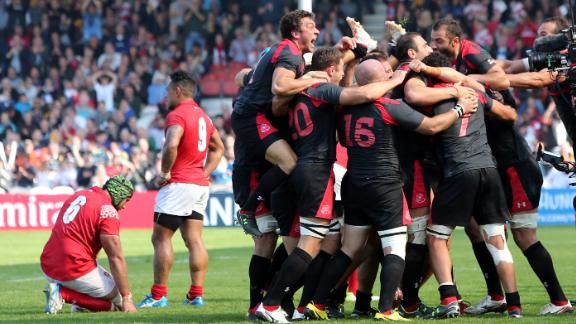 David Jones/Getty Images Europe/Getty Images
"I learnt a lot [in 2015]. You learn a lot about yourself and team dynamics under pressure like that … I'm hardened from it. I'll be passing on every ounce of my knowledge, learnings and energy to the Georgians. I want us to be spoken about at this World Cup. I want to scare people."