The 2020 Democratic presidential primary field is down to one. Sen. Bernie Sanders has ended his presidential campaign, leaving only former Vice President Joe Biden remaining from the once-crowded pack.
Here's an updated look at all the candidates who were once in the race.
For the latest 2020 election news, check out CNN's full coverage.
Announced campaigns
AGE: 77
STATE: Delaware
KNOWN FOR: Biden's long-anticipated announcement marks his third presidential campaign after he passed on a 2016 run. His name recognition, decades of experience and ties to former President Barack Obama are seen as his greatest assets. But his track record on – and public response to – making some women uncomfortable with his behavior could be an obstacle to gaining modern voters, some of whom may also think that the party needs new, more diverse representation.
Bernie Sanders announces 2020 presidential run
Dropped out
AGE: 55
STATE: Colorado (Dropped out February 11, 2020)
KNOWN FOR: Bennet, the former superintendent of Denver Public Schools, was forced to hold off on entering the race following a diagnosis and subsequent treatment of prostate cancer in April. Having served in the Senate since 2009, Bennet pitched himself in pre-campaign appearances and speeches as a pragmatic lawmaker who has a progressive voting record. Bennet's candidacy sputtered from the outset, with the Colorado senator failing to qualify for the majority of Democratic debates or to gain traction among voters in key states.
Sen. Michael Bennet jumps in 2020 presidential race
AGE: 77
STATE: New York (Dropped out on March 4, 2020)
KNOWN FOR: The former New York mayor entered the race in late November as a moderate alternative to Biden, highlighting his extensive experience as NYC's mayor and the campaign funds he put toward key Democratic issues such as the climate crisis and gun control in past elections. His campaign briefly gained traction amid Biden's early struggles, but he faltered after widely criticized debate performances and questions over his past support for stop-and-frisk policing practices. He dropped out after he only won the American Samoa in the critical Super Tuesday contests.
Michael Bloomberg: From entrepreneur to politician
AGE: 50
STATE: New Jersey (Dropped out January 13, 2020)
KNOWN FOR: Booker, who gained national recognition during his tenure as Newark's mayor before being elected to the US Senate, ran for president aiming to restore a sense of community and mend the moral fabric of America. But his fundraising paled in comparison to that of the top-tier Democratic candidates, limiting his capacity to expand his campaign team and advertise on television.
AGE: 53
STATE: Montana (Dropped out December 2, 2019)
KNOWN FOR: Bullock, who served as Montana's attorney general before being elected governor in 2012, failed to convince the party's base that the best way to defeat Trump was by nominating someone who can win in a red state. Bullock, who is term-limited as governor, will not take on Republican Sen. Steve Daines in 2020, his spokeswoman said.
Montana Governor Steve Bullock announces 2020 run
AGE: 38
STATE: Indiana
KNOWN FOR: Known locally in South Bend, Indiana, as "Mayor Pete," Buttigieg served as a naval officer in Afghanistan. Buttigieg's run was historic. He is the first openly gay man to launch a competitive campaign for president, and he broke barriers by becoming the first gay candidate to earn primary delegates for a major party's presidential nomination. He ended his campaign on March 1, 2020 after his performances in Nevada and South Carolina, two states where Buttigieg finished significantly behind the race's front-runners.
AGE: 45
STATE: Texas (Dropped out January 2, 2019)
KNOWN FOR: The son of a Chicana activist, Castro served as mayor of San Antonio in 2009 and served as secretary of Housing and Urban Development in the Obama administration. The only Latino in the 2020 field, Castro ran an unabashedly progressive campaign over the last year, staking out left positions on issues like immigration, housing and policing. But the former secretary failed to gain traction in the large field of Democratic candidates and struggled to raise enough money to stay solvent.
Julián Castro could be the only Hispanic 2020 candidate
AGE: 58
STATE: New York (dropped out September 20, 2019)
KNOWN FOR: The two-term New York mayor has enjoyed success on several largely progressive issues such as universal pre-K, raising the minimum wage and a low murder rate during his tenure. But he failed to resonate in the polls and was criticized for neglecting his duties as mayor to run for president, most notably during a brief blackout in Manhattan in July which happened when he was campaigning in Iowa.
AGE: 56
STATE: Maryland (dropped out January 31, 2020)
KNOWN FOR: A self-made businessman, Delaney at one point was the youngest CEO on the New York Stock Exchange. Delaney was the first candidate to officially enter the race when he declared his candidacy in July 2017, but he failed to gain name recognition and make his moderate message break through.
Rep. Tulsi Gabbard
AGE: 38
STATE: Hawaii (dropped out March 19, 2020)
KNOWN FOR: Gabbard ended her campaign in March. She is the first American Samoan and the first Hindu member of Congress and brought her experience as an Iraq War veteran to the House Armed Services Committee. But she was not able to overcome obstacles both old and new, including internal campaign turmoil and her controversial secret meeting with Syrian President Bashar al-Assad in 2017.
AGE: 53
STATE: New York (dropped out August 28, 2019)
KNOWN FOR: Gillibrand, who centered her campaign on women's equality, ended her White House bid in late August as she was on the cusp of failing to qualify for the third Democratic primary debate. Her campaign saw her embrace increasingly progressive stances on immigration and gun control that ran counter to positions she had held when running for the House. Despite Gillibrand's high profile position, she failed to break out from the crowded primary field, with her campaign polling under 1% nationally when she exited the race.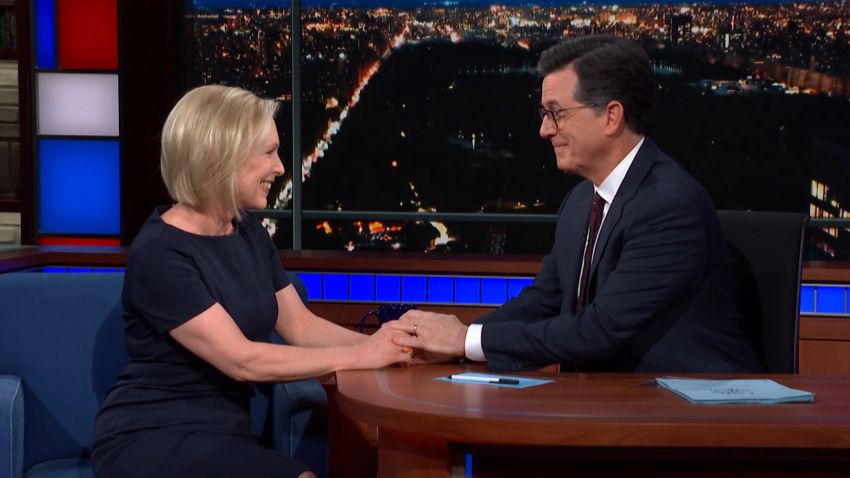 Sen. Kirsten Gillibrand joins race for president
AGE: 55
STATE: California (dropped out December 3, 2019)
KNOWN FOR: Harris, a former California state attorney general and the daughter of Jamaican and Indian immigrants, held progressive stances supporting "Medicare for All" and marijuana legalization. The senator, who struggled to energize her campaign in recent months, acknowledged that she was forced to unexpectedly drop out because of money. "I'm not a billionaire. I can't fund my own campaign. And as the campaign has gone on, it's become harder and harder to raise the money we need to compete," she said.
A look at Sen. Kamala Harris' political career
AGE: 67
STATE: Colorado (dropped out August 15, 2019)
KNOWN FOR: As the head of Colorado from 2011 to 2019, Hickenlooper helped steer the state through several tragedies, including the 2012 shooting in a movie theater in Aurora that left 12 people dead and catastrophic wildfires and floods in 2013. Hickenlooper, who framed his candidacy around stemming the leftward lurch of the Democratic Party, dropped out in mid-August and launched his Senate campaign.
Who is John Hickenlooper?
AGE: 68
STATE: Washington (dropped out August 21, 2019)
KNOWN FOR: Inslee, who has held elected office for much of the last three decades, has been an outspoken progressive executive since he became governor in 2013. He has been a vocal opponent of President Donald Trump, including suing the President after he tried to ban immigration from several Muslim-majority countries. Inslee dropped out as it appeared he wouldn't make the stage for the third round of debates. A day after he exited the 2020 race, Inslee announced he would seek a third term as Washington's governor.