Sudan's President Omar al-Bashir blamed infiltrators for the recent deaths of anti-government protesters a speech Sunday while vowing to respect the will of the people in the 2020 elections.
The speech marked a month since the protests against Bashir's government began on December 19.
The President said his forces had arrested men who confessed that they "were instructed to infiltrate the protests and kill the protesters in order to fuel the conflict, instigate sedition, and destroy the country."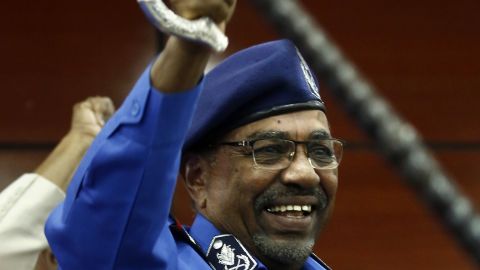 Demonstrations first began over fuel shortages and a hike in food prices but have now morphed into full-fledged protests calling for Bashir to step down. The authoritarian President has ruled Sudan with an iron grip for 30 years.
"The Sudanese people decide who rules them," he told hundreds of his supporters in the White Nile state. "This decision is made through the ballot boxes. 2020 is not far. We have a year until then. After a year, the Sudanese people will decide who will rule them."
Bashir added: "We stand by the choice of the Sudanese people. We respect people's choice. We gave power to citizens to choose their … MPs and their government … through free elections."
A doctor, a teenager and another man were killed Thursday in the ongoing anti-government protests, according to the Sudan Doctors' Union and activists.
The doctor, Abdel Hamid, died after being shot in the head "while resuscitating other protesters," according to the Sudan Doctors' Union and another protester on the scene who witnessed his death. The witness has asked CNN not to disclose her name for safety reasons.
The Sudanese government has confirmed the deaths of 24 people in the course of the protests, according to the UN statement, "but other credible reports suggest the death toll may be nearly twice as high." Many other people have been injured, the UN said.
On Friday, four human rights organizations voiced concern in a news release over the arrest of at least 816 people since January 7, citing the Sudanese Interior Ministry. The news release said those detained include protesters, doctors, journalists, lawyers and opposition party leaders.
In 2010 the International Criminal Court charged Bashir with crimes against humanity, including genocide, related to the Darfur conflict in Sudan.
Sudan is oil-rich but poverty is rife in the country, with many of Bashir's critics attributing its economic woes to widespread corruption.