There's no single reason why tens of thousands of teachers in Los Angeles have taken to the picket lines this week, emptying classrooms in the country's second-largest school district.
There are many reasons. And when you combine them – bloated class sizes, a lack of support staff and not enough resources for vulnerable students, to name a few – the picture for why teachers are striking becomes much clearer.
It mostly comes down to this: They are doing it because they say their students deserve better.
CNN reached out to dozens of LA teachers to hear their stories. Here's what they said.
They want smaller class sizes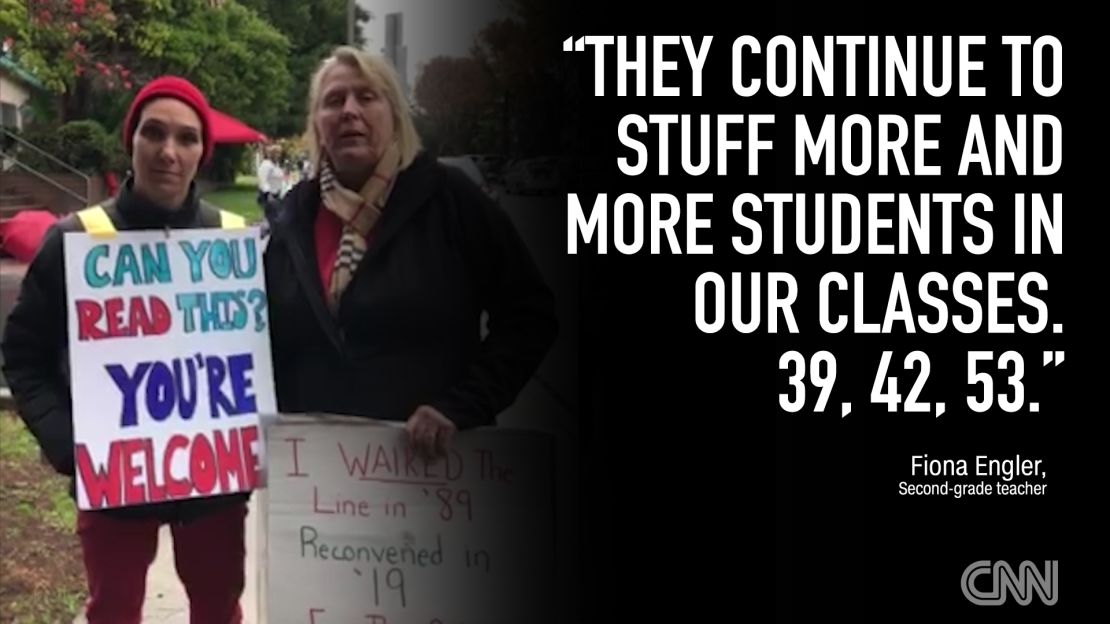 32, 39, 42. These are the numbers of students various teachers told CNN that they have in their classes.
The student-to-teacher ratio has suffered, and many teachers worry they aren't giving each student the time he or she deserves.
"I have classes of nearly 50 students in many periods," said Henry Slavens, an English teacher at John Marshall High School.
"I see the potential and creativity of these kids at my high school and I see the lack of resources to help them flourish. It is truly a tragedy," he said.
Fourth-grade teacher Wendy Mumolo of Cantara Street Elementary School has similar issues with mushrooming class sizes. She had 34 students in her class – 11 of them with special learning needs.
Some educators must teach a split, or students of more than one grade in the same classroom.
Shabraya Hays is one of them. She teaches a classroom of 10 fifth-graders and 24 fourth-graders at Cantara Street Elementary School.
"I have a split all to myself, all day long," she said. "I have no TA. No extra help. My school is completely understaffed."
There aren't enough nurses, counselors and librarians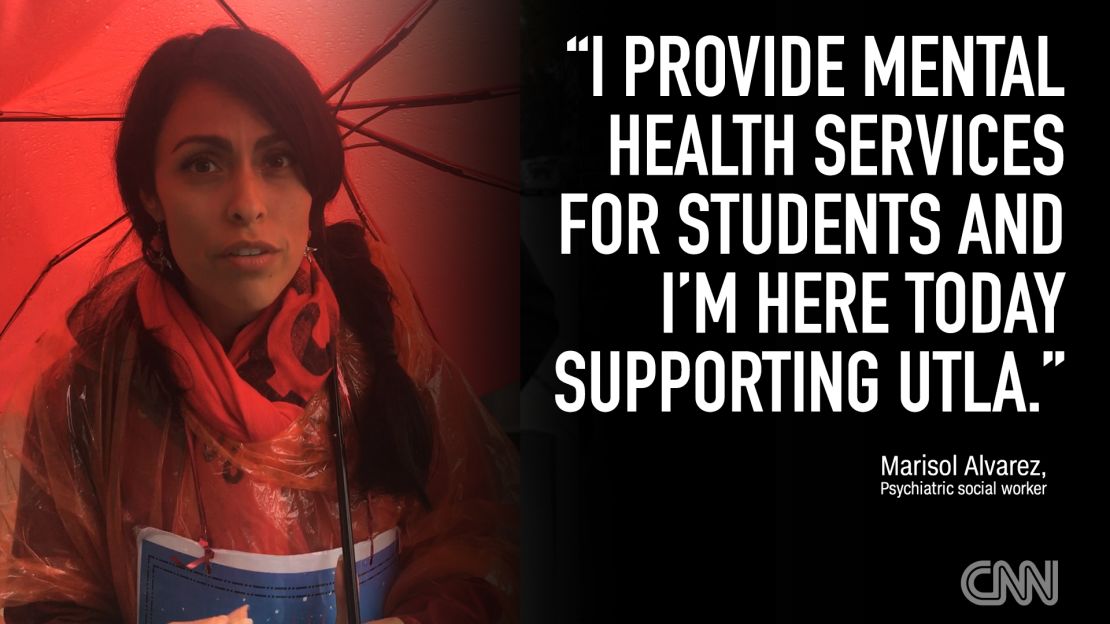 Numerous teachers CNN interviewed this week spoke of needing more support staff in their schools. This includes vital roles like nurses, counselors, psychologists and librarians.
Marisol Alvarez is an educator who falls into this category. She is a psychiatric social worker who works with high schoolers at the Academic Leadership Community in the Miguel Contreras Learning Center.
She provides mental health services for students and she needs more people in roles like hers, as well as nurses and counselors, she said.
Judith Barnett, a kindergarten teacher at Cantara Street Elementary School, spelled out why students need this.
"They deserve to have a nurse that will help them when they are ill," she said. "They deserve to have a counselor to help them with the emotional issues that they are dealing with so that they can focus on educating. They deserve to have a librarian so that they can actually go in and check out books on a daily basis instead of once every two weeks."
Special-needs students deserve more attention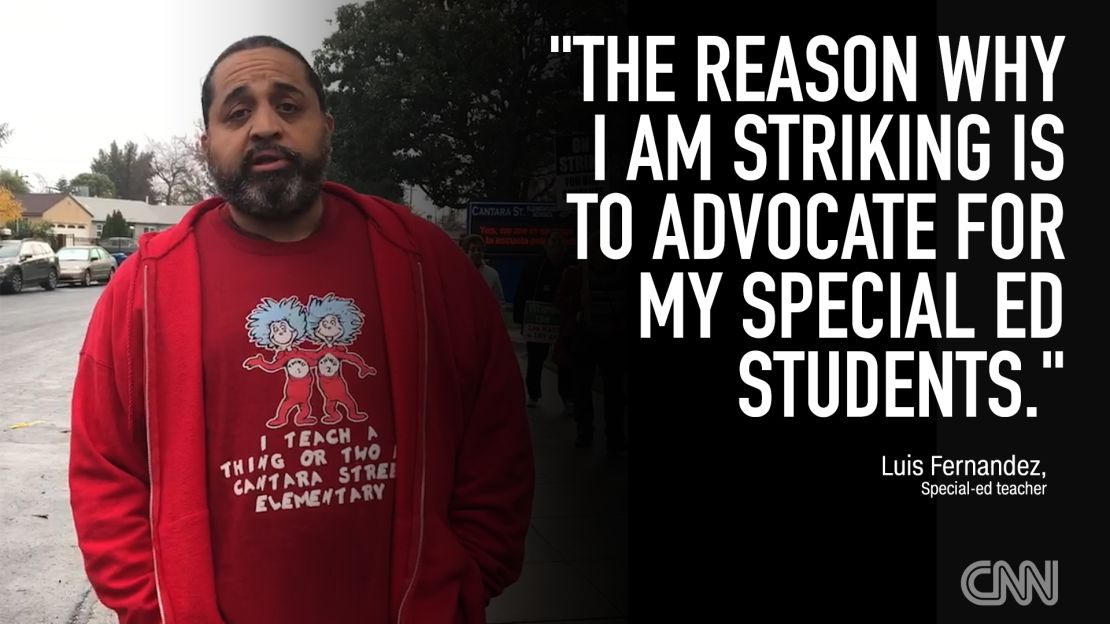 Luis Fernandez has been a special-ed teacher for more than 13 years and was a special-ed assistant before that. He is passionate about his students and he wants to make sure they get everything they need.
Although LA has a growing number of charter schools, traditional schools service a disproportionate number of students with special needs.
"The problem is that the charters pick and choose students. If they are going to be taking federal money, they should be servicing all students," said Fernandez, who teaches at Cantara Street Elementary School, which is part of the Los Angeles Unified School District.
Chantile Emerick is an inclusion specialist who works with high school students with special needs. She serves some students who were at charter schools but now attend her school, the Academic Leadership Community.
She is getting more special-ed students, but isn't getting any more resources to help them.
"We need to hold charter schools accountable for special education just like we are," she said. "We don't turn away any student, but it adds to our caseload."
They want the district to hire more teachers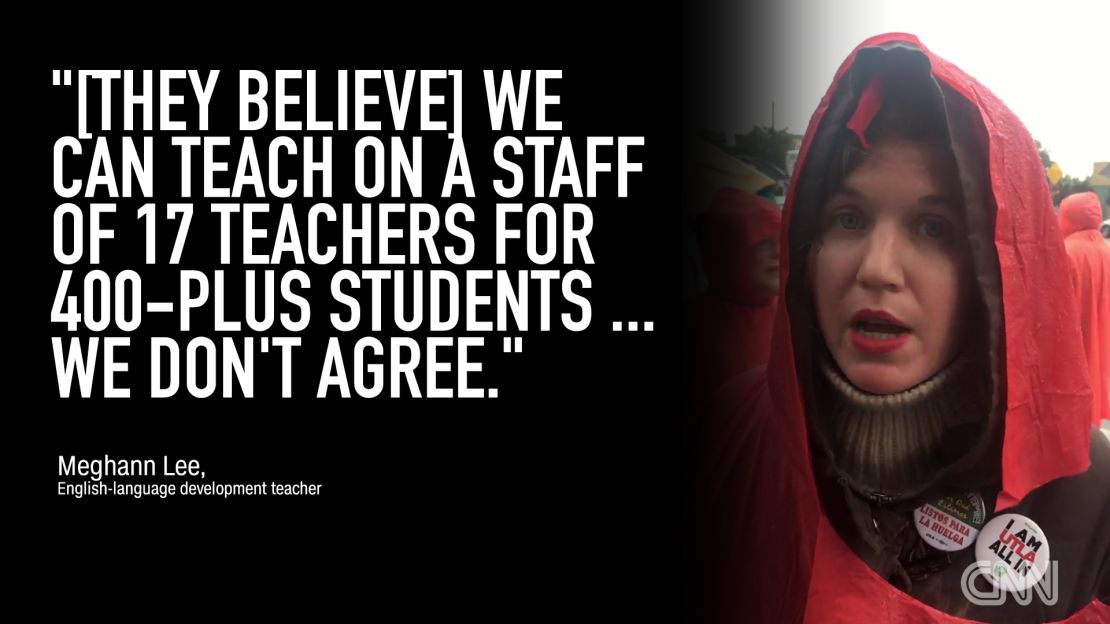 Teachers say they need more books, computers and other classroom materials to help them do their job. But students also need enough teachers to educate them.
Meghann Lee works with students who are newcomers to the United States, many of whom have been in the country for a just few weeks. She teaches English-language development at the Academic Leadership Community.
"The school district believes that we can teach on a staff of 17 teachers for the 400-plus students that we have at our school. We don't agree," she said. "We could use our funds that could go to computers, technology and books to purchase seven additional staff members."
Low-income students need more resources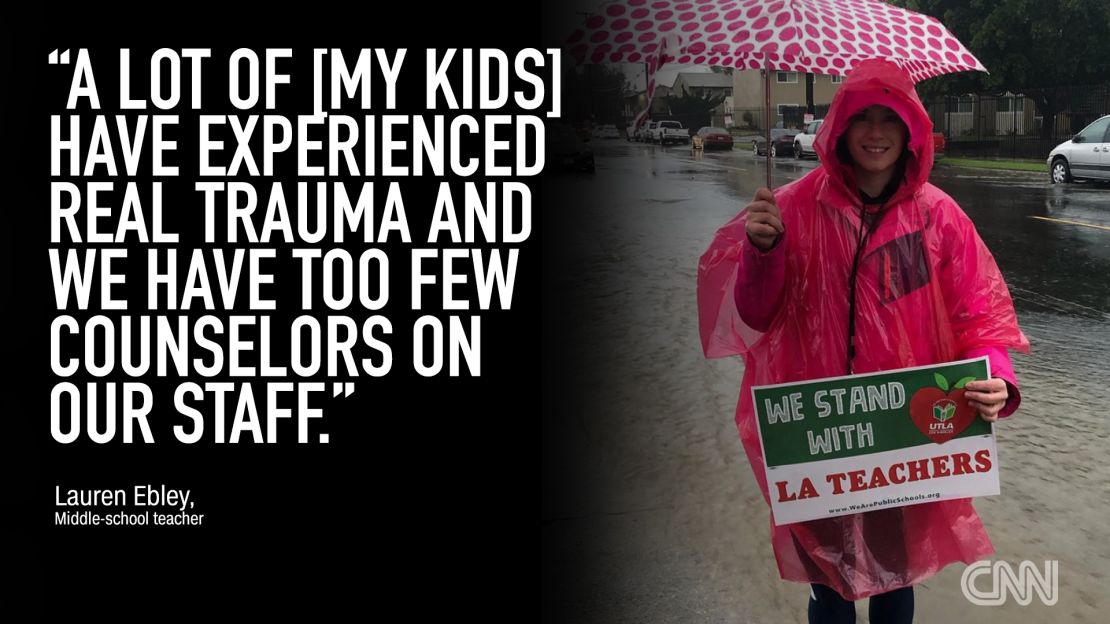 Many of the students Lauren Ebley serves come from low-income backgrounds and many of them live in government housing or homeless shelters, she said.
"A lot of them have experienced real trauma and we have too few counselors on our staff," said Ebley, an English teacher Maclay Middle School.
"The ones that we do have are absolutely wonderful, but the student-to-counselor ratio on our campus is frankly unacceptable. Our kids need people that they can rely on."
They say they're fighting for students who don't have a voice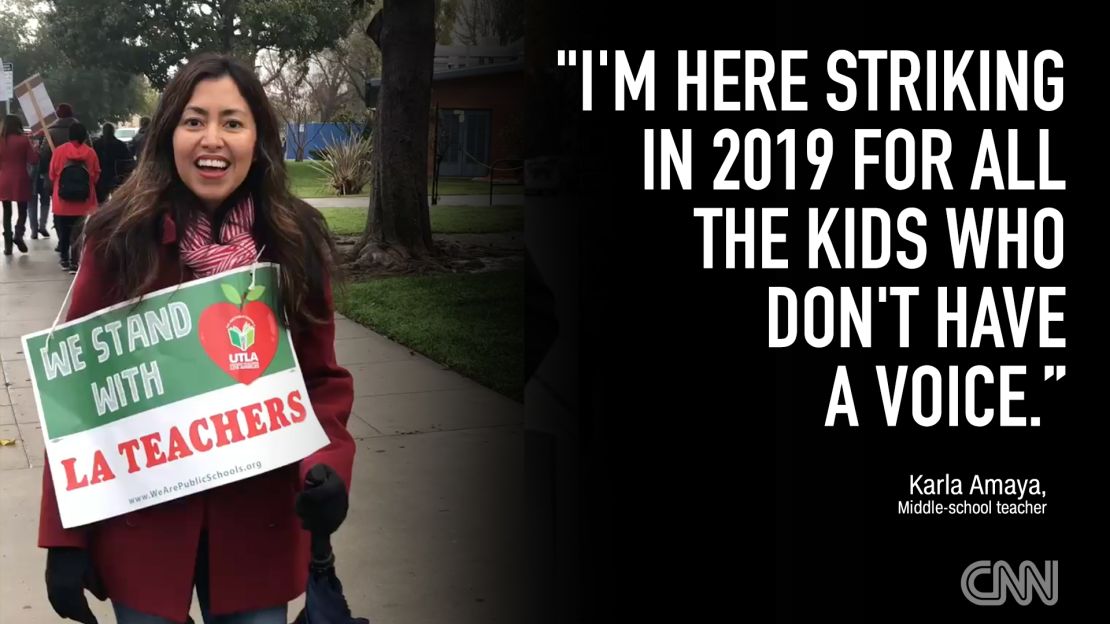 It's simple. The teachers are outside the classroom striking because their students can't.
It's why middle school English teacher Karla Amaya is picketing.
"I'm here striking in 2019 for all the kids who don't have a voice, who cannot be out here advocating for themselves, and for all those … working families who trust us in education to do the right thing," said Amaya, who teaches at Alfred Bernhard Nobel Charter Middle School.
"I'm going to stick by my teachers until this is done and that we get the respect for our profession," she said.
They believe they're fighting for something bigger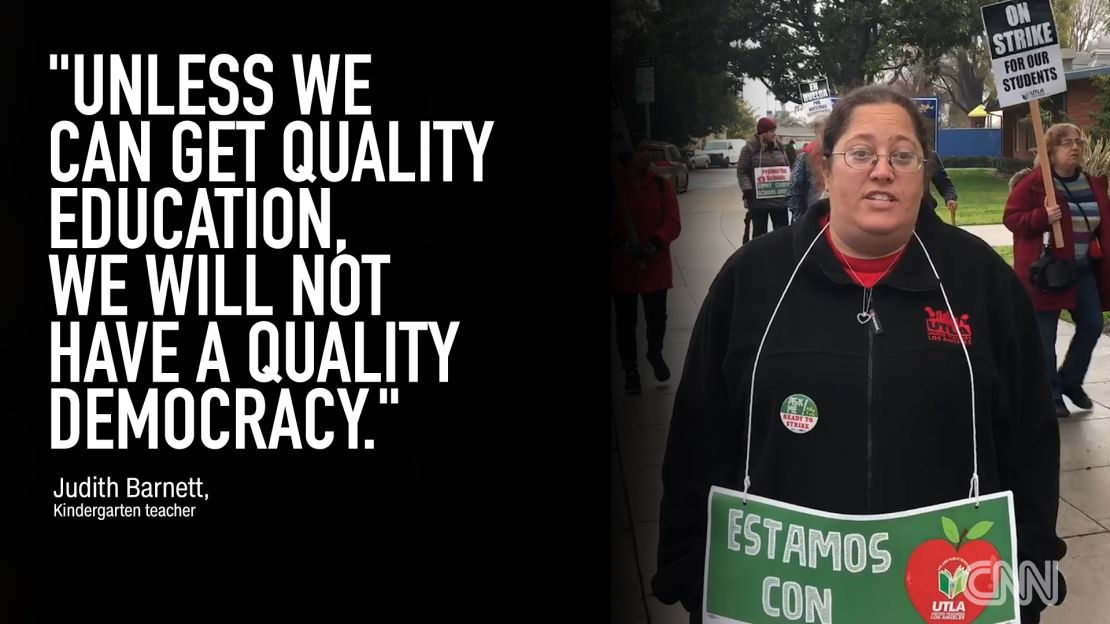 A solid education plants seeds of knowledge in each child. And teachers are key in helping shape our kids and inspiring them to be leaders and productive citizens.
Kindergarten teacher Judith Barnett is striking for a lot of reasons, from unwieldy class sizes to not having enough support staff. But it's also about the bigger picture for her.
"I'm doing this because public education is the foundation of democracy," she said. "And unless we can get quality education, we will not have a quality democracy."