Editor's Note: Andrew Robinson is a military veteran working for the USDA. He lives with his family in Kansas City, Missouri. The views expressed here are his own. Read more opinion articles on CNN.
(CNN) —
When I first received a call to interview for my current position as a program assistant with the USDA, I had to think, "Which job was this?" I could not quite remember, since I had applied to many jobs and the government hiring process can take months.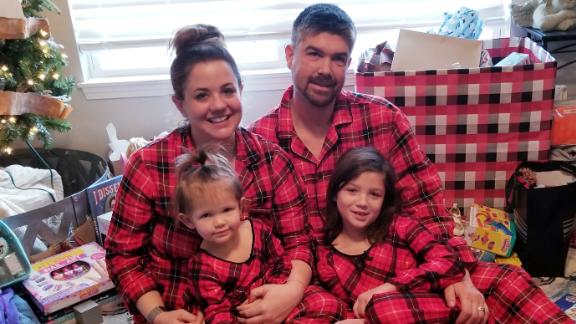 As I sat in the interview, I felt relaxed, confident and ready to take on this challenge. I got the job with USDA as a program assistant. It may not be a huge deal on the outside, but to me, it is an accomplishment. My current career with the USDA is more than a job. It fits almost every aspect of who I am and what I stand for.
Little did I know, over three years later, a government shutdown would have me stressing over how I can help provide for my family of four.
My wife and I are public servants. We have worked in the public sector for the majority of our lives. She has been a public school teacher for 15 years. As for me, it started during the Boy Scouts. I have always had a calling to aid and assist. I ended up enlisting in the US Army as a military police officer. I spent five years proudly serving our nation in this capacity. I am now a disabled veteran with mental illness. We are your standard American family trying to make our mark in this world and raise our beautiful children in a positive, safe, fun atmosphere.
This is my second shutdown as a government employee. The last one I went through, did I stress, sure – the unknown during my first shutdown was mind-blowing. Did I wonder how long it was going to last? Of course, but I was optimistic the government would do what it could for its people. Did I job search? No, our government worked the issues out and made it right for the 800,000+ government employees. I had faith our government would do the right thing. I wish I had the same faith during this shutdown as I had during the last shutdown.
Here I sit. I have a good job, with an income we cannot live without, but I'm job searching. I thought that getting a job with the government would provide my family with security. I left the private sector and took a pay cut to come work for the nation I love and be a public servant. I take pride in letting others know I work for the United States government. I love my country.
The stress of this shutdown is real. We covered our mortgage last month with no problems, but this month, I am $300 short. I emptied our emergency fund to buy tires for my vehicle and cover what I can for this upcoming mortgage. So, that resource is depleted. I have contacted my mortgage lender and thankfully, they have a program to help – but I am essentially going to have to take out a loan. This is all while we are trying to build our credit.
Everything about this is ridiculous. I have applied for unemployment benefits and am waiting for those to kick in, but they say it could be up to 20 days until I get a deposit. My 8-year-old asks me when I am going back to work. She is thinking about it, anxious – an 8-year-old child. She knows the reality because the news is everywhere. She is 8. She does not need to worry about when her daddy is going back to work. She should be a kid and live a carefree youth. Thankfully, my 2-year-old doesn't know the difference.
Every evening we watch the news hoping for a change in someone's heart. Some nights, I tell my wife to change the channel. I cannot take it – I feel so personally betrayed by my government. The things that race through my head at night when I am trying to settle in to go to sleep go like this: "What if this goes on for the 'years' like I've heard on the news? What if I can't find a job? What then? Unemployment cannot support my family and me right now."
We do not live an extravagant lifestyle. We cannot afford to live off credit cards. We do not eat out often, we do not splurge. We work, come home to our three-bedroom house, and spend time with each other. I am thankful we have each other. My wife has been my savior, always trying to look at the positive. As strong as she is, she is even starting to feel the weight of this. That bothers me more than anything: the stress she is under trying to help keep our spirits up while dealing with her daily stresses at school.
I do have one thing to say if my story makes it up to our leaders. This is what I want them to hear:
We work our butts off striving for the very best for our government. We are working for you and the American people. You are our leaders. You can't treat us this way. I get it, they say life is not fair, but this is just absolutely absurd. We should not be forced to start job searching again in order to support our families. Unemployment, taking out loans, having family members offering to loan money, is not what the American dream is about. What about those who still have to go to work for no paycheck? They do not have the time to job search and tailor their resume like I do. Then you have the Office of Personnel Management and the Coast Guard sending messages with ideas on how to get by. Barter with your landlord. Have a garage sale, they say. How is a garage sale, in the Kansas City snow, supposed to substitute for actual income earned every two weeks? Give us a break. Please, please, please put your differences aside. Your people are struggling.
Get our free weekly newsletter
Now it's time to get back to job searching. This is my reality.