Jadon McDonald studies the picture book and reads the words aloud: my, he, she, the. He pours on the charm, using a deep-throated caveman voice and flashing a huge smile after each word.
Within moments, he announces that he wants to walk. He spins from the coffee table, grabs his walker and scoots across the living room.
His twin brother, Anias, sits nearby in a specially designed wheelchair, playing with a soft keyboard he can touch with his feet. His movements are more restrictive, his mobility more limited, his speech more strained.
The boys, born joined at the head, once had to do everything together. Now 3 years old, they're learning to navigate the world apart.
The difference in their progress isn't lost on their parents, Nicole and Christian McDonald. It's part of their everyday reality, but one they view with optimism.
Jadon is "like personality with feet," Nicole said; Anias is the "blank canvas waiting to turn into a masterpiece."
"He is a child without limits," she said.
Christian says Anias is equally remarkable, simply operating at a different pace.
"In this day and age, we're kind of a quantum leap society – you know, we want quick fixes," he said. "Anias can do amazing things and will do amazing things. But it's not just a quantum leap. It's something that's going to happen gradually."
Jadon and Anias captivated millions around the world when they underwent a 27-hour separation surgery in October 2016 at the Children's Hospital at Montefiore Medical Center in New York.
The twins, who were 13 months old at the time, shared a 5-by-7-centimeter section of brain tissue. Studies have shown that 80% of these so-called craniopagus twins die of medical complications by the age of 2 if they are not separated.
Photos: Conjoined twins separated: New life, apart
Photos: Conjoined twins separated: New life, apart
Photos: Conjoined twins separated: New life, apart
Photos: 80 moments from the '80s
Photos: Conjoined twins separated: New life, apart
Photos: Conjoined twins separated: New life, apart
Photos: Conjoined twins separated: New life, apart
Photos: Conjoined twins separated: New life, apart
Photos: Conjoined twins separated: New life, apart
Photos: Conjoined twins separated: New life, apart
Photos: Conjoined twins separated: New life, apart
Photos: Conjoined twins separated: New life, apart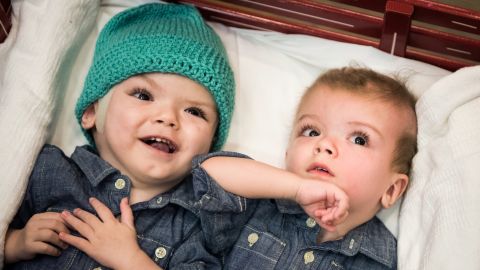 Photos: Conjoined twins separated: New life, apart
Photos: Conjoined twins separated: New life, apart
Photos: Conjoined twins separated: New life, apart
Photos: Conjoined twins separated: New life, apart
Photos: Conjoined twins separated: New life, apart