(CNN Business) —
Our Tesla Model X pulled into a small parking lot behind an old kitchen cabinet store and came to a stop on a metal lift. Moments later, Elon Musk's vision for how to beat traffic congestion began to take shape.
The lift slowly lowered our car into O'Leary Station, a circular hole Musk's Boring Company had dug in the parking lot in Hawthorne, California. A handful of company employees were gathered around the edge, watching our descent.
The lift settled at the bottom of the pit. Looking through the windshield, the other three journalists and I saw what we'd come for — Musk's first tunnel, a 1.14-mile route built to experiment with underground transportation technology.
Musk, the CEO of Tesla (TSLA) and SpaceX, had previously described his tunnel business as a hobby that started as a joke.
In 2016, a frustrated Musk said he planned to start digging tunnels to provide an alternative to Los Angeles' congested highways. Why sit in traffic above ground when you could speed ahead below it?
Now the joke has turned into something very real. The billionaire entrepreneur has started to deliver on his talk of offering a "weird little Disney ride in the middle of LA."
Our Model X inched forward. It was fitted out with special protruding wheels that held the SUV in place between the tunnel's walls. Previous iterations of the tunnel had placed the SUV on an electric skate, which propelled it. Now the vehicles in Musk's tunnels power themselves. The Boring Company said it switched because this was a simpler solution.
Red lights atop the tunnel suddenly turned green. The Model X jolted forward and we were off. The trip was bumpy at times as we jostled against the tunnel. The narrow space made the low speeds — we traveled mostly at 35 mph — feel faster. It felt like an amusement park ride. After about two minutes, the car emerged from the tunnel into a large pit in the SpaceX parking lot.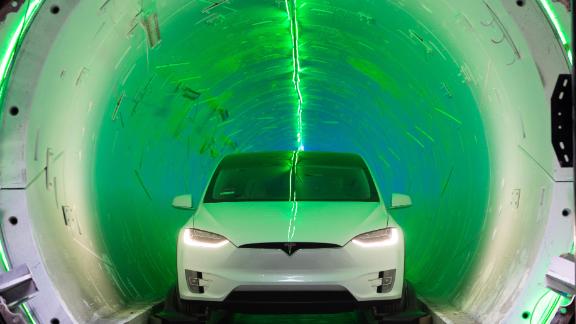 Courtesy Boring Company
We walked out of the pit into the shadow of a medieval tower that Musk constructed as a tribute to Monty Python and the Holy Grail. In November, the Boring Company even advertised for the job of watchtower guard.
"We need a knight to yell insults at people in a French accent," Musk tweeted, a nod to a scene in the 1975 film.
To mark the opening of the tunnel, Musk and the Boring Company threw a private party in the parking lot Tuesday night. It included a knight yelling insults, s'mores lit with flamethrowers and a speech from Musk.
Aside from its quirky name and unusual job openings like "vice president of digital dancing," the Boring Company is attempting serious projects in Los Angeles, Chicago and Washington.
Courtesy Boring Company
Musk's 'eureka moment'
Musk expressed confidence in the projects in a conversation with reporters Tuesday.
"For me it was a eureka moment," he said of his first ride in the tunnel. "It was a epiphany, it's going to damn well work."
The initial tunnel cost about $10 million, not including the cost of the tunneling machine and research and development. Musk expects a 15-fold improvement in tunneling speed as the Boring Company improves its digging machines.
But the company has encountered some setbacks recently. In November, it scrapped plans to develop another tunnel in Los Angeles following a lawsuit from neighborhood groups. Instead, it's focusing on a tunnel from the Los Feliz, East Hollywood or Rampart Village neighborhoods to Dodger Stadium. Eventually, Musk hopes to build a tunnel network throughout Los Angeles.
In Chicago, the Boring Company was selected in June to tunnel a route from downtown to O'Hare Airport. But a contract hasn't been finalized yet, according to a spokesman for Chicago Mayor Rahm Emanuel. Key details like the exact route and pricing remain unclear.