President Donald Trump has three weeks to find a new chief of staff – but few seem to want the job.
The White House went back to the drawing board Monday after the leading candidate for the position, Nick Ayers, announced he will not be taking the job, reviving discussions about who will take what is viewed as one of the most tumultuous and difficult jobs in Washington.
Trump announced Saturday that current chief of staff John Kelly would be departing the White House at the end of the year. The change comes at the most politically turbulent time of Trump's presidency, which calls for a chief of staff who is adept in both politics and the ability to navigate the President's personality.
Complicating matters, the next chief of staff will walk into a White House engulfed in scandal, in the sights of special counsel Robert Mueller and newly empowered Democrats with a House majority.
The list of candidates in the mix continues to fluctuate and, so far, two leading candidates have expressed reluctance at taking the job, citing a chaotic West Wing. One contender, Rep. Mark Meadows, R-North Carolina, has expressed willingness to take on the task and is viewed favorably among those involved with the selection.
Trump struck a confident tone Tuesday, tweeting that "over ten" people are "vying for and wanting" the position, which he called "one of the truly great and meaningful jobs in Washington."
But no one in the West Wing thinks any one person will make that much of a difference. Even though there will be a new chief, one source familiar with the search inside the White House said the reality is that "it likely won't dramatically change things in terms of how the place works."
Here are some key contenders:
David Bossie
Current role: President of conservative advocacy group Citizens United
Pros: Bossie is Trump's former deputy campaign manager and he has the President's trust and already speaks to him with relative regularity. Bossie has been questioned by Trump recently about how the Clinton White House handled President Bill Clinton's impeachment, according to a source familiar with chief of staff discussions.
Cons: He has some baggage, having been asked to resign from the House Oversight Committee during the Clinton drama due to his tactics – too partisan even for the Republicans of that era. He is very closely allied with Corey Lewandowski, a polarizing figure in Trump's orbit.
Likelihood of accepting: A source said Trump has had several meetings with Bossie over the past several months and noted those talks have repeatedly turned to the prospect of impeachment. Bossie has told Trump that his advice is to go as partisan as possible to survive and the source said Trump has really responded to that advice from Bossie, and has consequently considered bringing Bossie aboard for what could be a looming impeachment battle.
Chris Christie
Current role: Former New Jersey governor, 2016 Republican candidate
Pros: Christie's experience as a prosecutor is seen as an asset given the Mueller investigation and Democrats itching to investigate on the Hill. A source close to the White House told CNN's Jim Acosta Christie is considered a "strong option" at this point, adding Trump wants "a functioning White House."
Cons: There continues to be bad blood between Christie and the President's son-in-law and top adviser, Jared Kushner. As US attorney in 2004, Christie prosecuted Kushner's father, Charles Kushner, for tax evasion, witness tampering and illegal campaign contributions. Charles Kushner pleaded guilty and served two years in prison. It's hard to imagine Kushner reporting directly to Christie.
Likelihood of accepting: Unclear. Christie has not yet been contacted for the role.
Republican Rep. Mark Meadows
Current role: Congressman, chairman of the conservative House Freedom Caucus
Pros: Meadows enjoys a close and friendly relationship with the President as one of his closest allies in Congress, often speaking to the President several times a week. Meadows may also be more inclined to take the position now that he is set to become a member of the House minority.
A source familiar with the chief of staff search inside of the West Wing told CNN's Pamela Brown that so far, Meadows is viewed favorably for the job because he is viewed as someone who is aligned with the President on policy issues and, most importantly, he knows how oversight works.
"Out of all the names, he's probably the one who can help out the most," the source added.
Cons: Meadows has reportedly told associates he is not interested in moving to the chaotic West Wing, sources told CNN. "Absolutely not," was how Meadows put it today in conversations with people, according to a Republican close to him.
Likelihood of accepting: Meadows said in a statement that serving in the role "would be an incredible honor." He added: "The President has a long list of qualified candidates and I know he'll make the best selection for his administration and for the country."
Steve Mnuchin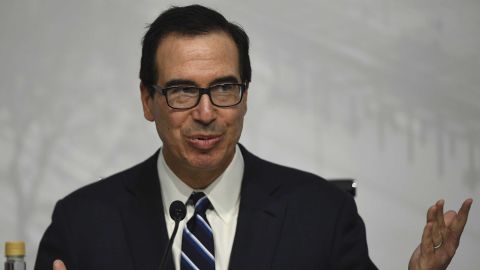 Current role: Treasury secretary
Pros: Mnuchin is a top choice among some of Trump's family members, who trust Mnuchin's loyalty as one of Trump's longest and closest advisers. They also believe Mnuchin works in Trump's best interests and understands the President – a difficult task for many in the White House.
Cons: Reports surfaced in recent weeks that Mnuchin has recently caught the ire of the President, who has blamed the treasury secretary for the recently volatile markets and the Federal Reserve's decision to raise interest rates, according to The Wall Street Journal. However, a source brushed off criticisms that Trump is unhappy with Mnuchin, saying the two men have only had positive conversations.
Likelihood of accepting: Mnuchin would likely accept if asked, but according to a person familiar, feels he can best serve Trump in his current role as top finance chief with a portfolio that includes top administration priorities.
Mick Mulvaney
Current role: White House budget director
Pros: Mulvaney has a good relationship with the President and his name has come up as a possible chief of staff since the question of when Kelly would leave was raised a year ago. Following the Rob Porter scandal in February, conversations began going on as to what a "post-Kelly world looks like," a source familiar told CNN at the time. And "the conversation keeps coming back to Mulvaney."
Cons: A source close to Mulvaney says that while his name keeps coming up for the position, he remains uninterested in it. "He's not interested in chief of staff. He has been saying for almost two months that he would be more interested in something like Commerce or Treasury, if that's where the President needed him," a source told CNN Monday.
Likelihood of accepting: Unlikely.
Robert Lighthizer
Current role: United States trade representative
Pros: Lighthizer's credentials include time on the Hill as chief of staff at the Senate Finance Committee under Sen. Bob Dole, R-Kansas. He also served in the Reagan administration. Though the trade representative keeps a low profile, he is currently tasked with hammering out key trade negotiations with China.
Cons: Those sensitive trade negotiations could be a reason to keep Lighthizer in his current role. The US and China have less than 90 days to reach a final agreement.
Likelihood of accepting: Unlikely. Asked whether he would want the job, Lighthizer told CBS News: "The President has given me what – what is a very difficult job. I'm very, very happy doing it."
Matt Whitaker
Current role: Acting-attorney general
Pros: Whitaker captured Trump's attention while serving as then-Attorney General Jeff Sessions' chief of staff. The two have a good working relationship and Trump finds Whitaker competent and "fiercely loyal," a White House official told CNN's Jeff Zeleny.
Cons: Apart from his time at the Justice Department, Whitaker lacks the experience of others on the list and the congressional connections vital to the President's agenda.
Likelihood of accepting: Whitaker's family still lives in Iowa, but he has sent the signal to Trump that he would be interested if the position is offered, a person familiar with the process said. He's ambitious and has no qualms about serving in the chaotic West Wing.
CNN's Jim Acosta, Pamela Brown, Jeff Zeleny, Elizabeth Landers, Sarah Westwood and Betsy Klein contributed to this report.