(CNN) —
The body of Carla Stefaniak, a US citizen reported missing while on vacation in Costa Rica, has been found, her family confirmed, as authorities announced a suspect is in custody in the case.
It appears Stefaniak's father was allowed to see the body of his 36-year-old daughter Tuesday night, according to a Facebook page that has been updated by a family friend.
"Words cannot express the devastation within her family and friends. We want the world to know that we will never forget Carla," the post on Finding Carla says.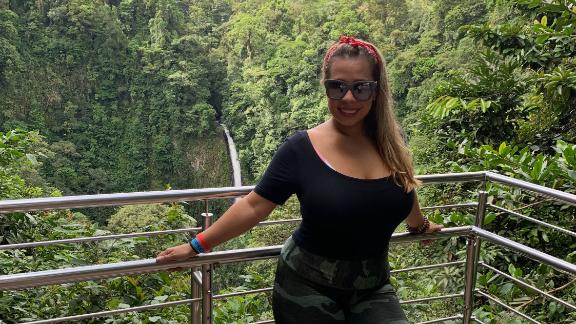 "We will never forget the joy she brought into our lives, how much she made us laugh. We will always be with her and we know she will always be with us. May god bless her soul."
Nearly a week had passed since Stefaniak's relatives and friends in Florida embarked on an international search after she failed to return from her birthday celebration in Costa Rica.
A partially decomposed body was found Monday about 300 yards from the apartment complex where Stefaniak was staying in a province just outside the country's capital of San Jose, said Walter Espinoza, a spokesman with the nation's Judicial Investigation Department.
Authorities believe it was Stefaniak but have not officially identified the remains, they have said.
A suspect, Bismarck Espinoza Martinez, 32, is in custody in the case, officials said Tuesday during a news conference. He worked as a security guard at the Airbnb where Stefaniak was staying, they said.
Suspect's contacts expose contradictions
Detectives who interviewed people who had contact with Espinoza Martinez before Stefaniak went missing on November 28 grew suspicious when they noticed his statements were contradictory, Espinoza, the government spokesman, told reporters.
Espinoza Martinez had been staying in the apartment next to Stefaniak's rental, the spokesman said, adding that the suspect is a Nicaraguan national who has been in Costa Rica since June.
Espinoza Martinez was arrested Monday and is in jail because he is a flight risk, the spokesman said.
"The person linked to this homicide (Espinoza Martinez) was close to her and had the time and place to commit the crime," he said.
Stefaniak's friend, Leandro Fernandez, said the security guard told Stefaniak's relatives that he last saw her around 5 a.m. on November 28, as she got into an Uber to go to the airport.
"It was completely off because her flight was not until midday," Fernandez told CNN affiliate WSVN.
The family later learned there were no records in Stefaniak's Uber account from that day, Fernandez said.
The body was found around noon Monday in a wooded area of the San Jose neighborhood of San Antonio de Escazu, he said.
An autopsy showed multiple stab wounds to the "neck and upper extremities," as well as blunt force trauma to the head, the spokesman said.
Authorities found stains inside the apartment where Stefaniak was staying, "which are compatible with blood and which will be submitted to further investigation and comparison," Espinoza said.
Birthday celebration
Relatives raised the alarm last week, after Stefaniak stopped texting and phoning home and was not on her return flight from Costa Rica.
The last time anyone heard from Stefaniak was the night of November 27, according to April Burton, her sister-in-law.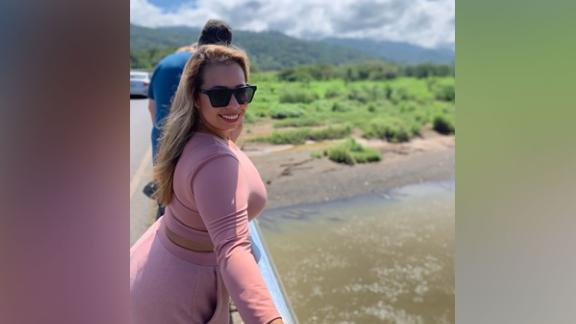 Burton left the country November 27, and Stefaniak's flight back to Florida was scheduled for the next day.
Stefaniak opted then to stay at a hostel closer to the airport before her flight the following day, her brother Carlos Caicedo told WSVN.
The two texted each other via WhatsApp throughout the day that Tuesday, Burton said, until Stefaniak suddenly stopped responding to her messages that evening.
"That's when we knew that something's not right," Burton said. "You never want to think the worst, but that's where your mind goes to automatically. We're going on six days not hearing from her. That's kind of where we are right now."
Burton added: "For almost six days to go by and no contact, she would have to have been abducted. She is very active on social media, and for her, on the day of her birthday, to never log in to any of those accounts is just crazy."
"The owners are fully cooperating with the authorities in the investigation and we hope that once the facts are determined, the perpetrator is brought to justice," the attorney, who was not identified, told the Tampa station.
A US State Department representative told CNN that officials are aware of the reports of a missing American in Costa Rica.
CORRECTION: This story has been updated to correct attribution regarding Stefaniak's activities before her death.
CNN's Deborah Bloom, Abel Alvarado, Duarte Mendonca, Steve Almasy and Natalie Gallon contributed to this report.