Michael Flynn's lawyer had it right back in March 2017 – his client certainly has a story to tell.
That special counsel Robert Mueller clearly agrees but is not ready to share the former national security adviser's tale with the American people cannot be anything but bad news for President Donald Trump and those around him.
Mueller told a judge in a key filing Tuesday that Flynn, a retired general who was a key foreign policy aide during the Trump campaign, provided "substantial" help to his probe into Russia election interference in 2016.
That help was so significant and timely, Mueller said in heavily redacted documents, that Flynn should serve no jail time for lying to the FBI about his conversations with Russia's envoy to the US and his business ties with Turkey.
Tuesday's documents did little to add to Mueller's mosaic of ties between Trump world and Moscow, given his reticence to prejudice other investigations. But what the filing did have in common with Mueller's past practice was the sowing of new intrigues, open loops and what have become known as "breadcrumbs" that offer tantalizing clues about the direction he is headed.
Mueller's filing to a district court in Washington had been seen as a potential window into his tightly held investigation of whether members of Trump's orbit had cooperated with Russia's interference effort in 2016 and another criminal investigation.
It provided few definitive answers, but its line after line of blacked-out text offered eloquent testimony on the breadth of the Mueller investigation and appears to dispel expectations that he is nearly ready to wrap up. That's because he withheld the most crucial details that would have blown open the case to protect ongoing and future inquiries and potential prosecutions.
"What I think here is Flynn provided information that is allowing Mueller to make a criminal case against someone," Renato Mariotti, a former federal prosecutor, told CNN's Don Lemon on Tuesday.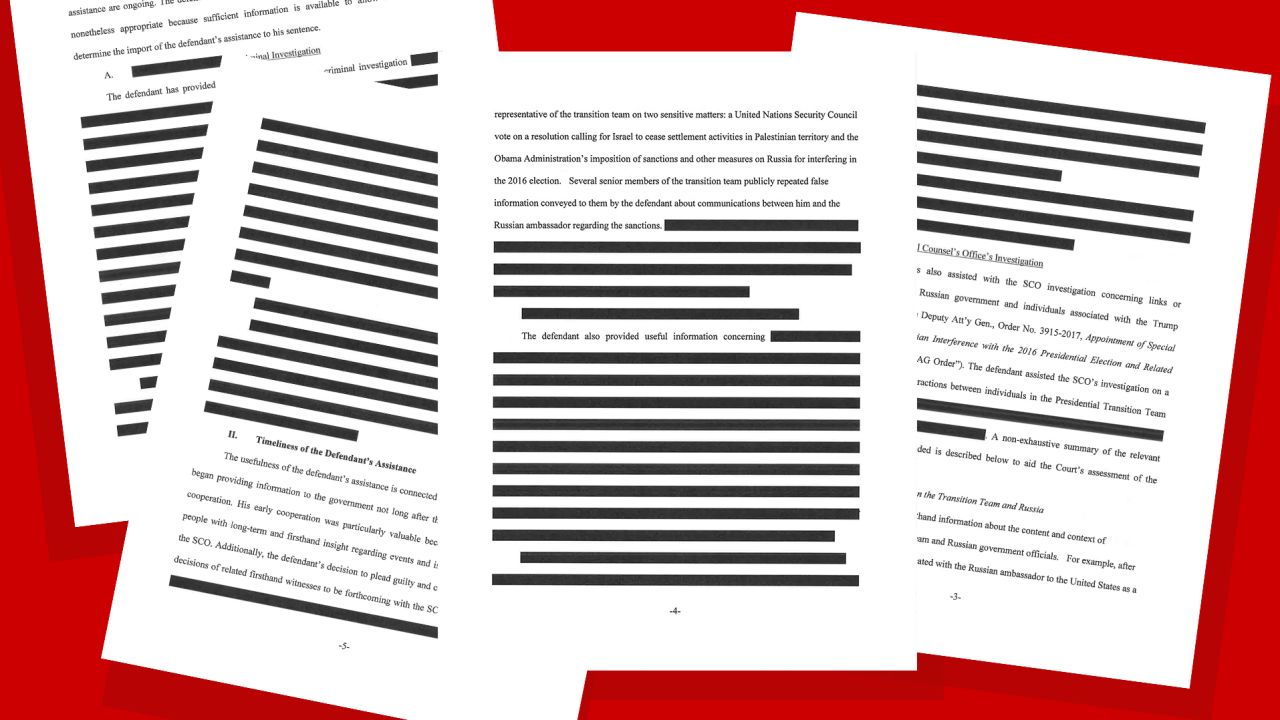 "We don't know who that is. We can speculate or not speculate. But there is certainly somebody out there who has a criminal case that could be coming," he said.
Many of Mueller's previous court filings have embroidered a rich narrative about what he knows about the effort by Moscow's spy agencies to disrupt the presidential election, which eventually developed into a preference for Trump over Democratic nominee Hillary Clinton, a Russia hawk.
Mueller has sought to establish that multiple people around the President had contacts with Russians and their sympathizers and were dishonest about those communications.
Last week, Mueller made a case that Trump's former lawyer Michael Cohen was negotiating to build a Trump Tower in Moscow into June 2016 – long after it was clear that his boss would win the GOP nomination and in contravention of the President's statements that he had no business ties with Russia.
Cohen's own lawyers argued in their filings that he had kept Trump up to speed on his contacts, a factor that raised questions about the President's denials that he knew about other links between people in his inner circle and Russia.
A mystery criminal investigation
The most interesting disclosure was that Flynn had helped with what appears to be at least one separate, unidentified criminal investigation that is distinct from the probe into Russian election interference and any links to Trump's 2016 team.
All references to that avenue of inquiry were blacked out – an omission that is likely to spark fierce speculation about what he is referring to and who may be in his sights.
There was also an unmissable line in the Flynn sentencing memo that will be viewed as a sign that the special counsel is aiming at administration officials who are more senior, even, than a former national security adviser.
He wrote, while noting Flynn's exemplary military service over a long career, that nevertheless "senior government leaders should be held to the highest standards."
That hint should certainly worry Trump and his top aides.
Throughout the filing, Mueller stressed the value of Flynn's work in lifting the lid on what had gone on in the Trump campaign and the transition period before he was fired a few weeks into the administration, for what the White House said was lying to Vice President Mike Pence over a telephone conversation in which he had discussed sanctions with Russia's then-ambassador to Washington, Sergey Kislyak.
"His early cooperation was particularly valuable because he was one of the few people with long-term and firsthand insight regarding events and issues under investigation by the (special counsel's office)," the memo said.
"Additionally, the defendant's decision to plead guilty and cooperate likely affected the decisions of related firsthand witnesses to be forthcoming with the SCO and cooperate," Mueller wrote.
These remarks cannot be considered outside the context of Trump's Twitter praise for associates such as Roger Stone, who have refused to cooperate with Mueller, and criticism for those such as Cohen, who have agreed to divulge what they know in the hope of reduced sentences.
Mueller appears to be sending a message to other witnesses that full disclosure will be rewarded while attempts to thwart him – for example, by former campaign chairman Paul Manafort, whom he has accused of lying in contravention of a cooperation agreement, will be severely punished.
A new challenge for Trump legal team
Manafort team briefed Giuliani on Mueller meetings
There was no immediate reaction to Mueller's filing by Trump or his legal team.
But it is likely that the President's defenders will use the redacted documents to stick to their consistent line that the special counsel has still yet to offer any conclusive evidence of collusion between the Trump campaign and Russia.
Yet given the vast quantity of redacted evidence in Mueller's latest filing, it appears more likely that the special counsel will find – or already has identified – evidence to suggest such a conspiracy did take place.
The documents left unsaid who has the most to fear from Mueller.
But there were few officials in the Trump campaign who were more influential or closer to the candidate and President-elect himself.
After Tuesday's developments, there is certain to be fresh speculation about the potential jeopardy of key figures including Trump, his son Donald Trump Jr. and his son-in-law, Jared Kushner.
The Flynn sentencing memo is not the only shoe to drop this week. On Friday, the special counsel is due to explain in another court filing why he believes that Manafort has lied to his investigators – behavior that he contends should end a court-mandated cooperation agreement with the former uber lobbyist.
CORRECTION: This story has been updated to include the correct characterization of Flynn from Tuesday's memo as one of the "few" people with information about the ongoing investigations.