(CNN) —
Beauty brands pull out all the stops when it comes to the season of gift-giving. Between value sets, limited-edition releases and well-loved classics, it can be a struggle to figure out exactly what to get for someone who loves beauty products. So we've pulled together a range of some of the best gift options out there – everything from the most luxurious skin care products to fun and festive makeup palettes. All these options come in gorgeous, often glittering packaging that will be sure to delight the beauty buff in your life, so it's nearly impossible to go wrong with any of these gifts.
1. Clinique Get Cheeky Holiday Palette ($29.50; sephora.com)
Sephora
This cute palette features three vibrant yet natural-looking blushes. If you want the rosy-cheeked look without having to face the actual cold, just brush this across your cheeks and the tip of your nose and nobody will know the difference. The effortless application makes this a perfect gift for someone who likes to keep her look simple and classic.
2. Jo Malone Christmas Cracker Collection ($48; nordstrom.com)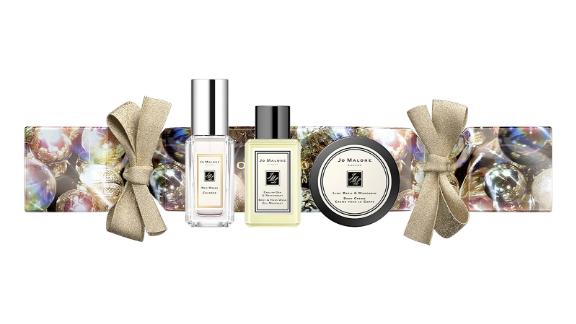 Nordstrom
This collection features three of Jo Malone's beloved products - the Red Roses cologne, the English Oak & Redcurrant Body & Hand Wash, and the Lime Basil & Mandarin Body Creme. This kit, which comes in a beautiful, festive package, is the perfect way to give the luxury of Jo Malone's products without committing to a single scent or product.
3. Fenty Beauty Match Stix By The Dozen ($129; sephora.com)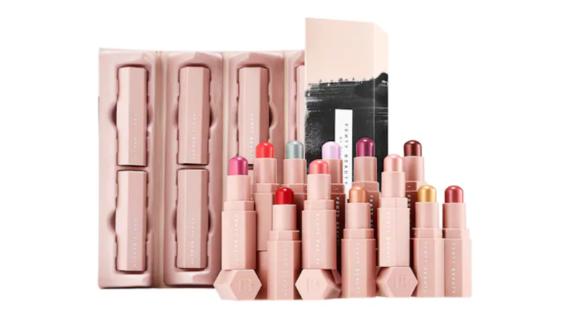 Sephora
Rihanna's line, Fenty Beauty, is taking the industry by storm with its inclusive approach to makeup. This 12-piece collection of mini shimmer sticks includes five best-sellers and seven new shades. While all the sticks are technically highlighters, blushes or bronzers, they're so blendable and versatile that you can really use them anywhere on your face. Perfect for the makeup fanatic with an inner artist.
4. Charlotte Tilbury Bar of Gold Highlighting Palette ($58; sephora.com)
Sephora
Charlotte Tilbury's original Bar of Gold highlighter kept selling out, so the company released this trio of dazzling shimmers that can bring together any look. The three shades include the original Bar of Gold, plus a soft rose gold shade and a deeper bronze-gold. If there's someone in your life who is always talking about "glowing to the gods," she'll absolutely love this gift.
5. Pat McGrath Bronze Eyeshadow Palette ($55; sephora.com)
Sephora
Pat McGrath is one of the world's most influential makeup artists, and her brand's eyeshadows are often lauded as the best on the market. This festive palette includes two warm matte shades and four glitter shades that are sure to become a beloved staple in any makeup lover's rotation.
6. Stila Glitter & Glow Highlighter and Liquid Eyeshadow Set ($45; sephora.com)
Sephora
This is for the glitter-holic in your life. The set includes six shades of gorgeous, glimmering glow for the face and eyes – two highlighters and four liquid shadows. They're super easy to apply, making it ideal for everyone from the makeup novice to the makeup artist.
7. Armani Red Lip Duo Ornament ($38; nordstrom.com)
Nordstrom
This stunning duo features Armani's iconic red 400 shade in two formulas - the Lip Magnet Liquid Lipstick and the Rouge D'Armani Matte Lipstick. It comes packaged in a festive yet sleek holiday ornament, making it a perfect gift for any lover of luxury.
8. Vintage Makeup Organizer ($21.99; amazon.com)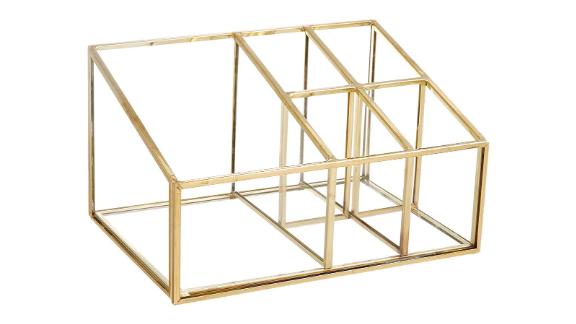 Amazon
This vintage organizer would add an elegant touch to any makeup lover's vanity area. Not only does it serve the functional purpose of keeping products organized, but it's a great way to display any favorite products.
9. Nars Velvet Matte Lip Pencil Set ($45; sephora.com)
Sephora
Nars' Velvet Pencils are designed to provide the application quality of a lipstick with the convenience of a lip liner, making them perfect for anyone on the go. This set of four features both gorgeous bold shades and everyday nude colors packaged in a limited-edition case inspired by the '70s. The best part is the price - one lip pencil is usually $27, giving this kit a value of $108.
10. Drybar Smoothing + Styling Bundle ($299; sephora.com)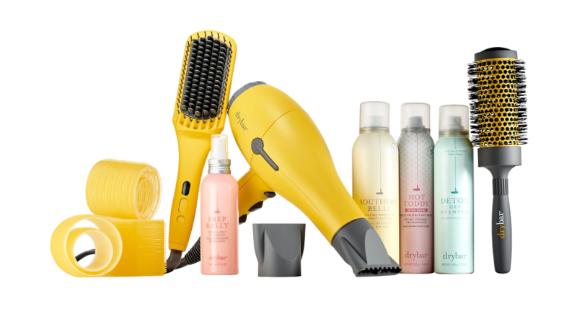 Sephora
This limited-edition kit from Drybar features everything someone would need for a salon-style blowout. It comes with the Drybar blow dryer, heated straightening brush, six hair rollers and a medium ceramic round brush. In addition, the bundle includes some of Drybar's best-selling products, like Southern Belle Volume-Boosting Root Lifter, Prep Rally Prime and Prep Detangler, and Detox Dry Shampoo.
11. Deborah Lippmann Party Animal Nail Color Set ($45; nordstrom.com)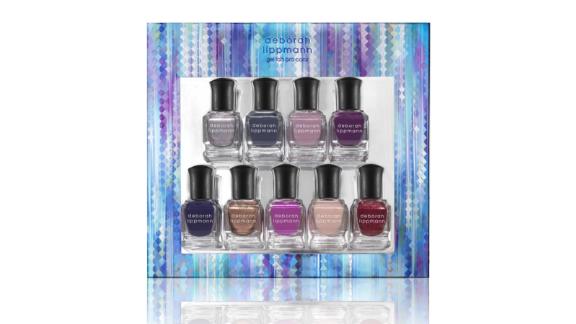 Nordstrom
Deborah Lippmann is a brand well-known for its high-quality, long-lasting nail polishes. Originally valued at $108, this set of nine bottles features colors perfect for the winter season, a mix of rich berry shades and show-stopping shimmers. The Gel Lab Pro formula is designed to provide the gloss and cushion of a gel manicure without the nail damage, making it a great option for anyone who loves having beautiful nails.
12. Voluspa Japonica Candle Set ($75; sephora.com)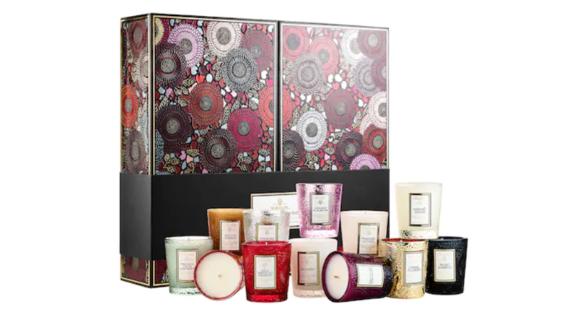 Sephora
Candles aren't exactly beauty products, but this bundle from Voluspa was too gorgeous not to include. Voluspa candles are made from a coconut wax blend and feature all-natural wicks, offering 15 hours of burn time. Some of the scents included in this set are Goji Tarocco Orange, Baltic Amber, French Cade Lavender and Panjore Lychee.
13. Tatcha Best-sellers Set ($60; sephora.com)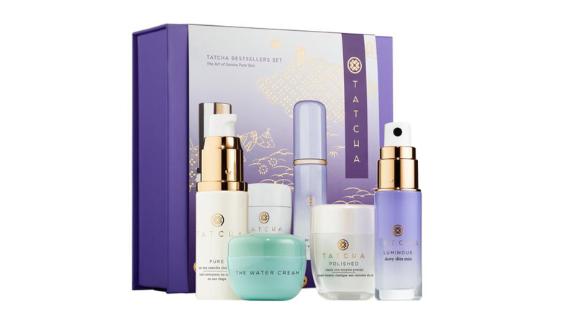 Sephora
Tatcha is quickly becoming a cult favorite. The company is well known for its skin care products made up of pure, minimalist ingredients and packed with anti-aging super foods. But like most high-end skin care brands, Tatcha's products aren't cheap. Luckily, this best-sellers set is a great opportunity to indulge the skin care fanatic in your life at a great price point.
14. Tri-Fold Vanity Mirror ($25.93; amazon.com)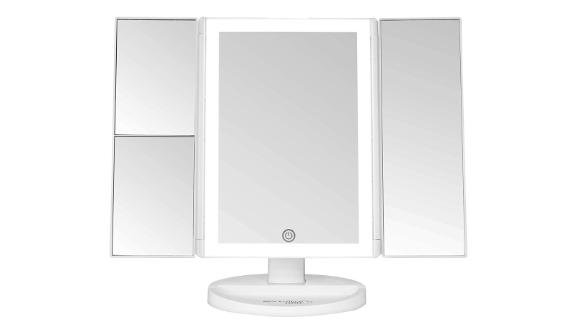 Amazon
This dimmable touch screen LED makeup mirror is luxurious, high-tech and practical. Hold your finger to a touch sensitive button in order to achieve lighting that will replicate natural daylight, or any amount of light you need to apply anything from lipstick to lashes. The mirror also features magnifying panels and a 180-degree swivel rotation.
15. Kopari Kiss Me Under the Mistletoe Lip Duo ($20; sephora.com)
Sephora
Dryness is something we all suffer from during the winter months, but a nourishing lip scrub can be the perfect antidote. This bundle from Kopari works well as a gift or a stocking stuffer. The lip scrub is made of brown sugar and coconut oil to both exfoliate and hydrate your lips. And the lip gloss is deliciously sweet, perfect for anyone who loves the smell of coconut. It's simultaneously glossy and moisturizing, making it an ideal bundle for anyone hoping to achieve the perfect mistletoe-ready pout this holiday season.
16. Teami Glow Jojoba Face Oil ($37.99; amazon.com)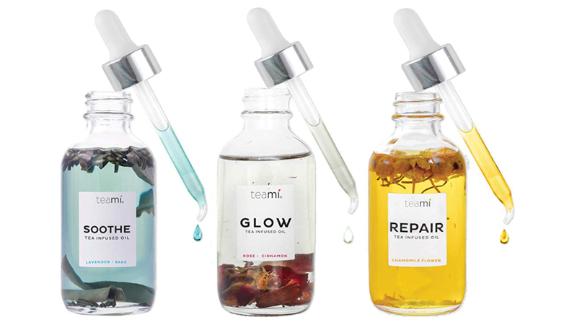 Teami products are made with 100% pure plant extracts, so they're vegan, cruelty-free and free from GMOs. The tea-infused facial oils are a natural way to bring new life back into your skin, and with three different formulas – glow, repair and soothe – you can target what your skin needs. The lightweight, nourishing formulas soften and protect your skin. Plus, they smell amazing. All in all, they'd be a great way to bring glow and hydration into any skin care lover's beauty regimen this holiday season.
17. Frank Body Coconut Coffee Scrub ($18.95; ulta.com)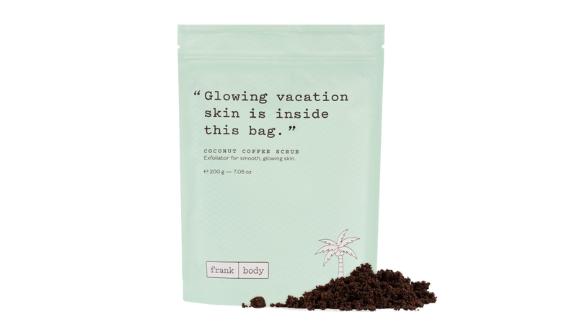 While the idea of a scrub during the wintertime might sound like a recipe for dry skin, the combination of ground coffee, coffee seed oil, raw sugar, macadamia oil and beeswax in Frank Body scrubs makes for a super nourishing experience. All the ingredients are natural, and the coffee grounds actually buff away flaky skin while the oils hydrate the body. Plus, the delicious smells turn your shower into a tropical getaway.
18. BioClarity Acne Treatment 3-Step Kit ($33.20; amazon.com)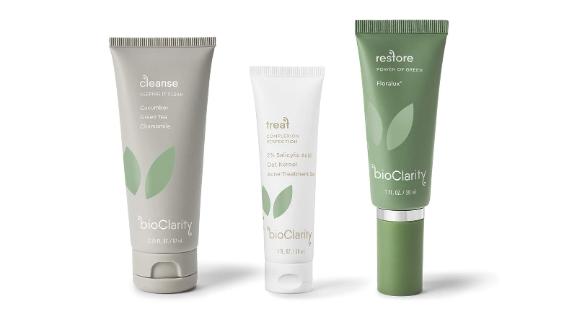 For the frequent traveler, travel-size skin care is a must-have. And this three-step kit from BioClarity is the perfect solution to keeping acne-prone skin looking its best, especially when you're on the move. It includes a cleanser – which contains cooling cucumber, detoxifying green tea leaf and calming chamomile – in addition to a treatment gel that helps battle blemishes. Its Restore gel features Floralux, derived from chlorophyll, to help soothe redness and protect skin. It makes a great gift or stocking stuffer for the natural product lovers and skin care fanatics on your shopping list.
Note: The prices above reflect the retailers' listed prices at the time of publication.