For 14 months, about 500 people in Northern Virginia worked to bring Amazon's second headquarters to the region.
The project brought together different people from all over the area, from Virginia Governor Ralph Northam, to higher education officials, local transportation departments and economic development leaders.
For the majority of the process, local officials were anticipating a single winner. But then rumors circulated that Amazon was considering two locations for HQ2. In November, Amazon made it official: it announced Northern Virginia's Arlington and New York's Long Island City would split duty as its second headquarters.
Stephen Moret, the CEO of the Virginia Economic Development Partnership who helped spearhead the HQ2 negotiations for the region, said they didn't find out Northern Virginia had won until a day before Amazon's official announcement. Even then, Amazon didn't tell Northern Virginia officials why it ultimately picked Arlington's newly branded National Landing area, or who the other winner was.
But after many phone calls, meetings and multiple site visits from Amazon, the region landed the deal. Now comes the hard part.
"This is when the real works begins," Moret told CNN Business.
The to-do list for both locations includes making sure there's enough housing for new hires, improving the local transportation and infrastructure and adding nearby schools. The company says it will invest $2.5 billion in each place. Both will have more than 25,000 workers over time, and hiring starts next year.
"The good news is, [these are] much bigger metro areas, which makes it a lot easier to absorb," said Nathan Jensen, an economist at the University of Texas at Austin. "For the Austins, the Columbuses, the Nashvilles, this would have been much more of a shock."
Even so, there's still plenty of work ahead for New York and Northern Virginia.
Building HQ2
When asked about next steps, an Amazon spokesperson said it looks forward to beginning hiring, and that it will use temporary spaces while it develops its campuses.
In Long Island City, Amazon plans to lease 1 million square feet of office space in the iconic Citi skyscraper at One Court Square for its new headquarters. Citi said it will move about 1,100 employees out of the space in the first half of 2019 to make room for Amazon. It's unclear if or when Amazon would put its own branding on the building, which has long carried Citi's logo.
Amazon's permanent HQ2 site in Long Island City will be located along Anable Basin on the East River, overlooking Manhattan, according to city documents.
In Virginia's National Landing, the company plans to lease about 500,000 square feet of existing office space at 241 18th Street South, 1800 South Bell Street and 1770 Crystal Drive, according to JBG Smith, Amazon's exclusive developer in the area. The company will also purchase a site in Pentagon City called Pen Place, in addition to other land from JBG Smith.
In both Long Island City and Arlington, Amazon will eventually have 4 million square feet of office space with the possibility of expanding to 8 million square feet.
Housing
Long Island City is already experiencing a housing boom. Since 2006, over 18,400 residential units have been completed, according to the Long Island City Partnership, a local development group. By 2020, over 9,900 new rentals and condos are projected to open.
In contrast, National Landing has few residential options. But there's been recent housing growth in neighborhoods to the south and east, as well as in southwest Washington DC.
While home buyers will see an increase in prices right away in both markets, experts don't forecast an uptick in rent prices in the near term.
"For rentals, I don't see prices jumping for several years," said Eric Benaim, the CEO and founder of real estate firm Modern Spaces in Long Island City, "We're not feeling the impact of these employees yet."
Overall, online rental marketplace Apartment List forecasts less than a 0.1% uptick in rent increases in New York City, and a 0.1% to 0.2% jump in the Washington DC metro area. While the impact is largely muted in these metro areas, rents in close commuting proximity to the new sites are expected to rise over time.
But even a small rent increase can hurt families already struggling to pay rent. In New York City, 52% of renters can't afford their current rent. About 48% of renters experience the same challenge in the Washington DC metro area, according to Apartment List.
"These are two markets that are already some of the priciest in the country," said Igor Popov, chief economist at Apartment List. "The market rate housing already is out of reach of a lot of even middle class families in these metros."
Local officials will also be tasked with making sure there's affordable housing in both locations, and that lower-income residents aren't priced out.
"We need to have more and more places for people to live without driving up the cost of all the existing housing," said Elizabeth Lusskin, president of the Long Island City Partnership. "We have been adding housing units in a tremendous rate in Long Island City, including affordable units … but there's always going to be more to do."
Transportation and infrastructure
In National Landing, there are plans for a new entrance at the Crystal City metro stop and a new station in North Potomac Yard, according to city documents. The region's HQ2 bid also proposed the construction of a pedestrian bridge that would connect Crystal City and Ronald Reagan Washington National Airport. However, the project requires support from the National Park Service and the Metropolitan Washington Airports Authority.
Other infrastructure improvements that have been proposed include adding and upgrading streetlights, building a second elevator entrance at one of the metro stations and upgrading fiber-optic cables and traffic cameras.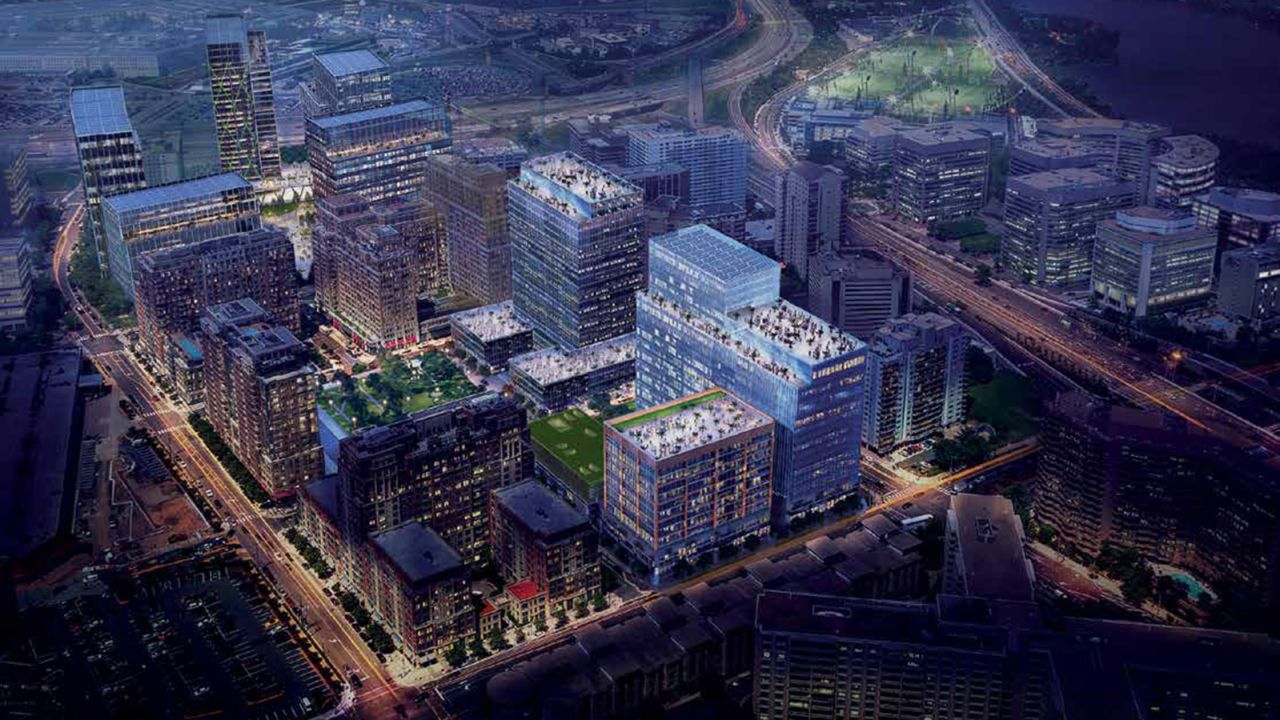 In addition, a Partnership Steering Committee — which includes Amazon employees, the Virginia Economic Development Partnership, county representatives, higher education officials and others — will meet regularly to make sure plans stay on track. It will also give recommendations on any changes needed to implement the plans.
"We're going to be busy right away," said Northern Virginia's Moret.
Meanwhile, Long Island City must address core infrastructure issues and sewage problems, as well as open more schools, according to Lusskin. New York City recently announced it would help by spending $180 million on infrastructure in the neighborhood.
An influx of new Amazon workers will also put more pressure on the beleaguered New York City subway system and add more congestion to the 7 train line.
"We are already in a situation where we're all concerned about capacity on the subways. There's a larger issue around the subways," said Lusskin.
However, some of the effects could be mitigated if a portion of Amazon workers live in the neighborhood and walk or bike to work rather than use public transportation.
"These issues about infrastructure, transit and schools — we are experiencing growth anyway, and we have to address these issues, but now we get to address them with some big friends," Lusskin said.