CNN —
There's no question that tech products make our lives easier, whether they help us organize our busy days or accomplish everyday tasks a little more efficiently. That's why the right tech product can make the perfect holiday gift. The only problem is that they can be pricey. Headphones, speakers and smart home products can easily cost hundreds of dollars.
Luckily, there are budget tech products that make for perfect gifts, though they may be few and far between. So we've curated this list of 10 wallet-friendly tech products that make for a great standalone gift, stocking stuffer or actually useful secret Santa gift. Many of these products also boast super high ratings, so you can be sure you're getting an excellent product.
BentoStack ($42.95, originally $49.95; stacksocial.com)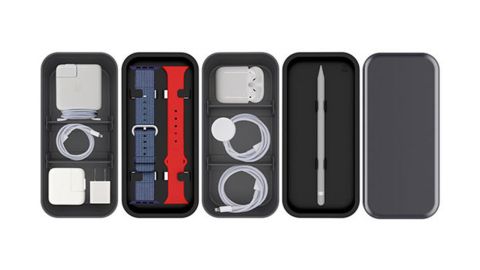 Stack Social
Inspired by Japanese bento lunchboxes, BentoStack is a storage case designed to hold and organize all your Apple accessories. Whether you know someone who's an avid traveler or a true Apple product addict, BentoStack is sleek and modern way to keep your favorite products neat and organized. Each BentoStack also comes with four sliding dividers that create custom storage spaces for all your Apple accessories, including a compartment for charging cables and AirPods and one for power bricks and chargers.
COWIN 6110 Portable Bluetooth Speaker ($42.99, originally $49.99; stacksocial.com)
Stack Social
At only 7 inches tall, these speakers are ultra portable. But don't let their size fool you. With two 45-millimeter speakers, 10 hours of battery life and a Bluetooth range of more than 30 feet, they also pack a punch. No wonder they have a 4.5 star rating on Amazon. An added bonus is the durable aluminum shell, making these speakers a perfect gift option for anyone who's outdoorsy, or just likes to host a good backyard party.
Cowin E7 Active Noise canceling Bluetooth Headphones ($63.99, originally $69; stacksocial.com)
Stack Social
Headphones are a classic gift, but these noise canceling headphones might be the perfect upgrade for any tech fanatic. With over 7,200 reviews and 4.5 stars on Amazon, these headphones are categorized as an "Amazon's Choice" product, so you can rest easy knowing the low price isn't too good to be true. With qualities like professional noise canceling technology, a high quality built-in microphone and 30 hours of playtime per charge, these headphones make a great gift for the person in your life who never seems to slow down.
HyperChiller V2 Rapid Beverage Cooler ($29.99; stacksocial.com)
Stack Social
This might not be a tech product per se, but the innovation involved in how this product works is something we're totally into. The HyperChiller is a device that can chill any non-carbonated beverage in one minute without diluting its flavor or taste. It uses two layers of food-grade stainless steel in order to rapidly cool your drink. Boasting 4.5 stars on Amazon with over 950 reviews, satisfied customers say it's perfect for anyone who loves an iced coffee in the morning.
Insta360 Nano S iPhone VR Camera ($199, originally $239.99; stacksocial.com)
Stack Social
For the up and coming videographer in your life, this attachable camera is a perfect opportunity to start experimenting with 360-degree video. With the Insta 360 Nano S, you can turn your iPhone into a 360 degree camera by simply plugging it into your lightning port. Record in every direction, counteract shaky video with the camera's "super-accurate gyroscope," or even take a 360-degree photo — all in 4K/20MP quality. On Amazon — where it's categorized as an "Amazon's Choice" product — one customer calls it the "hands down best 360 camera under $500."
Rocketbook Everlast Reusable Notebook + Pen Station: 2 Pack ($59.99, originally $78; stacksocial.com)
Stack Social
For any avid note-taker who isn't crazy about wasting paper, gifting a reusable notebook might be a total gamechanger. Innovative tech meets good old note taking with Rocketbook's Everlast notebook. Once you fill all 32 of the notebook's pages, simply use a moist cloth to wipe away your writing. With the Rocketbook app, you can upload your notes and doodles to popular cloud services like Google Drive and Dropbox before wiping them clean. If you're interested in the technology, here's a more in-depth review on the Rocketbook Wave, which zaps your pages clean when you put the notebook into a microwave.
SolarJuice 26,800mAh External Battery ($46.99, originally $99.99; stacksocial.com)
Stack Social
This rain-resistant, dirt-proof and shock-proof external battery is the perfect gift for your adventurous, outdoorsy friend. The SolarJuice is a solar-powered battery that can hold enough charge to revive a smartphone many times — perfect for anyone planning to go off the grid. Its multiple high-speed ports make it compatible with a number of gadgets, and it even doubles as a flashlight.
Star Wars Propel Drone: Collector's Edition ($49.99, originally 149.99; stacksocial.com)
Stack Social
Your beloved Star Wars fanatic can bring sci-fi to life with the Star Wars Propel Drone, which allows one to pilot their own starfighter. Simply attach the controller to your smartphone to take off into the skies. The drone can reach up to speeds of 35 mph and execute specific stunts with the push of a button.
TAO Clean Sonic Toothbrush & Cleaning Station ($69.99, originally $129; stacksocial.com)
Stack Social
So a toothbrush might not be the most fun holiday gift. But for someone looking to take their oral health to the next level, the TAO Clean Sonic Toothbrush is definitely the way to go. This sleek, electric toothbrush is designed to look good in your bathroom and keep your mouth cleaner than ever. Boasting 40,000 strokes a minute, it gently cleans your pearly whites to standards that would impress your dentist. Using UV-C rays, the TAO cleaning station eliminates 99.9% of the bacteria on your toothbrush to keep it clean and free from contaminants.
TREBLAB X5 Wireless Earbuds ($74.99; stacksocial.com)
Stack Social
The TREBLAB X5 earbuds are a great option for those looking to have the best musical experience while they work out. Not only are they built so you can enjoy your audio wire-free, hands-free and weight-free, they also claim to be sweatproof, light and comfortable. As a result, they're ideal for exercise — whether you're someone who likes running, kicking or lifting at the gym. The charging case can hold up to four charges, and each charge lasts up to six hours. It even has a built-in microphone so you can make calls, connect to Siri and Google Assistant without ever having to untangle wires again.