(CNN) —
More than 1,000 aftershocks of magnitude 1.5 or greater have shaken Alaska since Friday's big quake knocked out power, ripped open roads and splintered buildings in Anchorage, US Geological Survey geophysicist Randy Baldwin said Sunday.
The majority were of a magnitude of 2.5 or weaker, meaning they weren't likely felt. But more than 350 of the aftershocks were higher than 2.5, according to USGS data.
Why do so many quakes strike Alaska?
Still, local officials said life was returning to normal even as four to eight inches of snow were expected on Sunday.
"This is the second largest earthquake we've had since 1964, which was a very significant earthquake," Anchorage Mayor Ethan Berkowitz told reporters Saturday, referring a historic magnitude-9.2 quake that was the most powerful recorded temblor in US history.
"Tomorrow is going to be a day closer to a normal sort of day, meaning that we're going to have a weather event," said Anchorage Mayor Ethan Berkowitz. "It's winter in Alaska."
Alaskans resilient to damage
Despite damage to roads and buildings, no fatalities or serious injuries were reported, officials said. In Alaska's largest city – with a population of about 300,000 – airports, hospitals, emergency services and most businesses were operating.
"The bottom line on the utility structure is that the power is up, the heat is on, the communication lines are opening," said Anchorage Municipal Manager Bill Falsey. He added Saturday that the state's department of transportation mobilized four teams of bridge inspectors who remained in a 24-hour operation center until the earthquake situation was resolved.
Most of the aftershocks have not rattled Alaskans. But 12 as of Sunday morning more powerful than 4.5 struck near Anchorage and Big Lake, the USGS says.
But a magnitude-5.2 aftershock about 11 p.m. Friday was the second-biggest event since a magnitude-5.7 temblor hit minutes after the main quake, according to Gavin Hayes, a research geophysicist with the USGS.
"That would have given people a shake and probably a bit of a scare given what they went through yesterday," he told CNN on Saturday.
The magnitude-7.0 earthquake sent residents scurrying for cover when it hit about 8:30 a.m. Friday local time. The quake was centered 10 miles northeast of Anchorage, the state's largest city.
"The most striking thing about this event was that it was so close to Anchorage," Hayes said. "That's why it has caused the damage that we're seeing. Had it been a little further away from Anchorage I don't think it would be getting very much attention. It's not an unusual earthquake in the perspective of the tectonics of the region."
The earthquake was not unusual for the region and probably wouldn't have received much attention had it not struck so close to town, he said.
"This is the second-largest earthquake we've had since 1964, which was a very significant earthquake," Berkowitz told reporters Saturday, referring to the 9.2 quake that was the most powerful recorded in US history.
"In terms of a disaster, I think it says more about who we are than what we suffered," Berkowitz said. "I would characterize this as a demonstration that Anchorage is prepared for these kind of emergencies."
'This was a big one'
Roads buckled under passing cars and grocery store products tumbled from shelves. In court, panicked attorneys scurried under tables as a room rocked from side to side.
"It was very loud when it came," Berkowitz said Friday. "It was very clear that this was something bigger than what we normally experience. We live in earthquake country … but this was a big one."
Palmer resident Kristin Dossett described the initial jolt as "absolutely terrifying."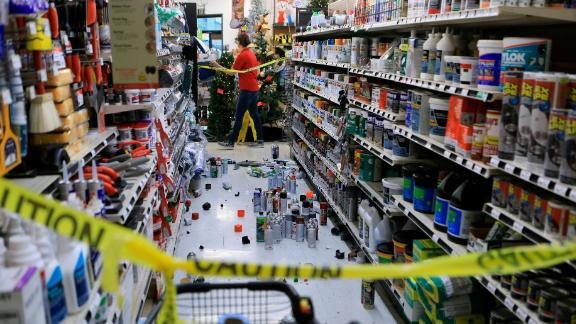 "It just didn't stop. It kept going and got louder and louder, and things just fell everywhere — everything off my dressers, off my bookcases, my kitchen cupboard. Just broken glass everywhere."
Philip Peterson was in a multistory building in downtown Anchorage as the structure swayed and coffee mugs fell from tables and tiles from the ceiling.
"I just jumped under my desk and had to ride it out," Peterson said.
Authorities don't have firm figures on damage yet. Helicopters and drones were assessing infrastructure across the region. Jodie Hettrick, Chief of the Anchorage Fire Department, said Saturday there were no significant earthquake-related injuries, but some municipal employees had minor injuries after diving under desks or having things fall on them.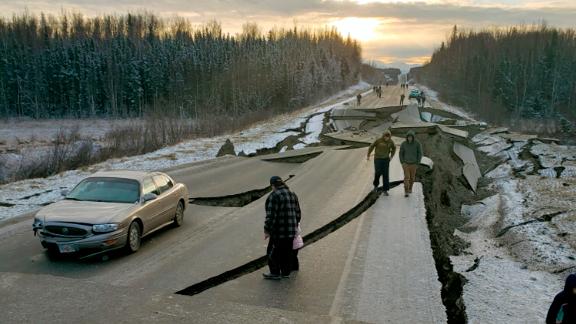 Alaska Regional Hospital and Providence Alaska Medical Center suffered damage but were able to keep emergency rooms open.
The Anchorage School District canceled classes Monday and Tuesday to assess facility damage. Deena Bishop, Anchorage School District superintendent, said the district was able to evacuate children and reunite them with their families safely.
Gov. Bill Walker has issued a disaster declaration.
The 7.0 earthquake was felt up to 400 miles outside of Anchorage, said Michael West, the Alaska state seismologist.
CNN's Sheena Jones, Amanda Watts, Dakin Andone, Shawn Nottingham, Chuck Johnston, Keith Allen, Matthew Hilk and Darran Simon contributed to this report.