Story highlights
Fury was on the brink of suicide when boxing acted as his savior
He faces American No.1 Deontay Wilder for the WBC heavyweight belt
The controversial Fury was banned for previous doping violation
Tyson Fury bought a convertible Ferrari in 2016 and made the decision to drive it off a bridge at top speed.
At the time, Fury had it all: a loving wife and children, and was the heavyweight champion of the world.
But he says he was "frozen in 2015" – the time of his greatest triumph when he shocked Ukraine great Wladimir Klitschko.
The three-year thaw has been long and painful, but in theory, it will reach its climax with another world title shot against Deontay Wilder in Los Angeles on Saturday night.
Visit cnn.com/sport for more news and videos
In the intervening time, Fury has very publicly dealt with his demons of drugs, drink and depression.
It was "the lowest low that anyone could ever have," he recalled of that moment behind the wheel of the Ferrari where "I gave up on life."
Thoughts of his children wrestled him back to sanity, and he quickly sought help.
A psychiatrist warned family members he was an imminent death risk. The slow climb back to physical and mental health began when fellow boxer Billy Joe Saunders, his cousin and best friend, lured him to his boxing camp in Marbella, Spain.
Going in, Fury topped the scales at a whopping 392 pounds. By the end of the Spanish camp, he was already 28 pounds lighter.
Now back on the brink of another heavyweight title, the 30-year-old's resurrection is almost complete.
READ: Wilder vs.Fury: Tempers flare in angry exchange
'Quick fix'
Boxing has also been Wilder's salvation. The American picked up the gloves at the age of 19 – far older than most of his peers – after his daughter Naieya was born with spina bifida. He thought the sport would offer a financial quick fix to help pay for treatment.
"All I was thinking about was the money," he said. "I thought everyone made a lot of money by just stepping into the ring. My focus was to do whatever I could to support my daughter."
Naieya remains his guiding light in the ring, and he has a tattoo on his hand with the words "Road to Success" to remind him of his personal journey.
Branding himself a leader, king and soldier, the 33-year-old Wilder has a contrasting boxing background to that of Fury.
The son of a pastor, the family were just $50 away from going broke on a number of occasions.
At his parents' behest, he worked hard and became a college basketball star before getting his then girlfriend pregnant with Naieya and quitting college for a life within the ropes.
Shed 'a welterweight'
In contrast, Fury's name alone meant he was born to box. As he said back in 2014, "While other kids watched cartoons, I watched video tapes of boxing."
But it was not his namesake Mike Tyson that he aspired to emulate, instead Michael Spinks, renowned for his skilful boxing and footwork.
Born into the traveling community prematurely at little more than a pound, for a time Fury was the self-styled "Gypsy King" in the ring. Undefeated in his 27 fights, Fury insists the greatest threat to his own thrown has always been himself.
As he has said repeatedly this week, "The only one to stop me being successful as a boxer is me."
The turnaround has been remarkable. "I've come back from wanting to commit suicide and 28 stone [392 pounds) to as fit as a fiddle and in a great place mentally," he said.
Fury has shed nearly 140 pounds – akin to an entire welterweight – and much of his return to form and fitness is down to the relatively unknown trainer Ben Davison, who was working initially with Saunders in Marbella.
Shedding that weight has only been part of the fix. Post-Klitschko, Fury took cocaine and drank heavily. On the road to recovery, religion has been key. At his lowest ebb, he prayed to God. There are still days where he thinks "this is shit."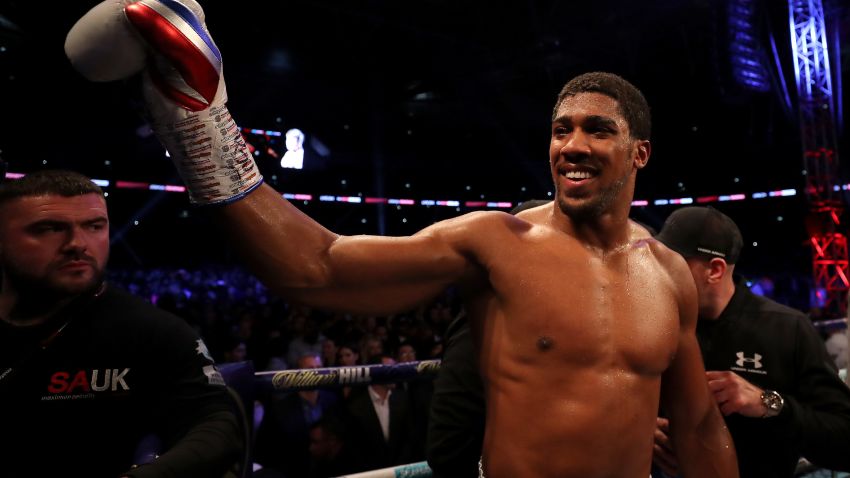 Anthony Joshua on Tyson Fury & Deontay Wilder
Getting inside Klitschko's head
The one major blot in his own salvation story is a positive test for a banned substance in February 2015 for which he received a two-year backdated ban from UK Anti-Doping, which left him free to box again in December 2017.
READ: Fury vacates heayweight belts
But there is no doubting his self-belief as a boxer. Against Klitschko, no one gave him a chance but he completely outboxed the Ukrainian.
The secret to that success lay in the build-up. Famously turning up as Batman to one press conference, Fury was a conundrum the normally methodical Klitschko could not work out.
It was the same in the ring – one sparring partner likened Fury to an octopus, with attacks coming from everywhere, making him immensely difficult to prepare for.
As one of Wilder's team, Mark Breland, put it: "Even Tyson Fury doesn't know what he's going to do. If he doesn't know, then how can his opponent know? Tyson is the most awkward guy in the division, he's the hardest to figure out."
The evidence of Wednesday's final press conference would suggest Fury has got inside Wilder's head, such was the vitriol from the American. The alternative, cynical view would simply be that two men had millions more to be made from the pay-per-view audience – the thinking being no publicity is bad publicity.
For his part, Wilder is adamant he won't fall into the same traps as Klitschko: "This is not Klitschko. I looked him in his eyes at the first press conference and said I'm not Klitschko, you can't get in my head."
Trying to assess the fight is nigh-on impossible. Fury has added Manny Pacquiao's trainer Freddie Roach to his corner, either an astute bit of business or a late sign of panic from Fury and Davison, depending on your take.
Wilder is the No.1 ranked American, Fury Britain's No.2 behind Anthony Joshua, who is primed to face the winner in April in London.
"Either of them that's ready, if you're serious, talk about me post-fight all you want, but if you're not really serious about fighting, leave me out of it so I can focus on fighting someone else," said Joshua.
A Joshua fight would finally unify the division. First, comes Saturday night in front of Wilder's home crowd, although Fury insists home advantage will have little impact with Wilder not heralded in the same way as Mike Tyson and the past American heavyweight greats.
Either way, it is a salvation for both; Fury for his mind, Wilder for his child.