Editor's Note: Spencer Overton is president of the Joint Center for Political and Economic Studies and a professor at The George Washington University Law School. The views expressed here are solely the author's. View more opinion articles on CNN.
(CNN) —
A predictable and depressing ritual unfolds in January every two years. Members of Congress take their oath of office and then fail to hire senior staffers who reflect the diversity of the people back home they swore to represent.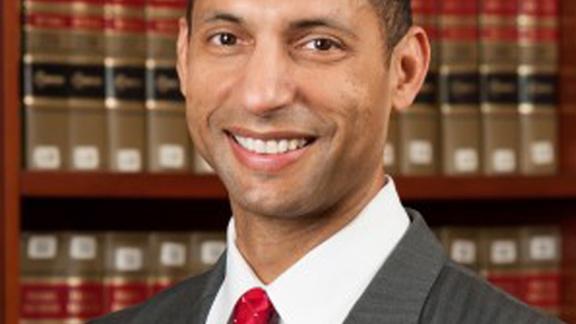 Those members will, once they take office, help pass legislation that shapes the nation. But how can they effectively represent all of their constituents if their most trusted advisers don't reflect a range of backgrounds at least as diverse as those whose interests they're serving?
Now is the time to fix this problem.
As the 116th Congress approaches, members in the House and Senate will have hundreds of top- and mid-level openings to fill. Newly elected members will need to hire their entire office staffs, and many House Democrats taking over as chairs of committees will need to double the size of their staffs. A serious commitment to diversity in hiring over the next four months can go a long way toward fixing the problem.
Six new reports by the Joint Center for Political and Economic Studies give a better sense of the scope of the alarming lack of diversity at the top level in the Washington offices of six congressional delegations – Delaware, Maryland, Mississippi, Pennsylvania, Tennessee and Virginia. These reports defined senior staff positions as chiefs of staff, legislative directors, communications directors and committee staff directors. These reports reflect data as of June 1, gathered using a professional research service, associations and organizations for Congressional staffers of color, social media posts and multiple queries to individual legislators' offices.
By far, the state with the worst diversity record of the six is Tennessee. While people of color make up around 25% of Tennessee's population, they account for none of the state's 28 top staffers. This is even the case in the office of Rep. Steve Cohen – who represents a district that is around 75% people of color. It's worth noting that House Democrats and Republicans do not disclose data on overall staff diversity, which makes it more difficult to assess diversity outside the most visible top positions. Senate Democrats already do disclose, but Senate Republicans do not.
Mississippi, whose population has the largest share of black residents of all 50 states, has a population that is over 40% non-white. Nevertheless, people of color hold less than 20% of the top staff positions. And even though 13% of the 2016 Republican voters were African-Americans, none of the 14 top staffers who work for the state's five Republican members are African-American.
This problem is not limited to traditionally Republican states. People of color make up over 45% of the population of Maryland, but none of the nine top staffers who work for powerful Democrats Sen. Ben Cardin, Sen. Chris Van Hollen and House Democratic Whip Steny Hoyer.
The data also show a pattern of African-Americans disproportionately supporting Democrats but receiving a small share of top staff positions. For example, our report points out that African-Americans accounted for over a third of the Democratic Party's voters in both Delaware and Virginia in 2016, but none of the 13 top staff positions in the offices of the four Democratic US senators from these two states.
Unfortunately, these four senators' offices highlight that this is more than a right-now issue; it's also a pipeline problem among mid-level staffers who might look to advance into top staff jobs. African-Americans make up a relatively small percentage of the mid-level staffers for Delaware Sens. Tom Carper (8.3%) and Chris Coons (6.3%), and Virginia Sens. Mark Warner (13%) and Tim Kaine (0%). All of these senators reported much higher percentages of staff of color to the Senate Democratic Diversity Initiative (Carper 46%, Coons 21%, Warner 38%, and Kaine 40%). The low percentages of staff of color in top- and mid-level positions and the higher overall diversity numbers suggest that staffers of color are concentrated in lower-level or home office positions.
The lack of diversity in members' offices is not limited to these six state congressional delegations and it's a persistent trend. For example, our September report on the entire US House showed Latinos and Asian-Americans/Pacific Islanders held none of the 64 top staff spots on committees or in leadership offices. Our 2015 report exposed minimal top staff diversity in the Senate.
Some congressional leaders are at least aware of the problem. Democratic Leader Nancy Pelosi recently wrote a letter to her House colleagues emphasizing the importance of staff diversity in the 116th Congress. She flagged some key reforms, such as creating a House Diversity Office and interviewing at least one person of color for each open position (the "Rooney Rule"). The letter was a good first step.
More, however, is needed. Both the entire House and Senate should disclose staff demographic data every year. Each member's office should go further, developing a written diversity plan and requiring staff to undergo unconscious bias training.
Get our free weekly newsletter
Much has been written, and rightly so, about how transformative and diverse this incoming Congress will be – a Congress of "firsts." That reality, coupled with the required turnover and flurry of hiring that accompanies any new Congress, means the next weeks and months are a critical time to act to promote staffing diversity as well. Rather than letting this opportunity pass, Congress should use this window to diversify its offices and do more to finally give all Americans a voice.