(CNN) —
Ukraine will restrict the entry of Russian men aged between 16 and 60 in an effort to prevent Russia from forming "private armies" on its soil, President Petro Poroshenko said Friday.
Poroshenko cited fears of an invasion similar to Russia's seizure and annexation of the Black Sea peninsula of Crimea in 2014 as the logic behind his latest security measures.
The ban follows Kiev's imposition of 30 days of martial law in a handful of provinces. Tensions have soared between the two former Soviet Republics after Russian boats attacked and seized three Ukrainian navy vessels and 24 sailors in the Kerch Strait last weekend.
A court in Crimea ordered all 24 sailors to be detained for two months earlier this week pending trial. On Thursday, a number of the sailors were transferred to Moscow, according to a lawyer for two of the sailors. CNN reached out to the detention center but did not receive a response.
On Friday, Russian Foreign Ministry spokesperson Maria Zakharova said the entry ban on Russian men showed Kiev's "dysfunction" but stopped short of calling for a tit-for-tat retaliation.
"It's frightening to talk about mirrored response, because if anyone even tries mirroring what's going on now in Kiev, it can lead only to madness," Zakharova told reporters Friday.
"The somersaults that we see in Kiev, and in Ukraine in general, show the complete dysfunction of the state, of the state as an entity, a consequence of the wild – and it's impossible not to say premeditated – movements of the country's leadership," she added.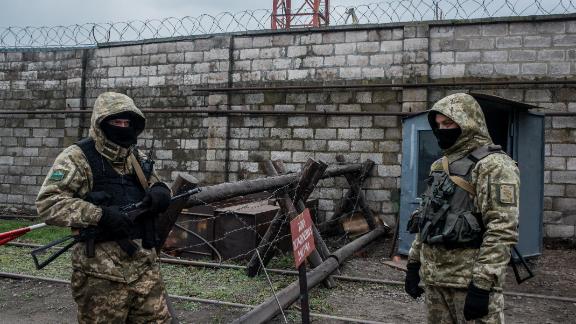 Martyn Aim/Getty Images
Friday's security order is likely to make the lives of those residing in the border regions much more difficult. Ukraine and Russia are heavily interconnected; many residents have friends and family on the other side of borders.
Questions over Putin's endgame
Earlier this week, Poroshenko said Russia appeared to be building its military presence along the border, sparking further concerns that the long-simmering conflict is entering a new phase.
"The country is under the threat of a full-scale war with the Russian Federation," Poroshenko said.
There have also been reports of Russian missiles being moved in the aftermath of the standoff.
The Russian military will deploy additional S-400 air-defense systems to Crimea, Russian state news agency RIA-Novosti reported Tuesday, citing the head of the press service of Russia's Southern Military District, Vadim Astafyev.
The clash and subsequent aftermath has prompted fears that Russia may seek to control all entry and movement in the Azov Sea.
Crisis casts shadow on G20
Russia's use of force against Ukraine sparked widespread condemnation, and the crisis is likely to loom large over the G20 summit in Argentina, which began Friday.
On Thursday, US President Donald Trump abruptly called off a bilateral meeting with Russian leader Vladimir Putin due to take place on the sidelines of the two-day event.
Trump blamed the cancellation on Russia's refusal to release the Ukrainian navy ships and sailors seized during last week's incident.
While the decision was applauded in Kiev, some tied the cancellation to the Trump's domestic political problems. Hours before Trump pulled the plug on the sit-down with Putin, new allegations surfaced involving his former longtime attorney Michael Cohen, once again prompting questions about Trump's financial ties to Russia.
"Was the provocation organized by Kiev in this region the real reason for cancellation?" Zakharova, the Foreign Ministry spokeswoman, said in a press conference Friday, Russian state news agency RIA reported.
"Publicly, we heard just such an explanation, we took note of it. Is this a reality? I think that you still need to look for answers in the US domestic political situation. The dominant factor in making a decision is domestic political realities in the US," she suggested.
The Kremlin also said it regretted the US administration's decision to cancel the meeting but left the door open to reschedule the appointment.
"As far as Russian President Vladimir Putin is concerned, he is ready for contacts with his US counterpart," Kremlin spokesman Dmitry Peskov told Russian state news agency TASS on Friday.
CNN's Radina George contributed to this report.