A 12-year-old girl is out of the hospital and doing well after a Thanksgiving night mall shooting, thanks in part to a quick-thinking Army National Guardsman whose training kicked in when shots rang out.
Spc. Rashad Billingsley, 18, was at the Riverchase Galleria in Hoover, Alabama, with his cousin and two friends when they heard the gunshots.
"I got down for cover. I heard two shots, then a 3- to 5-second pause and another two or three more gunshots," he told CNN.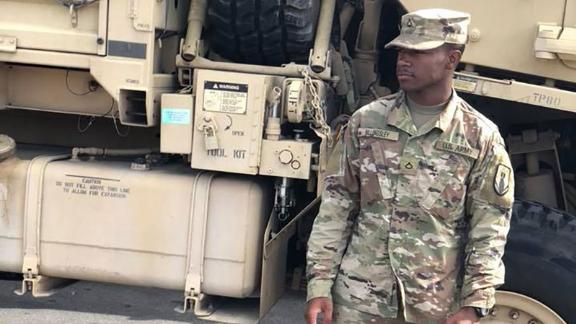 From Facebook
A teenager, who hasn't been identified, was injured, and police killed Emantic Bradford Jr., mistaking him for the gunman, who's still on the loose.
Billingsley ran into a hallway where he saw a girl, 12-year-old Molly Davis, suffering from a gunshot wound. She was panicking, he said.
"Molly was walking in the hallway, complaining her back hurt. There was blood on her shirt," Billingsley said.
The Ashland resident asked a police officer to hand him a T-shirt off a clothing rack, he said. Relying on the medical training he received in the National Guard, he applied pressure to her wound to stop the bleeding.
'They were all amazing'
Molly's mom couldn't be reached for comment, but she detailed her daughter's ordeal on Facebook. Molly had gone to the mall with her sister and grandmother for early Black Friday shopping, Julie Moore Bennett wrote in her post.
It was almost 10 p.m., and the three were outside J.C. Penney when a fight broke out and shots were fired.
"She said that her back hurt, but didn't even realize she had been shot until she overheard my mom telling me on the phone," Bennett said.
Billingsley arrived to help, followed by a nurse who told Molly's grandmother that Billingsley was doing exactly what needed to be done. Though Bennett identifies Billingsley as a medic, he's actually a motor transport operator, but all soldiers and Guardsmen learn first aid skills during basic training.
Employees from a shoe store covered Molly with a jacket because she was cold, and Billingsley stayed with her until paramedics arrived and took her to Children's of Alabama in Birmingham, Bennett wrote.
Billingsley walked out of the mall with Molly's sister, Jessie. He saw a body on the ground as they exited and positioned his arm to prevent her from seeing it, he told CNN. Bennett was rushing to the hospital to see her daughter.
"I was able to walk in with Molly and talk to her for a minute before they started working on her," Bennett wrote. "There were so many kind people taking care of us and telling us what was going on. Firefighters, police, doctors, nurses, a chaplain, and more. They were all amazing."
Little fighter leaves hospital
Molly was in pain "but very brave and positive as always," her mother said. Doctors decided the bullet hadn't damaged any organs, and there was no internal bleeding.
"The bullet had gone in her back at an angle and lodged really close to her spine," Bennett wrote.
A CT scan the next day showed a fractured rib but no spinal damage. Physicians decided to leave the bullet where it landed.
"The rib will heal on its own, but it will be painful for a while. The bullet will stay where it is and shouldn't cause her any more trouble, except at the airport or anywhere else with a metal detector," her mother said in a Facebook update, adding a smiley face emoji to the post.
Local media, including CNN affiliate WBRC, reported Monday evening that Molly had been released from the hospital.
Bennett thanked everyone who sent messages of encouragement and gifts to the family, including the owners of a Birmingham café who brought a Caribbean dinner and tres leches cake to the hospital Saturday night and prayed with the family.
Billingsley said in a Facebook post this week that he did nothing heroic and does not need recognition. He credits the combat medic who trained him, as well as God for putting him in the right place.
"I'm a STRONG believer and believe everything happens for a reason … and my reason for being there was to help little Molly," he wrote. "Julie Moore Bennett I'm glad that I could be a help with Molly and your family. Molly is the true hero and warrior here."
CNN's Angela Barajas contributed to this report.