Here's what you need to know to Start Your Week Smart.
Here's what you need to know to Start Your Week Smart.
(You can also get "5 Things You Need to Know Today" delivered to your inbox daily. You give us five minutes, and we give you five things you must know for your weekday, plus a Sunday edition to get your week started smart. Sign up here.)
TODAY
• European leaders meet to finalize the diplomatic divorce deal known as Brexit. Under the agreement, the United Kingdom would formally dislodge from the European Union on March 29 but stay in the trading bloc through the end of 2020. Still don't get it? Read our non-Brits' guide to Brexit.
Bremmer: May "in a really untenable position."
• It's Villanova vs. Florida State for men's college basketball bragging rights in Orlando in the AdvoCare Invitational.
March Madness: The Business Behind the Bracket
• On the West Coast, Miami and Seton Hall face off on the court at the Wooden Legacy tournament.
2. Iraq
• Starting this evening, we wish our Muslim readers a happy new year, 1440, as they commemorate the Prophet Mohammed's flight from Mecca to Medina to escape religious persecution. The coming month, Muharram, is the second holiest for the faithful, after Ramadan.
Heyer's mom: How could I not be strong?
• Can't stand hunting for parking at the mall? Don't fret. Cyber Monday is here. It's the day you can zero out your holiday shopping list while your boss's head is turned. A record $6.59 billion was spent online during Cyber Monday last year, but beware these common scams, especially on your smartphone.
TUESDAY
Top 10 CNN Heroes of 2018 revealed
• Mississippi voters go back to the polls to elect a US Senator. After neither candidate got 50% of the vote in the November 6 election, Republican Sen. Cindy Hyde-Smith and Democrat challenger Mike Espy will square off again in a runoff. The stakes are so high that President Trump will visit the state to campaign for Hyde-Smith, who has been dogged by her controversial comments and past actions related to the state's dark history of racial violence.
WEDNESDAY
• US Sen. Sheldon Whitehouse, a Rhode Island Democrat, faces a primary challenge from a peace activist, while on the GOP side, a former state Supreme Court justice faces an opponent whose name appears on US Senate ballots in nine states.
FRIDAY
• Turkey's President reportedly travels to Iran for a three-way meeting with leaders of that nation and Russia. Topping the agenda would be the conflict in Syria, where the regime has been planning for a final assault on rebels' last stronghold. The United States has been worried that chemical weapons are part of the regime's plans after Syria in recent weeks moved armed helicopters closer to Idlib. Turkey, Iran and Russia are key players in Syria's civil war, which has claimed some 400,000 lives over seven years.
Understanding political 'bilateral meetings'
• Whew! If you live in a US hurricane zone, take a breath – you made it. The Atlantic and Eastern Pacific hurricane seasons end. They were doozies, with Florence devastating the Carolinas and Virginia and Michael leveling parts of the Florida Panhandle. In the Pacific, Hector, Lane and Olivia drenched Hawaii, while the remnants of Rosa lashed Phoenix.
Why hurricanes are so hard to predict
• It's college football's conference championship weekend across the country. Some matchups, such as Alabama vs. Georgia for the SEC crown, will have a big impact on who ends up in the College Football Playoff.
SATURDAY
• Pope Francis visits Sicily to honor a priest killed by the Mafia. We'll be watching to see whether he also addresses the sex abuse crisis during his trip.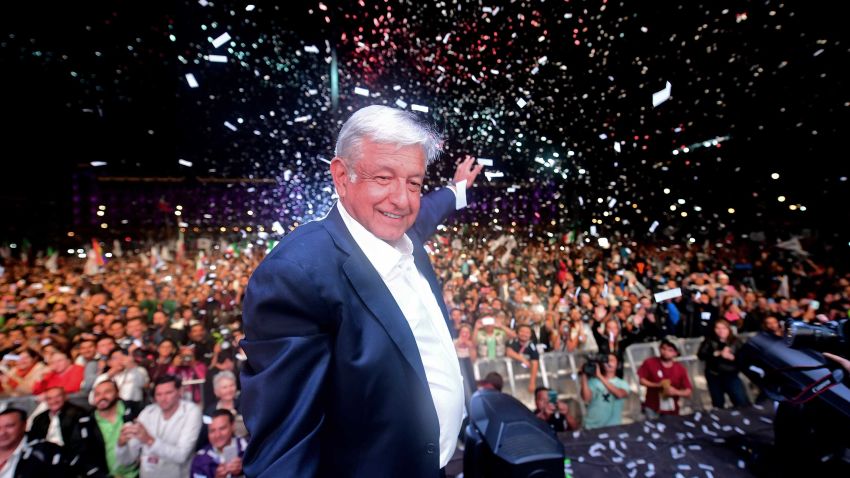 Mexico elects leftist politician as new president
• As you choose the perfect presents for the kiddos on your holiday list, remember, December is Safe Toys and Gifts Month. While a consumer advocacy group says "toys are safer than ever before," experts warn of the potential chemical hazards of slime, toys with possible choking hazards and ones that could violate children's privacy by sharing data.
Why the American toy industry is hurting
01:29
- Source: CNN Business
• World AIDS Day turns 30. More than 30 million people worldwide live with HIV/AIDS. If you haven't gotten tested, here's where to go for help.
Elton John: We have the drugs to end this disease