Stuffed grape leaves are a Thanksgiving dinner staple for Susan Muaddi-Darraj's Palestinian-American family, along with turkey and mashed potatoes.
The classic Mediterranean dish is time-consuming and labor-intensive. But Muaddi-Darraj looks forward to helping her mother prepare them each year to represent a piece of her family's heritage.
"It's one of those foods that everyone loves to eat at any big family event and it's part of our culture," Muaddi-Darraj said.
Just as immigration is changing the face of America, blended culinary traditions are changing the American Thanksgiving table in delicious ways.
Muaddi-Darraj and others posted images of their creations on social media, because is there anything more American than sharing pictures of food?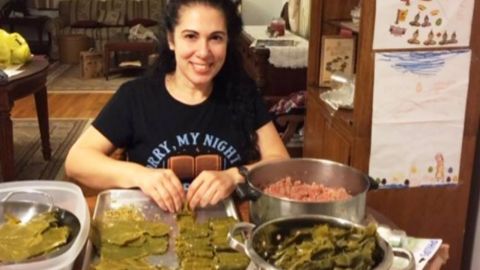 Muaddi-Darraj's mother prepares the filling of beef, rice and spices ahead of time. She returns home to Maple Shade, New Jersey, the night before Thanksgiving and they sit down with coffee and catch up as they hand-roll the bite-sized treats.
"Now that I live out of town, those moments are really precious," she said. "Because it's so time-intensive, most people won't make it at home, so when you come out to a big family event it makes everyone happy."
Elizabet Gomez's family is from Mexico and she was born in the United States. Her family's Thanksgiving table includes a blend of traditional dishes from both countries: turkey and ham served with mashed potatoes, salsas, beans and corn salad.
Like Darraj, her family gets together before Thanksgiving to prepare another dish that involves lots of time, love and manual labor: tamales, a dish typically prepared en masse, with various fillings rolled into dough and then cooked in corn husks.
"Getting together to make them … it kind of starts the holiday," Gomez said. "Throughout the years, tamales continue to be a big part of the celebration."
She shared a photo on Instagram of herself preparing tamales with her older sister and mother. Gomez said they made about 60 on Wednesday. For Christmas they will make more, so the tradition lasts through the New Year.
"I'm grateful for moments like this. Quality time making tamales with my mamacita. Unplanned and fun!" she said.
For Caterina Santiago, no Thanksgiving is complete without flan and coquito, traditional Puerto Rican desserts that she and her family make each year.
Coquito has a texture and taste similar to eggnog that gets its coconut flavor from coconut cream, which is why it's called coquito. Flan is a caramel custard that's a holiday staple for Puerto Ricans.
"You just know the holidays are here from that taste, Santiago said.
Santiago grew up in New York, and she now lives in South Florida with her husband, who is also Puerto Rican.
They are surrounded by people from different cultures, but she said the traditions of Puerto Rico are "something I make sure my family holds close."
Atlanta-area resident Nadir Noorani said he eats traditional Indian food each year with family and friends for Thanksgiving.
He shared photos on Instagram of his Thanksgiving table. His spread includes a mix of rice dishes and simmered meats: chicken korma, chicken biryani, vegetable biryani, and samosas, a savory dumpling-like pastry.
"We have a tradition where we make homemade food and friends and family eat traditional Indian food. We meet every year for Thanksgiving."
Denise Fulgencio of South Plainfield, New Jersey, shared a photo of lumpia, a thin stuffed fried pastry in her Filipino Thanksgiving feast.
"Are you even Filipino if you don't have these babies at thanksgiving?" she said on Instagram.
"We normally eat a huge array of food," Fulgencio told CNN. "Filipinos love to eat."