Editor's Note: CNN national security analyst John Kirby, a retired rear admiral in the US Navy, was a spokesman for both the State and Defense departments in the Obama administration. The opinions expressed in this commentary, adapted from a speech delivered at the Sorensen Institute for Political Leadership, are his own. View more opinion articles on CNN.
(CNN) —
President Donald Trump says he will soon be visiting troops in a war zone. It's a pity he's had to be goaded into that.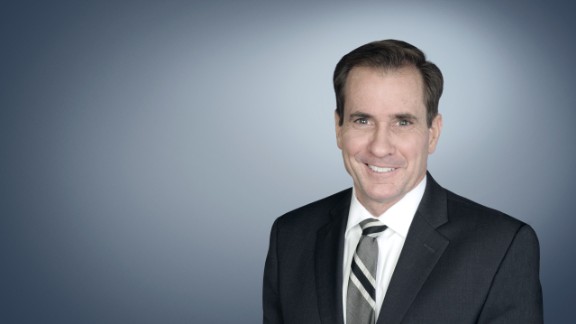 But if his Thanksgiving Day phone call to men and women stationed abroad is any indication of what we can expect, I would just as soon have him stay home.
He needlessly politicized that conversation, railing against the 9th Circuit Court of Appeals, which has ruled against him on immigration, complaining about unfair trade deals, and wrongly accusing his predecessor, Barack Obama, of underfunding the military.
When an Air Force general in Afghanistan reassured the President that he and his airmen know their mission is to prevent more attacks on our homeland, Trump turned it around to his much-ballyhooed border mission.
"You said it better than anybody could have said," Trump replied. "Keep them away from our shores. That's why we're doing the strong borders. You probably see over the news what's happening on our southern border, and our southern border territory. Large numbers of people, and in many cases, we have no idea who they are. In many cases they're not good people."
Let me be blunt. The United States military is not a voting bloc. It's not a MAGA rally crowd. It's not a plaything, and it's most certainly not an arm of the Republican Party. Our troops, of course, must obey the orders of the commander in chief. They execute the military policy he sets forth. But their loyalty belongs to the American people and to the Constitution.
Trump seems to interpret this loyalty and obedience as political support for him personally. He simply cannot be around them without finding a way to politicize it, and them in the process.
That's why I wasn't all that put out that he didn't visit Arlington National Cemetery on the Monday after Veterans Day. And it's why I am not all that bothered by the fact that he hasn't yet visited troops in the field. He'll just make it all about him. He'll subject the troops to a monologue about his political opponents.
Just like he did on Thanksgiving, he'll use them as props.
To be fair, other presidents in other times have likewise been accused of using the troops as props to bolster public support for their war aims. Presidents George W. Bush and Obama both faced that scrutiny. There was the now-famous "Mission Accomplished" banner strapped across the superstructure of an aircraft carrier when President Bush announced the end of combat operations in Iraq. He also took flak in 2012 for having generals and admirals flank him at the Pentagon podium when he announced significant cuts in defense spending.
Typically, though, trips to war zones are less politicized, and focused much more on expressions of support. And both Presidents Bush and Obama hewed closely to that tradition.
Speaking in Baghdad on Thanksgiving in 2003, President Bush said he wanted to be there to pass on a simple message from the American people: "We thank you for your service, we're proud of you, and America stands solidly behind you. Together, you and I have taken an oath to defend our country. You're honoring that oath."
"Everybody knows Afghanistan is still a very dangerous place," Obama told troops during a visit there in 2014. "But just look at the progress you have made possible — Afghans reclaiming their communities, and more girls returning to school, dramatic improvements in public health and life expectancy and literacy. More Afghans have hope in their future, and so much of that is because of you."
There's no question that drumming up — or shoring up – domestic political support partly motivated those visits and those messages. But neither Bush nor Obama ever mentioned the partisan debate back home over those missions. They didn't grouse about immigration or trade deals. They didn't whine about the pressure they were under from Congress or the courts. They didn't make it about themselves.
They went to say thank you.
Trump loves to wrap himself in a jingoistic cloak and tends to view the military as some sort of extension of himself. They are not, of course. And their missions overseas, while perhaps distasteful to him, should not be used to further his campaign bluster and feed his fragile ego.
I'm not saying he shouldn't ever visit troops in the field. But if he does, he needs to leave the politics and his sizable personality out of it.
My hopes are not high for this. And I fear I will end up thinking his visit, when it occurs, was in the main – like his Thanksgiving call – more damaging to the health of the military institution than it was a boon for morale.
So, maybe he should just stay home.