Interpol holds its general assembly this week in Dubai, and the meeting has become a new flashpoint in the ongoing confrontation between Russia and the West.
Delegates will cast votes on Wednesday for a new president of the international police organization. And a leading candidate for the job is Alexander Prokopchuk, currently Moscow's most senior Interpol official.
That has critics in Washington and in Russia up in arms. The reason? Russia, they say, has a track record of using Interpol's systems to crack down on and pursue the Kremlin's political foes.
On Monday a bipartisan group of US senators released a letter saying the election of Prokopchuk would be "akin to putting a fox in charge of a henhouse."
While the president of Interpol is not in charge of day-to-day operations – the secretary general holds that responsibility – the holder of the position can influence its overall strategy.
In their letter, the senators urged the Trump administration and members of Interpol's general assembly to oppose Prokopchuk's candidacy, saying it would undermine its credibility.
"Russia routinely abuses Interpol for the purpose of settling scores and harassing political opponents, dissidents and journalists," the letter said. "Alexander Prokopchuk has been personally involved in this intimidation strategy which ultimately seeks to weaken democratic institutions and embolden Putin's authoritarian regime. If elected as president by the members of Interpol's general assembly on Wednesday, we have no doubt that Mr. Prokopchuk will further institutionalize the abuse of Interpol red notices and block ongoing efforts at meaningful reform."
Leader needs credibility
On Tuesday, the US threw its backing behind another candidate. US Secretary of State Mike Pompeo endorsed Kim Jong Yang, a South Korean police official who is currently the acting president of Interpol, for the job on a permanent basis.
"We encourage all nations and organizations that are part of Interpol and that respect the rule of law to choose a leader with credibility and integrity that reflects one of the world's most critical law enforcement bodies. We believe Mr. Kim will be just that," Pompeo said at a news conference in Washington.
An aide to US Sen. Marco Rubio, a Republican on the Foreign Relations Committee and one of the senators behind the bipartisan letter, said Tuesday that his office was working with the US Justice Department and US State Department to lobby Interpol member states against voting for Prokopchuk.
Louis Shelley, a transnational crime expert and director of the Terrorism, Transnational Crime and Corruption Center at George Mason University, called the potential election of a Russian as Interpol's president a "catastrophe for international criminal justice."
The president of Interpol establishes the agency's working committees and "has an influence on policy," Shelley said.
"It's not as if it's just some figurehead," Shelley said. "It totally politicizes the organization and provides that Interpol becomes a political tool of an authoritarian government."
The potential appointment of Prokopchuk has also drawn criticism from Russia's embattled opposition. Leading Putin critic Alexei Navalny said Monday on Twitter his supporters had "suffered from abuse of Interpol for political persecution by Russia."
Calls for reform
US-born businessman Bill Browder also says he has firsthand knowledge of how the Russian government uses Interpol to settle political scores: He said the Russian government has issued a string of "red notices" in attempts to arrest and extradite him. In a press conference Tuesday, Browder said that if a Russian now becomes the head of Interpol, new rules to prevent Russian abuses must be imposed.
"Or if that's not possible, it may be time to create an international law enforcement that just consists of countries that abide by the rule of law," " Browder said,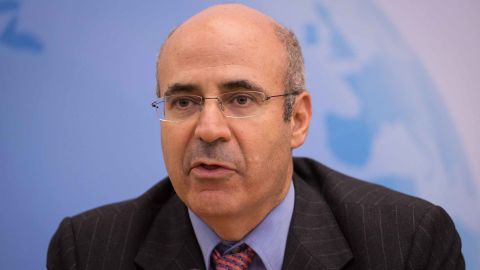 Browder has been the driving force behind the Magnitsky Act, which was signed into law in the US in 2012 and blocks entry into the US and freezes the assets of certain Russian government officials and businessmen accused of human rights violations. The act is named after Sergei Magnitsky, Browder's lawyer, who died in Russian custody in 2009.
Observers say the Kremlin has made a priority of weakening or even overturning the Magnitsky Act, even as several other countries have adopted similar laws to deter corruption and human-rights violations.
Kremlin spokesman Dmitry Peskov said Tuesday that the US was "meddling" in the election of a new Interpol chief, amid rising opposition to the possible appointment of a Russian Interior Ministry official to head the international agency.
Asked in a conference call with reporters to comment on the letter from the US lawmakers, Peskov said: "We haven't seen the actual letter, but we've read media reports about it. I guess this is meddling in an electoral process in way, in the election of an international organization. How can we think of it otherwise? This is a very telling move."
That the vacancy exists at all is itself controversial. The organization's Chinese former president, Meng Hongwei, recently went missing on his return to China; Chinese authorities transmitted what they claimed was his resignation letter to Interpol. His wife, Grace Meng, says Interpol was too quick to accept the Chinese version of events.
In a statement Monday, Human Rights Watch criticized the police organization's "curious unconcern about its disappeared ex-chief."
"This is extremely disappointing and worrying behavior from an organization that is supposed to protect people from abuses of power, not aid and abet such infringements," a spokesperson for Grace Meng said.
David Shortell wrote from Washington, DC. CNN's Matthew Chance contributed reporting from Moscow and Saskya Vandoorne contributed reporting from Paris