Sirens blare. The sky flashes red. Embers rain down.
And time is running out.
The wildfires raging through California have already claimed 80 lives just this month. Those who managed to escape before their homes were reduced to cinder had to contend with a difficult dilemma: You have mere minutes before you must run. What do you take? What do you leave behind?
These are the things the wildfire evacuees carried.
A cat, a camera and some Polaroid pictures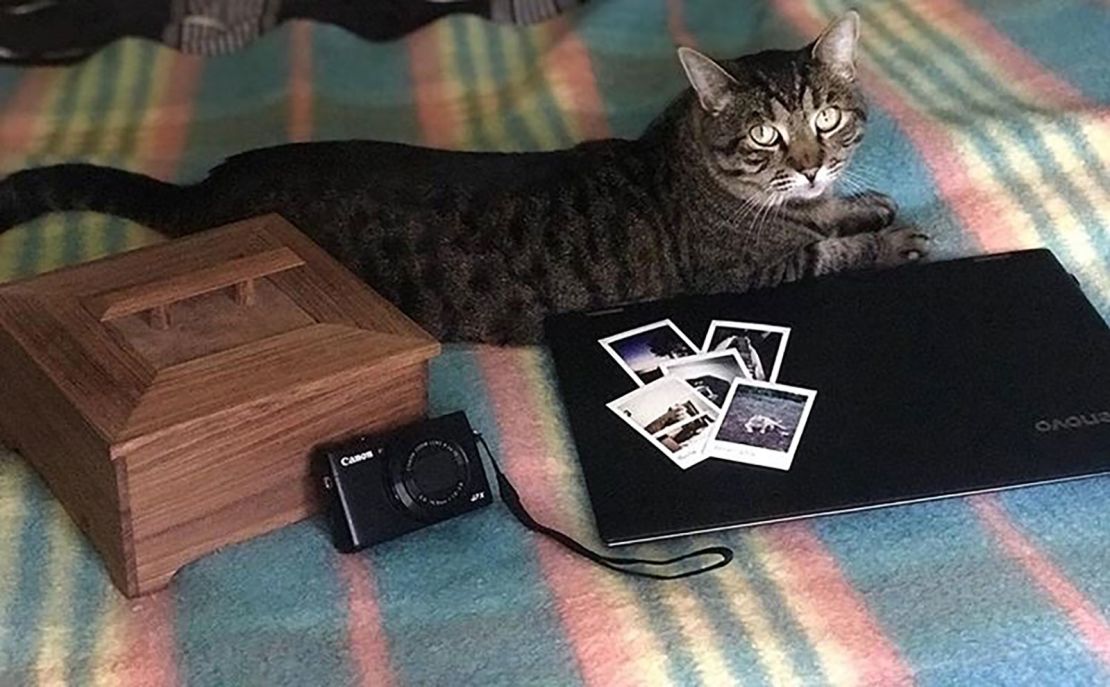 While 15-year-old Jillian Smalley and her mother were packing to leave Paradise, the power went out. They never got an official alert to evacuate, but they had 15 minutes to grab what they could.
She managed to rescue her cat, Twila. The family's other cat, an orange tabby named Ember, is still missing.
The high school student is grateful she escaped safely to Chico, but there was one thing she wished she had taken.
"I wish I grabbed my guitar," Smalley said. "I would play it every day, so I was sad when I didn't have that anymore. I did however grab my camera, my computer, and a box full of my Polaroid pictures."
Photography holds a special place in Smalley's heart, especially during a time when she and her community have lost almost everything. The family lost their home in the Camp Fire.
"My camera had a lot of photos on there that I can't live without and my Polaroids hold special memories with friends and family," she said.
A bunny, a blanket, two suitcases and a guitar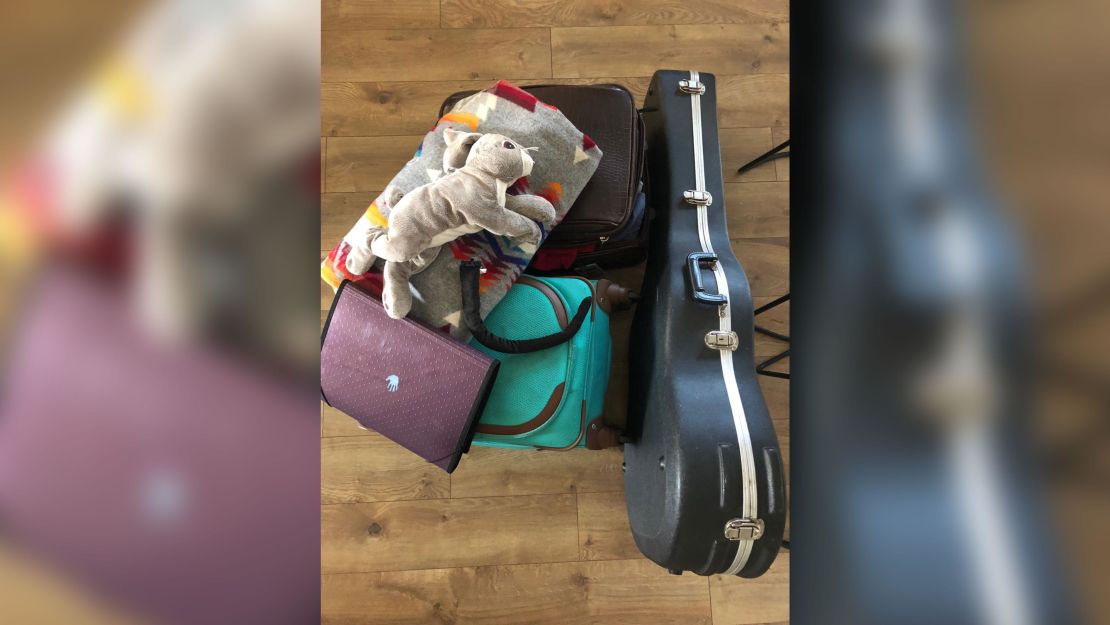 Living out of boxes meant Tanah Clunies-Ross and her family were able to save more of their belongings from the fire. They had moved to Paradise seven months ago and were still unpacking.
"One thing we learned is having all our important documents and photos on hard drives. They happened to be all in one location," Clunies-Ross told CNN. "That's what saved that stuff."
Some of the family's clothes and their toiletries were already packed, left from a trip to Oregon the week before. Having some essentials ready gave Clunies-Ross the time to pack her medications.
When she got to her closet, she started at her clothes. She didn't know what to take or how to pack them. She left them hanging there.
"I think in crisis you don't have the brain power to make any sense of anything. Even if there was a list you had, I don't think it would make sense of the time," she said.
Clunies-Ross is a nurse midwife and an emergency provider, yet she lost her calm while in a 15-minute frenzy to grab whatever she could. "I couldn't save my life if I had to. I was just on the verge of losing it," she said.
She had sent her husband and two children on their way in the other car, as she was on call at the hospital, she said. She still hadn't received an alert to evacuate.
The 39-year-old made several trips to her car and noticed the fire was spreading quickly. A fire had appeared in her front lawn and the next time she looked, a man came out of nowhere and put it out for her.
A few framed photos, her daughter's stuffed bunny and some of her husband's favorite vintage T-shirts also made it out.
Their home, made of cedar, didn't make it. "It looks like a house was never there," she said.
"I'm glad I have my family," she said. "At the same time, nothing else really matters in the mix of it all. Money can buy any of those things."
Prized journals, family pets and two favorite books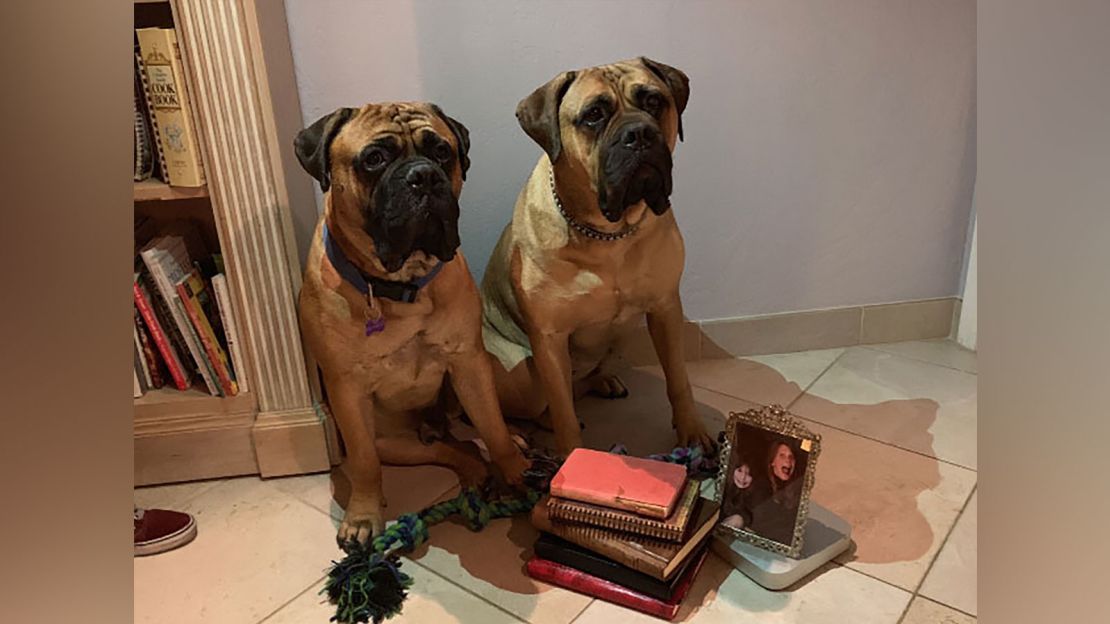 Kim Stanwood Terranova was at her Malibu home and business when the first wildfire alerts started coming in late at night.
Living there for more than 25 years, she's had experience with wildfires and wanted to wait for more updates on where the Woolsey Fire was heading. Her friend from the Red Cross told her she should start getting ready to go. Nervous, her 20-year-old daughter pleaded for them to pack.
She gathered her passport and important documents and told her daughter they'd pack up a few things and assess the situation in the morning.
In the middle of the night, more alerts came – the fire was coming at the 10-acre property from two directions, she said.
Stanwood Terranova's house was more than a home – it was also her business and a retreat center she called a "sacred place." She's a licensed spiritual counselor.
She sent her daughter and the daughter's boyfriend on their way and spent one hour going through the house and property. She opened the property's gates so firefighters could enter, packed items and she blessed each room of the house.
Stanwood Terranova stood in front of her library, asking herself what she couldn't live without. She took her two favorite books that she teaches from, each one filled with notes in the margins. Right above those, she reached for the many journals she's kept over the past 20 to 30 years, as well as the ones she wrote for her two children.
She took her computers, the start of the book she's been writing and all her business contacts.
She forgot to take any clothes with her, having to purchase some after she evacuated. She left a "beautiful necklace sitting on the counter," but said she didn't care.
Her two bull mastiffs, Brando and Juliet, were the first thing she loaded in the car and then came whatever else there was room for. Otherwise there wasn't much. "I truly thought I was coming home," she said.
At 4:30 a.m., she evacuated for Ojai.
She later found out her home and business were destroyed by the fire. Her godson took a photo of it when he saw her property on TV.
"I feel more blessed that I know what happened to my house," she said. "I'm nervous to pull up and deal with that level of emotions but at least I know."
A change of clothes, medications and a guitar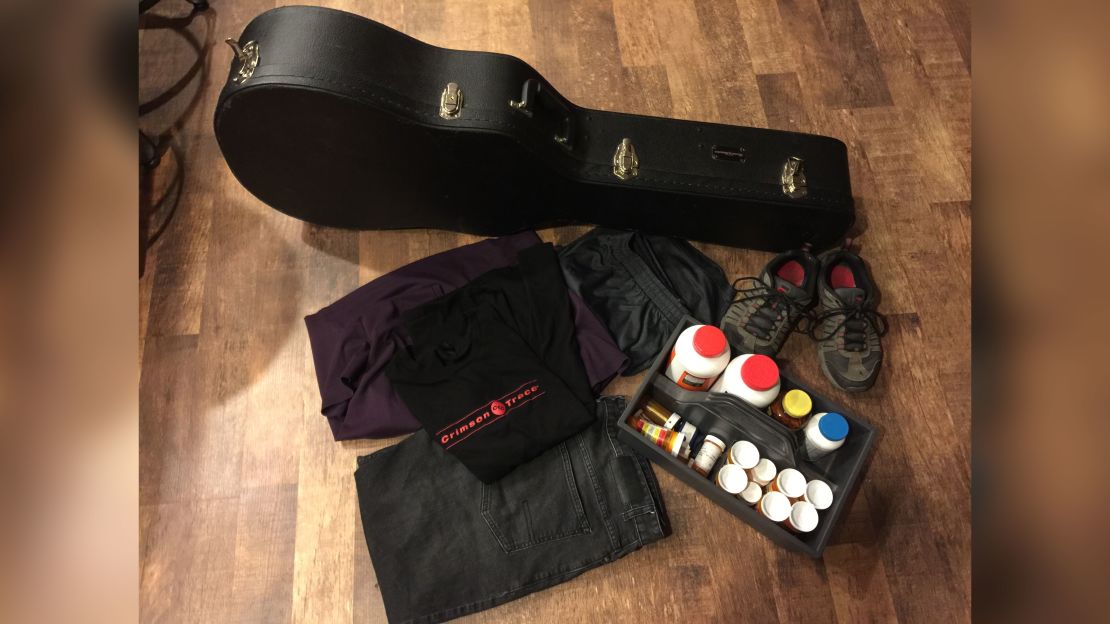 Two shirts, a pair of pants, a pair of shorts and the shoes on his feet are what Phil Bartek grabbed in the short time he had to leave.
Bartek never received an alert to evacuate Paradise. He only had 15 minutes to leave.
A caddy holding his medications and his guitar also came with him. He managed to find and save his cat, Kobe, before heading out.
The 63-year-old grabbed what he could, but he knew he had another stop to make: his granddaughter's school. He managed to save her family's dog, LC, from their home after that.
Bartek wishes he would have remembered to grab his wedding rings. The retiree is engaged and the wedding is set for February. The homemade wedding decorations were lost in the fire, as was his entire house.
Bartek described the scene outside as he evacuated as "Armageddon. Sky was dark, burning embers falling from the sky, wind blowing, people driving like maniacs on the wrong side of the road and on sidewalks and bike paths," he said.
It was one of the scariest moments he said he's ever experienced.
CNN's Spencer Parlier contributed to this story.