Reaching the age of 90 is considered an enviable feat.
But for fans of Mickey Mouse reaching the front of a queue to meet him on his 90th birthday came a close second.
A sign at Disneyland Japan posted to Twitter on Sunday advertised the likely wait time to see "Mickey's house and Meet Mickey" as 660 minutes – that's 11 hours.
"The indication for waiting time reached 660 minutes at around 9 a.m. for 'Mickey's house and Meet Mickey' where you can explore Mickey's house and take picture with Mickey," said Takeshi Nemoto, a spokesperson for Oriental Land, Tokyo's Disneyland operator.
It was an "extremely rare" case, he added. The waiting time was still 180 minutes – a mere three hours – at 6 p.m. on Sunday.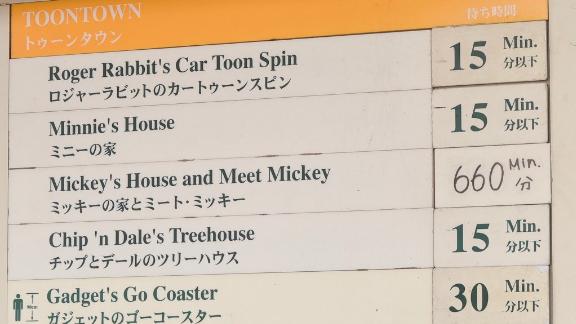 Twitter/ MezzoMikiD
Visitors in Japan tweeted their surprise at the length of the wait, including one user who presumably posted from the queue to say seven hours had already passed.
"7 hours passed. Still not seeing Mickey's house. I do not know how long I must wait.." complained @ElsaHime315.
"660 min to meet mickey. Meaning 11 hours waiting!" tweeted @kotapg10.
@rulubitsch wrote: "you can go to the real Disneyland in US if you have 11 hours!"
November 18 marked the 90th anniversary of the premiere of "Steamboat Willie," the first public appearance of Mickey Mouse, the mainstay of what would become one of the world's largest entertainment companies.
The company does not release daily visitor numbers, but Tokyo Disneyland attracts 30 million visitors a year.
Nemoto said the number of visitors to the amusement park on November 18 was not particularly high compared to other weekends.
He added that there had been a surprise event to mark the celebrations for Mickey but that only limited number of fans were able to attend.