As wildfires have ravaged California, police officers and other first responders have stepped up to rescue fellow citizens, douse blazes and provide medical care to the injured.
But it wasn't just paid public servants who helped people – and animals – in need. Unsung Californians reached out with acts of kindness and generosity.
Here are some of their stories.
'I just thought they needed to eat'
Tavern 101 Grill and Tap House
As the entire community of Agoura Hills was forced to evacuate, Marco Gonzalez stayed behind – after authorities gave him permission. Gonzalez and a handful of his staff at Tavern 101 Grill & Tap House started cooking meals for emergency personnel.
"I told my people, I told them I wanted to open just to be here for police, firefighters and first responders," Gonzalez said. "We weren't able to get any deliveries into the restaurant, so I'll go out and buy whatever I can."
Gonzalez's sister-in-law, Lyndsay McDougal Cannon, began a Venmo page for donations that raised more than $45,000 in less than three days.
"I just thought they needed to eat," Gonzalez said. "(Some firefighters) go for days without having a warm meal. … What they're doing is putting themselves in harm's way and we have to do whatever we can to help."
Waste Management employees help 93-year-old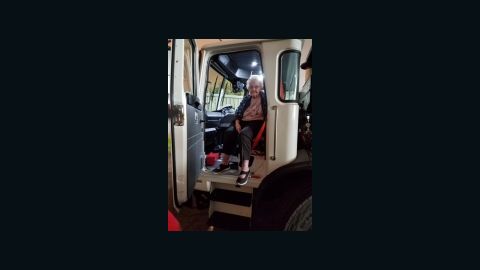 Kendra Kostelecky/Waste Management
Margaret Newsum, 93, knew she needed to evacuate, so she collected her medicines and other vital needs and walked out of her home in Magalia. She didn't know who would take care of her.
"I was standing there when I looked up and saw this great, big, green monster truck barreling down the street," Newsum told CNN.
Dane Ray Cummings, a Waste Management driver, was wrapping up his collection route and wanted to check on elderly or disabled residents.
"He said, you're going with me," Newsum recalled.
Knowing a 93-year-old shouldn't stay at an evacuation center, Cummings called up childhood friend and co-worker Brian Harrison, a heavy equipment technician for Waste Management. Harrison agreed to put up Newsum until she can move back into her home.
"This family has taken me in," Newsum said. "I have never felt so wanted and so comfortable and so much brought into making me part of the family," she said.
San Francisco company delivers 5,000 meals
Choicelunch is a San Francisco-based company that contracts with schools that don't have the infrastructure or staff to provide their students with lunch.
But Friday, schools were closed because of air quality and the company was left with 5,000 ready-to-eat lunches. Normally, the company would take the food to one of their local food banks.
Patrick Doral, one of the truck drivers, left Hayward, California, and drove north with a respirator and refrigerated truck full of meals.
He tried to drop them off at a Walmart in Chico, where thousands of people were camping out in tents. But disaster relief coordinators there were unable to take all that food, Doral said.
Company logistics manager, Amanda Putzke contacted a police officer in Sacramento that she saw on the news, and he told her to send Doral to a donation site at the Hope Center in Oroville. The Hope Center was able to take the meals, and gave them to people in need.
"I'm glad we were able to help some people out," Doral said. "It's close to the holidays and a lot of people lost everything they have and they just have each other."
One lucky horse
Jeff Hill evacuated Paradise during the Camp Fire, but returned to his neighborhood to discover a wayward horse in a backyard swimming pool. It looked like the horse jumped in to escape the flames and became caught in the pool cover.
"We scrambled to unhook the pool cover and pulled her to the shallow end where we guided her up the steps," Hill wrote in a Facebook post.
The horse got out, shook off, and "loved on us for a few minutes as a thank you, and walked off," he wrote.
Hill called for help, and waited with the horse until resources could escort the horse out from the fire zone.
'Burger girl' to the rescue
courtesy Tracy Grant
Tracy Grant was in a parking lot handing out hamburgers to Camp Fire evacuees when she encountered Lee Brundige, a 93-year-old World War II vet who'd just fled his home in Paradise.
"He called me the burger girl," Grant says.
Brundige slept in his car the first night, but the following day he had to move because of spreading smoke. Grant persuaded him to move in with her, her boyfriend Josh Fox and their two dogs, Axle and Cash. It's not clear when Brundige can go home.
"We found he has many friends and is loved by his community," Grant says. "He can stay with us as long as he would like."
First responders lost homes, still reported for duty
Many first responders have gone the extra mile. The story of Leland Ratcliff, captain of the US Forest Service's Feather River Hotshot crew, is emblematic. He was one of more than 50 firefighters who lost their homes in Butte County but kept battling the fires.
Ratcliff said he saw the smoke over Paradise on November 8 and quickly realized the fire was on a rapid path to destroy the town. He and his wife evacuated with their two children, dog and cat.
Once they were safe, Ratcliff said, he had to make a decision: "Do I go try to save other stuff (from our house) or do I go to try to let people know what was going on?"
He chose the latter, evacuating residents from their houses and plucking them from the streets, putting them on Forest Service vehicles and racing them to points of protection. Later, he thought about losing things inside his house, like his wedding photos.
"The guilt doesn't come until afterwards, when you realize you don't have that stuff anymore. … You always want to think that life is more important than property, but it doesn't make it any easier in hindsight," he said.
CNN's Melissa Gray, Dakin Andone, Eric Leverson, Amanda Jackson, Gianluca Mezzofiore, Christina Maxouris and Stephanie Becker contributed to this report.