We all know the period between Thanksgiving and New Year's Day is jammed with all manner of holiday parties and assorted festivities, everything from the buttoned-up to the dressed down. That presents something of a challenge for the fashion forward among us. After all, there's a cruel Venn Diagram of considerations to balance.
We want to look good (duh), but let's be real: There's a lot of holiday noshing going on, what with all these sugary treats about. That means having clothes that expand with us is a plus. And staying warm would be nice, too, especially as the mercury drops lower. Now, add the freedom of movement required to cut loose in case any impromptu dancing breaks out and you've got a pretty restricted set of clothing to work with.
That's why we're all about saving money where we can — without sacrificing style. Because with so many factors governing our clothing choices over the holidays, having options that can mix and match and do double duty is essential.
Which brings us to The Outnet, one of our favorite places to get our high-fashion fix online. Where else can you score such deep discounts on designer labels like Versace and Alexander McQueen? Since launching in April 2009, the site's ensconced itself as a crucial one-stop-shop for the frugal fashionista (that's not an oxymoron, we swear!).
And starting Nov. 15, you can shop its clearance section, with deals up to 85% off. That's a huge opportunity to get your holiday party wardrobe game on point without breaking the ol' wallet. The poor thing suffers enough abuse this time of year, don't you think?
Here's how we'd start the festivities:
SOHO SOPHISTICATED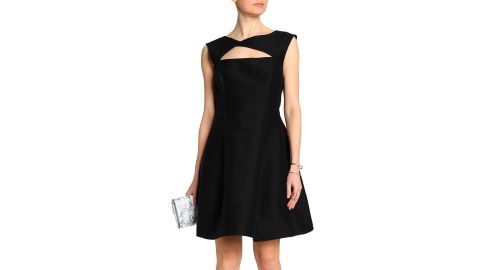 Halston Heritage mini dress ($89, originally $445; theoutnet.com)
This cutout cotton and silk-blend mini dress is a knockout from top to bottom. Dinner party or dance floor, this one has you covered. And with options in black and green, it's up to you how holly-and-ivy you want to take things.
Valentino two-tone leather pumps ($199, originally $995; theoutnet.com)
These are guaranteed to turn heads, especially when paired with the above mini dress. That shade of glossy red makes a statement, there's no doubt. And all those delicate little straps!
Rachel Jackson gold-plated ring ($18, originally $75; theoutnet.com)
With a strong, sober dress shape and eye-popping shoes as your foundation, it's time to fill in the details. A punctuation point of gold works wonders here, and the elegant bars and rays on this scrumptious little ring are just what the doctor ordered.
Victoria Beckham floral-appliquéd wool-crepe coat ($380, originally $1,525; theoutnet.com)
You'll need something to keep yourself from those cold winter blasts as you wait for one interminable Uber after another. This coat isn't only toasty, it's gracious enough to let all your other details — red shoes, gold ring — do the talking.
HIGHLAND HIP
Iris & Ink Tyra ribbed merino wool turtleneck dress ($175, theoutnet.com)
Iris & Ink is The Outnet's in-house brand, and its current line of knits and plaids is perfect for the austere cold weather months. After all, why should you let snow, rain or gusty weather put you in a fashion funk? That's why we love this form-fitting burgundy wool turtleneck dress — it meets the demands of fickle weather and fickle fashion with aplomb.
Iris & Ink Bea suede ankle boots ($190, theoutnet.com)
Pair these with the dress above for a formidable get-up that's ready to chew up leaf litter, city pavement or all of the above.
Roger Vivier suede knee boots ($239, originally $1,595; theoutnet.com)
Need something a little more high impact? These richly colored knee highs have you covered.
Iris & Ink checked wool-blend jacket ($210, theoutnet.com)
If there's a season for keeping things buttoned up, it's got to be this time of the year when autumn bleeds into winter. We love the double breasting on this one and the slight interplay of blues, blacks and grays. Plus, these colors play nice with just about everything.
Kenneth Jay Lane gold-tone, stone and crystal clip earrings ($52, originally $350; theoutnet.com)
Sure, you want buttoned up, but not too buttoned up, right? Playing things sober with the rest of the outfit lets you cut loose here. Bold, bright and chunky are the name of the game with these gorgeous chandelier earrings. The holidays are all about living a little, no?
HOLIDAY DRINKS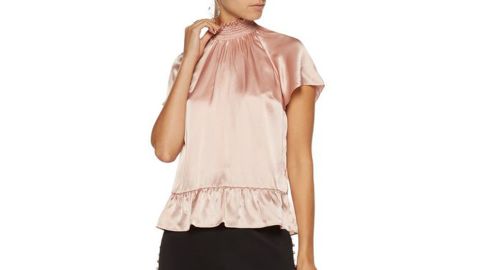 Rachel Zoe silk-satin turtleneck top ($74, originally $295; theoutnet.com)
Shirred silk-satin gives this a luminous gloss that loves late night lighting and Edison bulbs. We love how the material gathers at the neck on this one. There's something sophisticated and slightly Victorian-chic about it that does it for us.
Tibi Silk wide-leg pants ($124, originally $595; theoutnet.com)
You'll float like a cloud through crowded bars and awkward conversations on this cushion of silk, billowy, untroubled, serene. Holiday blues? Flushed face? Too much company sponsored forced fun? Bring it on. You're wearing wide-legged silk pants, after all. You're untouchable.
Stuart Weitzman metallic textured-leather slippers ($99, originally $398; theoutnet.com)
Gold again. You got us. But with that richly textured gold to complement the silk-satin top, can you blame us? It's a gorgeous combo.
BOHO HO HO HO
Milly open-back striped silk and cotton-blend top ($74, originally $365, theoutnet.com)
It doesn't get more bohemian than bell sleeves and open backs. But honestly, it's a decadent time of year, so why not embrace it? You're just getting into the holiday spirit.
Chloé ruffled crepe miniskirt ($188, originally $753; theoutnet.com)
Let the top do the talking with this elegant crepe skirt — not everything needs to be look-at-me all the time. Even better: This has pockets! Let me repeat that: This has pockets!
Camilla embellished floral-print silk miniskirt ($88, originally $350; theoutnet.com)
Want to keep the boho vibes going? You're in luck. This miniskirt has it all: floral prints, silk, crystals, beads — you're basically one dreamcatcher away from a bougie New Mexico spa. And come New Year's, a New Mexico spa is exactly where we'd like to be.
Diane Von Furstenberg studded leather pumps ($59, originally $298; theoutnet.com)
Ok, so not everyone is going to know your pumps have lipstick-red insoles. But you'll know, and that's what's important.
Balmain crocheted leather mini dress ($1,822, originally $12,150; theoutnet.com)
Sometimes you need to throw caution to the wind, break glass in case of emergency, and really, truly cut loose. When that moment comes, this dress will be waiting for you. New year, new you?
Note: The prices reflect the listed retailer's price at the time of publication.