Editor's Note: Jeremy Douglas is the Regional Representative of the United Nations Office on Drugs and Crime (UNODC) in Southeast Asia and the Pacific. He can be followed on Twitter @jdouglasSEA. The opinions expressed in this commentary are his. View more opinion articles on CNN.
Southeast Asia is no stranger to organized crime.
Twenty years ago, the leaders of the Association of Southeast Asian Nations (ASEAN) agreed to address the growing illicit drug economy and signed a joint declaration that the region would become "drug-free."
Although still an objective, this goal is now more distant than ever. But this comes as no surprise. Those of us that help governments tackle organized crime see warning signs – and, as of now, the situation is rapidly deteriorating.
Criminal networks from Asia have achieved global reach, controlling massive money flows that continue to expand. While governments have invested heavily in ambitious cross-border trade and infrastructure, they have not made parallel investments in public security and social protection.
Transnational organized crime groups now control multibillion-dollar "industries" and wield unprecedented influence. It is not a stretch to say that parts of the region are at risk of a takeover.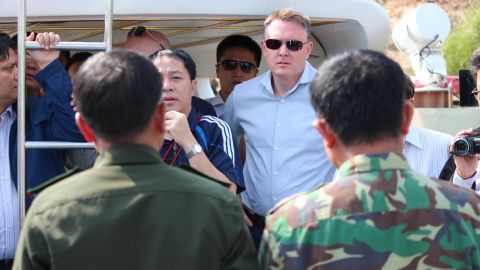 Key criminal industries include human trafficking, as well as smuggling of wildlife and timber, counterfeit goods and medicines. These activities do unspeakable harm to people, communities and the environment. They also generate massive profits for criminal networks.
But it is the production and trafficking of illegal drugs that is by far their most lucrative business in Southeast Asia, with annual cash flows north of US $40 billion.
The revenue streams of organized crime now exceed the GDP of several countries in the region.
The drug business in Southeast Asia still includes cultivation of opium and heroin, but methamphetamine and synthetic drugs now dominate. Worryingly, the region has become the primary source of synthetics for other parts of the world. Australia now receives its meth supply almost exclusively from northern Myanmar and the Golden Triangle. Fentanyl in the United States and Canada can be traced back to several parts of East and Southeast Asia.
The professionalism and ability of Asia's organized crime groups to innovate has made this trend possible.
Gone are the days of rebel soldiers strapping heroin to mules and trekking through mountain jungles. Today's traffickers are going all-in on high profit synthetic drugs, forging documents to cross borders, employing technology to broker deals and using advanced logistics to move their products. They are able to quickly scale-up production and take advantage of the region's impressive infrastructure to connect to markets.
Part of the problem is that while transnational organized crime groups have quickly expanded in scope and sophistication, those meant to keep a check on them have not.
Southeast Asia's public security agencies remain heavily militarized and lack adequate budget, training and regional cooperation frameworks to push back against organized crime. They are also too preoccupied with maintaining law and order to pursue complex international networks – they were designed for a time when crime was local and have not caught up with the times.
Asian crime groups also take advantage of the region's poorly governed but well connected financial systems to launder money into the legitimate economy.
The extending reach and power of organized crime from Asia should be cause for serious reflection.
Seizures of tons of synthetic drugs being trafficked from one part of Southeast Asia to another, or further, occur on a weekly basis. Yet, these law enforcement "victories" do not break the networks behind the operations – they are simply accepted as lost inventory. The truth is that governments in the region do not fully grasp how serious the threat is to the rule of law and long-term stability.
Transnational organized crime syndicates are destroying the lives of countless people in Asia, and they use their financial muscle to corrupt and undermine the rule of law.
At the same time, law enforcement agencies are unable to cope with this growing threat, the region's leaders are not recognizing the scope of the problem, and the international community is preoccupied by fast moving news cycles.
Bluntly put, urgent and concerted efforts are needed now. Left unchallenged for much longer, organized crime could effectively rule parts of Southeast Asia.