A suburban Chicago police officer responding to a shooting Sunday at a bar killed a security guard who was just "doing his job," an attorney for the slain man's family said.
An officer from Midlothian, Illinois, fatally shot Jemel Roberson, a 26-year-old security guard working at the bar, Cook County Sheriff's Office spokeswoman Sophia Ansari told CNN.
Law enforcement agencies responded to the shooting around 4 a.m. at Manny's Blue Room Lounge in Robbins, about 20 miles south of Chicago, Ansari said. Three people and an alleged shooter were injured, she added.
Then, after Roberson had apprehended an alleged gunman, the Midlothian officer shot Roberson outside the bar, according to a federal lawsuit filed Monday that calls the fatal shooting "excessive and unreasonable" and says it violated Roberson's civil rights.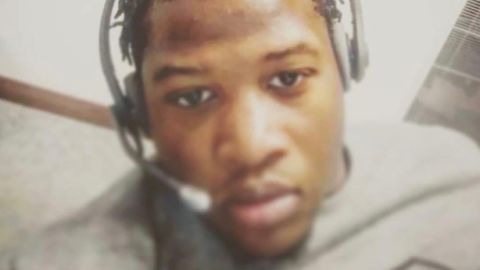 Witnesses said security had asked several drunk men to leave the bar, and at least one person returned and opened fire, CNN affiliate WGN reported. A bartender was among those victims, according to the lawsuit.
After that shooting, Roberson "had somebody on the ground … with his knee in back, with his gun in his back like, 'Don't move,' " Adam Harris, a witness, told WGN.
The officer responding to the scene then fired at Roberson, the TV station reported, citing witnesses.
"We all yelled. 'He's a security. He's a security,' and without … giving any thought, they shot him," Harris told the station. "The vest said security as well … and they shot him in the side."
The Midlothian Police Department has asked the Illinois State Police Public Integrity Task Force to investigate, which is department policy for an officer-involved shooting, according to Midlothian police Chief Daniel Delaney.
In a statement, the Illinois State Police said its officials are investigating the shooting. It said that according to witness statements, "the Midlothian Officer gave the armed subject multiple verbal commands to drop the gun and get on the ground before ultimately discharging his weapon and striking the subject."
It also said Roberson was in plain black clothing with no markings readily identifying him as a security guard and armed with a gun.
The department did not initially identify Roberson as a security guard because it immediately relinquished the investigation to the State Police and did not know his name or position at the time, Delaney said Tuesday.
"What we have learned is Jemel Roberson was a brave man who was doing his best to end an active shooter situation at Manny's Blue Room," Delaney wrote on Facebook.
"The Midlothian Police Department is completely saddened by this tragic incident and we give our heartfelt condolences to Jemel , his family and his friends. There are no words that can be expressed as to the sorrow his family is dealing with."
The suspected gunman in the initial bar shooting is being treated at a local hospital and has not been charged, Ansari said.
'Jemel was trying to save people's lives'
The lawsuit filed by Roberson's mother lists the unnamed Midlothian officer and the village of Midlothian as defendants. It seeks damages of more than $1 million.
"Jemel was trying to save people's lives. He was working security because a shooting had just taken place in the establishment," the family's attorney, Gregory Kulis, told CNN affiliate WLS.
"So, he was doing his job and holding on to somebody until … police arrived," Kulis said. "And a police officer, our feeling is, did not make the proper assessment and fired and killed Jemel."
Roberson had a Firearms Owners' Identification Card, which allows Illinois residents to legally possess firearms or ammunition, according to Ansari.
Midlothian police confirmed that two of its officers responded to the bar shooting and one opened fire, WGN reported.
"A Midlothian officer encountered a subject with a gun and was involved in an officer-involved shooting. The subject the officer shot was later pronounced deceased at an area hospital," Delaney said in an earlier statement.
The officer involved in the shooting is a four-year veteran of the police department, WLS reported, citing Delaney.
Karen Sheley, director of the Police Practices Project for the American Civil Liberties Union of Illinois, suggested that Roberson's race influenced the decision to shoot.
"Working as a security guard while Black should not be a death sentence. In this case, police were more dangerous to him than an active shooter who he apparently subdued," Sheley said in a statement.
"The police killing of Mr. Roberson was avoidable. Here, a police officer's assumptions about Mr. Roberson, apparently impacted by bias, rather than a clear-headed assessment of the situation, resulted in a tragedy."
A church musician who wanted to be a cop
Roberson was the father to a 9-month-old son, and the boy's mother is expecting their second child, according to family attorney S. Lee Merritt.
He was a gospel musician at several churches, according to according to WGN. Kulis said Roberson played the organ and was scheduled to perform at church on the Sunday morning he was killed.
Roberson was also preparing to embark on a career as a police officer, WGN reported. Roberson had planned to take a police exam in March, according to Eric Russell, an activist.
"The very people that he wanted to be family with took his life," the Rev. Patricia Hill of Purposed Church said.
Roberson's family members are "just distraught," another pastor, the Rev. Walter Turner, said.
"They are hurt, trying to find out answers, trying to figure out why did this have to happen," Turner told the TV station.
Loved ones and supporters held a vigil Monday night outside Manny's Blue Room Lounge, WGN reported.
CNN's Bill Kirkos, Keith Allen and Eric Levenson contributed to this report.