Marking the breakout of peace after World War I, President Donald Trump on Sunday heard a dire warning from his host: the forces that led to the slaughter are resurgent.
Trump and dozens of his global counterparts gathered at the Arc de Triomphe in central Paris to mark 100 years since the nightmares of World War I ended, a conclusion brought about partly by the entry of the United States into the bitter, nationalism-fueled conflict.
But decades later, as living memories fade of the trenches and the poison gas, nationalism is on the rise. It's been fueled by Trump himself, who has proudly identified himself as a nationalist as he advances an "America First" agenda.
In his address, French President Emmanuel Macron – who has emerged as Europe's most vocal sentry against a global tide of nationalism – repeated his warnings.
"Patriotism is the exact opposite of nationalism," he said through a translator. "Nationalism is a betrayal of patriotism. By saying our interests first, who cares about the others, we erase what a nation holds dearest, what gives it life, what makes it great and what is essential: its moral values."
"I know there are old demons which are coming back to the surface. They are ready to wreak chaos and death," he said. "History sometimes threatens to take its sinister course once again."
It was impossible to view his remarks as anything less than a rebuke of Trump, who has proudly espoused an "America First" foreign policy. Speaking later at an American cemetery in Paris, Trump did not directly respond, choosing instead to stick to a brief speech honoring the war dead.
"Each of these marble crosses and Stars of David marks the life of an American warrior – great, great warriors they are – who gave everything for family, country, God and freedom," Trump said in the 10-minute speech, which was the centerpiece of his visit to Paris for the armistice centenary.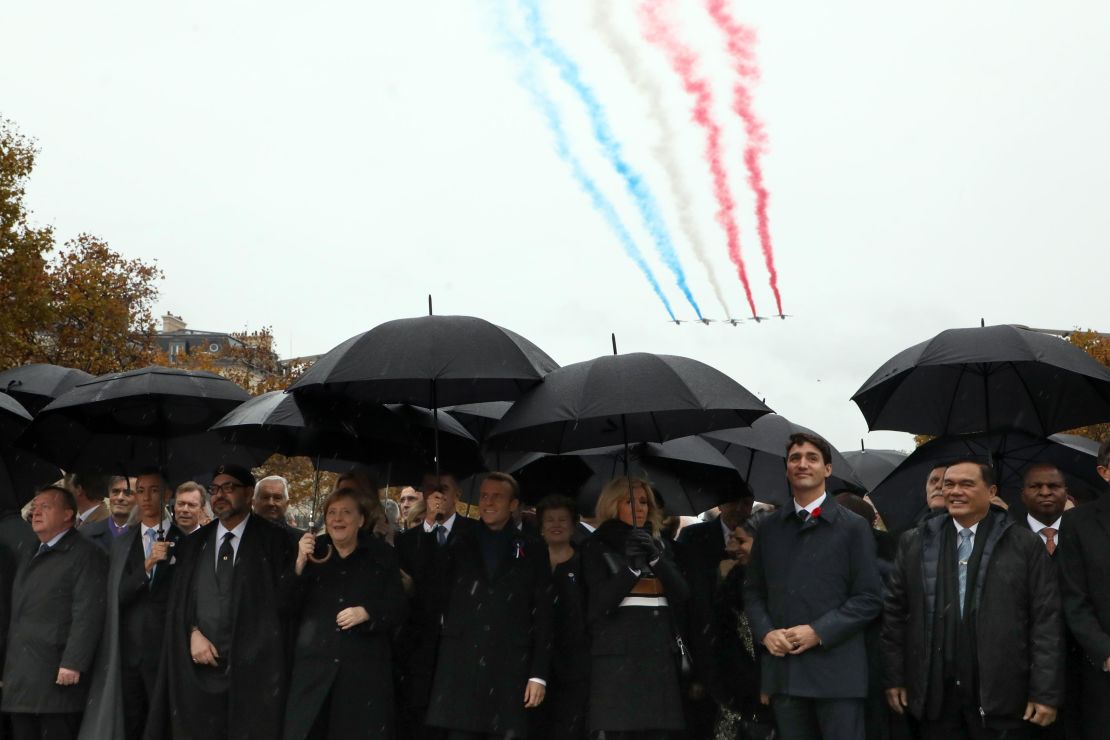 Trump arrived separately from other foreign leaders to Sunday's armistice centenary ceremonies, which occurred under gray skies and cold drizzle. His counterparts, including Macron, German Chancellor Angela Merkel and Canadian Prime Minister Justin Trudeau, convened at the Élysée Palace before traveling together in motor coaches to the Arc de Triomphe. They walked in a large group to the event site under black umbrellas.
Instead, Trump pulled up in his own vehicle and walked in separately, due to "security protocols," according to the White House. A topless protester breached a police barricade and ran toward Trump's motorcade before being apprehended. Russian President Vladimir Putin also arrived separately and walked in solo, flashing Trump a brief thumbs-up as he took his place among the leaders.
The ceremony in Paris was the largest of events across Europe and in the United States commemorating the armistice. Queen Elizabeth II led members of the royal family – including William and Catherine, the Duke and Duchess of Cambridge, and Harry and Meghan, the Duke and Duchess of Sussex – at the Cenotaph in central London for a solemn ceremony.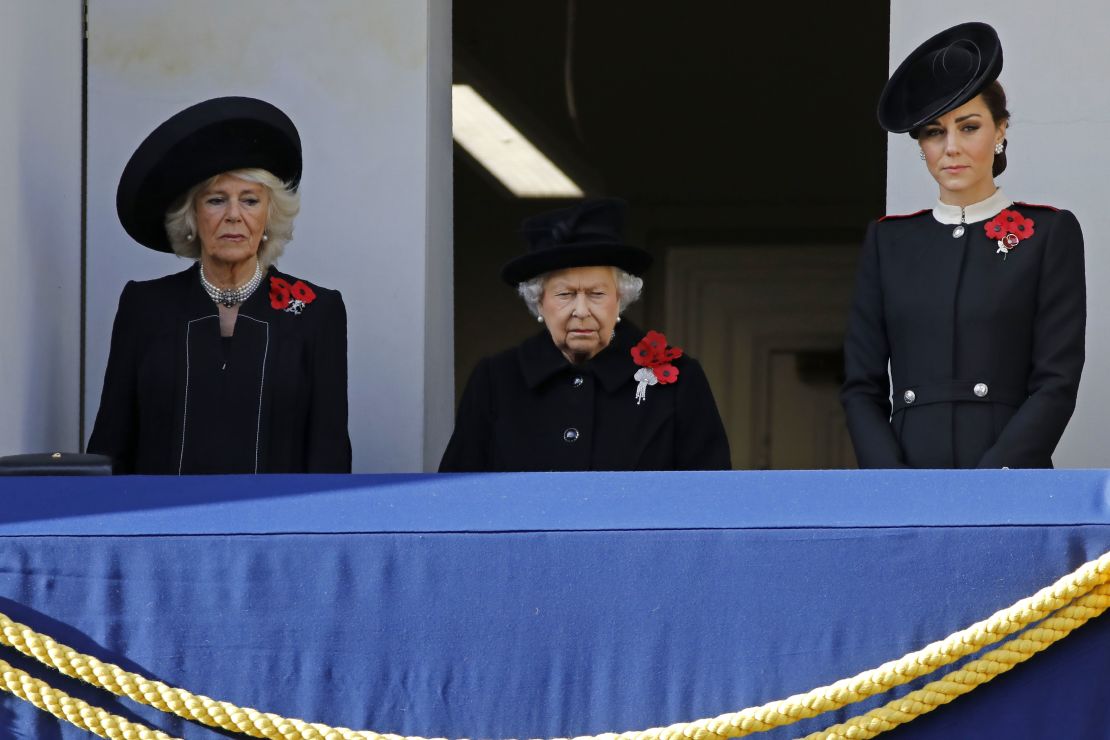 In Washington, the role traditionally played by the President at Arlington National Cemetery was assumed this year by Veterans Affairs Secretary Robert Wilkie who placed a wreath at the Tomb of the Unknowns.
The armistice that took effect at the 11th hour on the 11th day of the 11th month of 1918 ended what was then the war meant to end all wars. When conflict broke out on the continent two decades later, the United States was again pulled into bloody battle, cementing its role in maintaining European security.
Visiting Paris this week, Trump has bemoaned the cost to the US of helping maintain European security, insisting countries here do more to protect themselves. The cost of securing Europe is a reliable bête noire for Trump, one he's railed against on the campaign trail and in meetings with his counterparts.
His actions have raised questions about the state of longstanding US relationships.
The man who was once his top European partner, Macron, now appears to have become just another world leader subject to ill-timed insults and jabs. Trump's other counterparts – British Prime Minister Theresa May and Germany's Merkel – have also been subject to ridicule.
Trump did not appear overly eager on Saturday to dispel the notion he is uninterested in bettering US-Europe ties. During a morning meeting with Macron at the Élysée Palace, the effusive expressions of bonhomie that once colored the two men's relationship were gone, replaced by wooden expressions of cooperation.
Later, the President canceled a planned visit to an American cemetery 50 miles outside of Paris. The White House cited the rain, which sometimes grounds the President's Marine One helicopter.
He remained out of view for most of the afternoon, even as fellow leaders – including Macron, May, Merkel and Trudeau – fanned out across the French countryside to mark the solemn anniversary at hallowed locations along the former Western Front.
On Sunday, the President to make up for the cancellation, which drew criticism and accusations he was ignoring the sacrifice of American military personnel who died in World War I.
Following the ceremony at the Arc de Triomphe – which featured a review of troops, musical performances and Macron's address – Trump attended a lunch for all the world leaders.
Afterward he traveled the short distance to Suresnes American Cemetery, perched on Mont Valérien with a panoramic view of the French capital.
"Through rain, hail, snow, mud, poisonous gas, bullets and more, they held the line and pushed onward to victory," Trump said of the soldiers who died for the allied cause a century ago. "A great, great victory. A costly victory but a great victory."
Trump was due back in Washington by Sunday evening.
The visit to Paris came about after Trump scrubbed plans for a military parade in Washington, deeming the $90 million price tag too steep. He originally devised the parade having been inspired by Bastille Day celebrations in Paris last year, which featured tanks, troops in formation and aircraft flyovers.
Sunday's ceremony occurred in the same vicinity but wasn't be as overly militaristic; it was intended to commemorate the end of war and not the practice of it.
This story has been updated.