Immediately to my right, there was a steep mountainside, a veritable wall of brown grass, bushes and trees. On my left was a long steep drop toward a valley far below. In between, was a narrow path covered in jumbled rocks and me in the driver's seat of a nicely optioned Rolls-Royce with a total price of about $400,000.
This was nuts. If I'd been in a Jeep Wrangler or a Land Rover, maybe this would not have been such a big deal. But when Rolls-Royce told me they were going to let me drive the new Cullinan, the brand's first SUV, off-road, I figured I'd be taking it over a dirt road and maybe up and down a few little hills. I hadn't imagined I would be threading my way up a zigzagging pass cut into the side of a Wyoming mountain.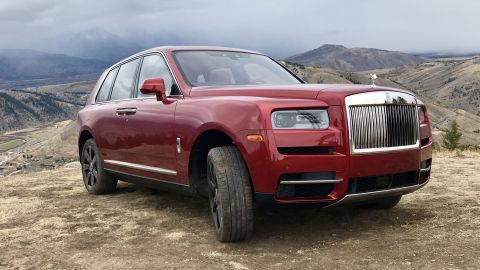 The Cullinan was handling this terrain surprisingly well, especially considering it was riding on the same tires used to drive on paved streets. The fact that the Cullinan has all-wheel-drive certainly helped. But it also has one especially important thing other Rolls-Royces do not: selectable driving modes. Well, at least one.
This sort of technology is commonplace in today's luxury cars. In a Mercedes-Benz, BMW or Audi, for instance, one can switch from "Comfort" to "Sport" or even "Eco" mode, depending on whether you're puttering through the middle of town or winging your car along a twisting road.
In the past, Rolls-Royce has resisted this trend. A Ghost or Dawn drives precisely the way a Rolls-Royce should drive at all times. To add a knob or a menu with different "driving modes" might suggest that there was something suboptimal about that. Some Rolls-Royce cars will automatically alter things like suspension firmness or steering response depending on how aggressively you're driving at any given moment, but the driver will never expend effort in that choice. The car does it automatically.
The Rolls-Royce Cullinan, however, has a button. The "off-road" button raises the Cullinan higher on its big 22-inch wheels, preparing it to travel over the sort of terrain these machines have rarely traversed in the past century. In the days of Lawrence of Arabia, Rolls-Royces were driven across deserts and on tiger hunts in the jungles of south Asia. Not so much since then.
And so, I left the pavement, pressed the button and then turned left up that steep trail. I looked out over that long hood, The "Spirit of Ecstasy" statuette out at the very end balanced on her tiny silver toes as the big SUV rocked and bobbed over ruts and boulders. The ride was never jarring, though. It was a strange, incongruous view. Up we went. And up. And up. More than once I laughed out loud at just the sheer nuttiness of it. Other times, I clenched my teeth in tension. I'd driven on scarier trails before but, in a Rolls-Royce, the stakes are just so much higher.
After stopping near the top for coffee and sandwiches we made our way back down. Rolls-Royce had nicely demonstrated the Cullinan's bona fides as an SUV. The question remained in my mind, however, how good was the Cullinan at being a Rolls-Royce?
You see, being a Rolls-Royce is not at all easy. It is not simply a matter of having the most expensive materials, shining silver, beautiful woods and pristine bull hides. (Leather from cows is never used because cows get stretch marks.) It is not simply riding smoothly and quietly over the road.
A Rolls-Royce, at its best, adds a supreme level of control that one can feel while still not feeling the pebbles strewn across the road. Driving a Rolls-Royce Wraith or Dawn provides an almost paradoxical sensation of real driving pleasure, combining power and speed with easy relaxation. It's a very difficult trick to pull off and no car does it better.
This is one pinnacle that Cullinan does not quite reach. Driven on the road, the Cullinan feels a bit ordinary. Not entirely, of course, just a little less magical. There is a little more sound. There is a little more road surface felt through wheels. There is a little less of that superb control.
The Cullinan's turbocharged V12 makes easy work of something even as big as this, but there's still a trade-off here. One can do things in and with a Cullinan that one cannot do in any other Rolls-Royce. The Cullinan is the first Rolls Royce to offer optional fold-down rear seats You can also get a permanently enclosed rear cabin with a center console that can include a champagne cooler. But one will also not experience quite as perfectly that one thing that a Rolls-Royce can do so much better than any other car.