The midterm election was not just an opportunity to change the face of Congress and statehouses nationwide. Voters in 37 states also considered ballot measures on social and political issues such as health care, marijuana and election policies.
Some were initiated by citizens, others by lawmakers. The questions included whether to restrict abortion access, expand Medicaid, or change voting requirements.
Here are some of the ballot measures we're keeping an eye on nationwide. We'll continue updating the results as they come in.
Abortion
Three measures in three states concerned abortion access and funding.
In Alabama and West Virginia, voters approved changing their state constitutions to say that they do not protect the right to an abortion or require funding of abortions.
Alabama's Amendment 2 will also change the state constitution to say that it supports the rights of unborn children, giving them constitutional protections.
West Virginia's Amendment 1 also prevents state taxpayer money from being used to pay for abortions for those on Medicaid.
Oregon voters rejected Measure 106, which would have prohibited publicly funded health care programs from covering abortion.
Crime, justice and sentencing
Voters in six states – Florida, Georgia, Kentucky, Nevada, North Carolina and Oklahoma – voted to approve some version of a measure often called "Marsy's Law." South Dakota passed one in June.
The proposals varied from state to state, but each would add specific protections for victims of crime to a state's constitution. Such protections include the right to be notified about hearings or the release of the accused, the right to restitution or the right to refuse an interview or deposition at the request of the accused.
Supporters of Marsy's Law say it gives victims more say in what happens in their cases. Opponents, including the American Civil Liberties Union, said victims already have these types of rights through state laws and warned that enshrining victims' rights in state constitutions creates a false equivalency between them and the rights of the accused. They warn that Marsy's Law could undermine the rights of the accused and divert resources from those in need.
Washington state's initiative 940 would change the legal standard for use of deadly force in officer-involved shootings. It would effectively lower the bar for prosecuting officers by establishing a good faith standard for opening fire.
The measure would also require law enforcement officers to receive ongoing training in violence de-escalation and how to interact with people with mental health issues. And it would establish a duty for officers to render first aid.
Election policies
Florida voters passed Amendment 4, which restores voting rights for felons after they complete their sentences, including parole or probation, except for those convicted of murder or a felony sexual offense. The law is expected to give the right to vote to 1.5 million people.
Ohio voters in May approved a statewide measure to establish a new redistricting system. Four more states – Colorado, Michigan, Missouri and Utah – weighed similar measures for their state legislatures, their congressional districts, or both.
Measures passed in Colorado and Michigan. The Colorado initiative will create a 12-member independent redistricting commission instead of having the state legislature draw district maps. Michigan's Proposition 2 establishes a 13-member redistricting commission and provides criteria for members and maps.
More states considered measures related to voting requirements and ballot access.
Voters in Arkansas and North Carolina approved amendments requiring voters to present a photo ID to vote in person.
Maryland voters chose to authorize the general assembly to pass legislation that lets qualified people register to vote on Election Day. Ballots in Michigan and Nevada asked whether to allow automatic voter registration for those who interact with certain government agencies.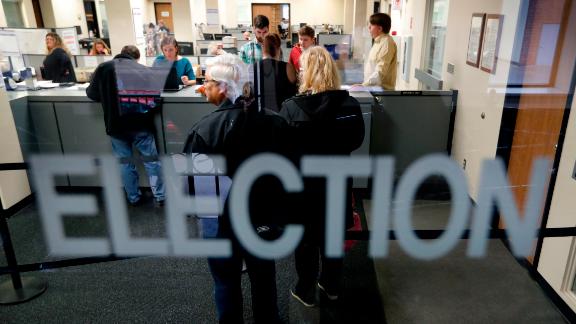 Charlie Neibergall/AP
Marijuana
Six measures on four state ballots concerned the legalization of recreational or medical marijuana.
Voters in Michigan approved a measure that allows people 21 and older to use marijuana and changes current violations from crimes to civil infractions.
Missouri had three competing measures. All of them proposed to legalize marijuana for medical purposes, but with different proposed sales tax amounts and revenue uses: