A music video that criticizes Thailand's military government has become a big hit in the Southeast Asian nation, indicating that public frustration with more than four years of military rule is mounting ahead of upcoming nationwide elections.
The song, "Prathet Ku Me," or "What My Country's Got," by Thai rap group Rap Against Dictatorship, has been watched more than 24 million times since it was posted to YouTube eight days ago.
Lyrics that include the lines: "The country that points a gun at your throat / claims to have freedom but no right to choose" lambast alleged corruption, lack of elections and suppression of free speech — issues critics say have become hallmarks of Thai Prime Minister Prayuth Chan-Ocha's regime since he seized power in a military coup in 2014.
Dechathorn Bamrungmuang, one the group's co-founders, told CNN they want to send a message to the public through their music.
"Our main goal to set up this group is just like our name, Rap Against Dictatorship. We want to use rap songs to fight against dictators," Dechathorn said.
Under Prayuth's watch, hundreds of activists have been arrested and prosecuted, political activity has been banned, and the sphere for robust public discourse has all but disappeared thanks to draconian laws that restrict online expression and increase surveillance and censorship.
'Unprecedented' attention
"It is just about unprecedented for a music video of any kind in Thailand to accumulate so much viewership within a week," said Thitinan Pongsudhirak, director of the Institute of Security and International Studies at Chulalongkorn University.
"The song taps into collective and pent-up anxiety and frustration. Its lyrics are a litany of political ills and social injustice Thailand is afflicted with."
The song, which also confronts human rights abuses, poverty, access to healthcare, and government accountability, appeared to stoke the ire of the country's military leaders.
Prayuth reacted to the song Monday, saying to reporters "When you listen to it, do you think it's true? Do you think it is that bad? Do you think I am that dictatorial?"
He later gave a warning, saying on Tuesday that, "Anyone that shows appreciation toward the song must accept responsibility for what happens to the country in the future," local media reported.
While an investigation into whether the lyrics break any laws is ongoing, deputy National Police Chief Gen Srivara Ransibrahmanakul said Tuesday that there was insufficient evidence to charge the rappers for now.
Dechathorn said he can thank Thai authorities for the song's success. It was only after police began investigating the group that the song went viral.
Resistance as art
According to Dechathorn, the underground rap community is growing in Thailand, and many artists are performing and producing songs to talk about the current situation in the country.
"We intend to release more political songs to tell what is going on Thailand," he said.
And rappers aren't the only artists using their talents to criticize how the country is run. Masked graffiti artist Headache Stencil has made a name for himself satirizing the junta and its policies on Bangkok's walls.
One of his most recognized pieces is an image of Prime Minister Prayuth depicted as a "lucky cat" in style of a Japanese "maneki-neko," with with its paw raised to beckon in money.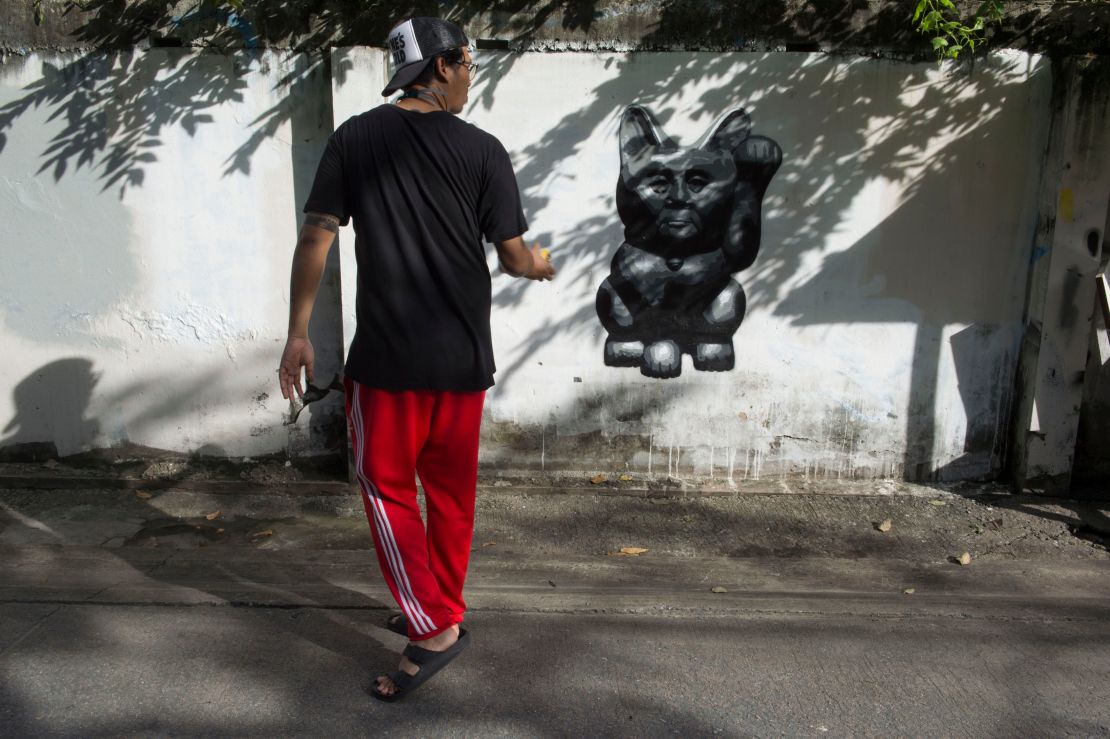 Election flip-flopping
A major theme running through "Prathet Ku Me" is the issue of elections.
Despite Prayuth promising to hold nationwide polls and restore Thailand to some degree of democratic civilian government, elections have been repeatedly postponed. After more than four years of military rule, a ballot is slated to be held in February 2019, eight years after the last elections.
Even with a democratically elected government, the armed forces will effectively have the final say in the country's political future.
The military-drafted 2016 constitution – the country's 20th since absolute monarchy ended in 1932 – allows for an unelected prime minister and a third of the legislature to be appointed by the military.
There are also indications that supporters of Prayuth are seeking to keep him in office. In September, four key ministers in his Cabinet formed a new political party and that same month Prayuth told reporters that he was "interested in politics," local media reported.
With the military wanting to return to government legitimately, suppressing the rappers for their hugely popular song could risk alienating a big part of its voter base, according to Thitinan.
But by allowing it, more of Thai society will see this public display of the military government's shortcomings.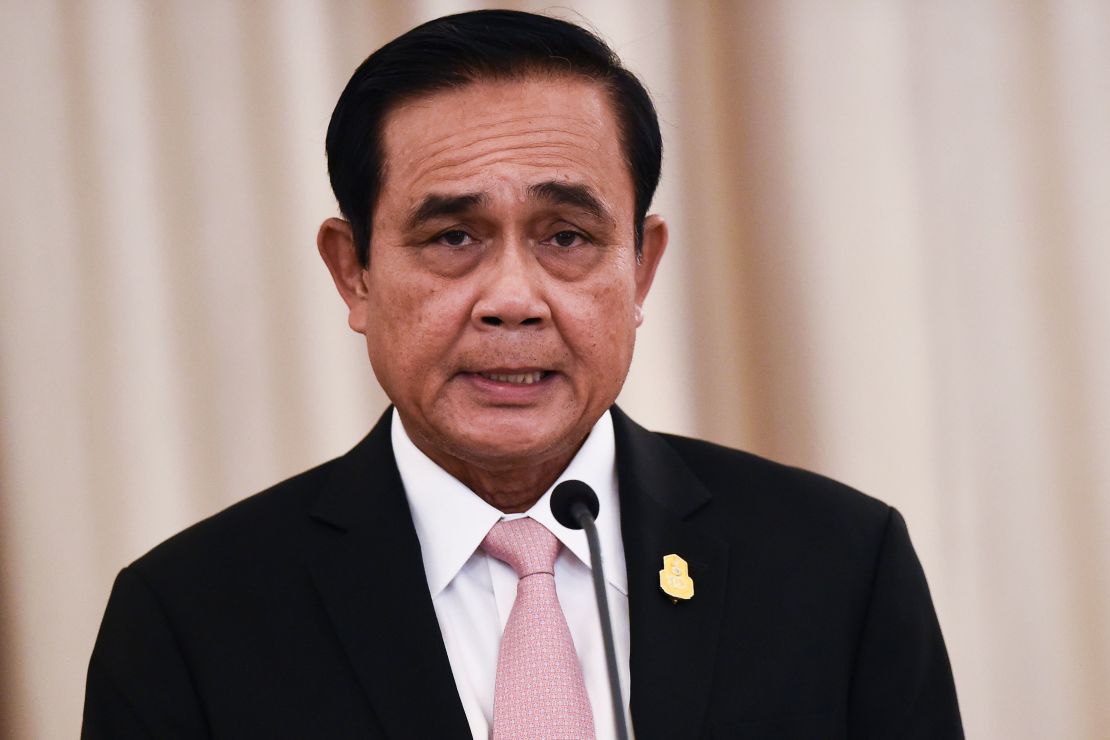 "So the government is stuck between a rock and a hard place because it is an electoral vehicle, not just a usual post-coup caretaker cabinet. If it cracks down further on dissent like this song, it risks alienating voters. But if it accommodates, its flaws and misrule will be more exposed," Thitinan said.
The youth voice
The voters candidates will be hoping to win over are young people who came of age during the coup and subsequent military rule.
"Young people are more engaged now than during four years since the junta came to power," said Netiwit Chotipatpaisarn, a 21-year-old student activist who campaigns for education reform, democracy and free speech.
The popularity of the video, he said, is evident that it is getting harder for the military to control the people. "If people are arrested or investigated, the dissenters will have more sympathy than ever," he said.
Prayuth announced Tuesday that a ban on all political activity will be lifted by December. However in recent months the government has been increasing pressure on activists in the run up to the polls.
In September, five people were charged with sedition after police seized t-shirts that allegedly promoted the anti-monarchist "Thai Federation" movement.
Sedition is one of the most widely used instruments in the military government's toolbox for stifling dissent, activists said, and carries a maximum sentence of seven years.
Others include the Computer-Related Crime Act, which gives broad powers to authorities to restrict online speech, and the lese majeste law, which prohibits perceived criticism of the royal family.
Last year, a military court sentenced a man to 35 years in prison for allegedly sharing videos and photos of the royal family on Facebook. And Thai student activist Jatupat Booyapatraksa was sentenced two years and six months for sharing a BBC article on Facebook that was deemed offensive to the monarchy.
Netiwit, who along with 38 others were charged with sedition for violating a ban on public assembly earlier this year, said that there is concern among activists that the military government will simply refuse to hand over power following democratic elections.
"I am still afraid of what they will do," he said.
Still, the public wave of support for Rap Against Dictatorship's anti-junta song could open up further avenues of popular dissent, which will have political ramifications, according to Thitinan.
"We could see its theme becoming a fault line of the next election," he said. "It may become a vote for or against military government and all that it stands for."
Kocha Olarn contributed to this story from Bangkok