Islamabad, Pakistan
CNN
—
Pakistan's government has struck a deal with Islamist protesters to end a sit-in over the acquittal of a Christian woman on blasphemy charges that had paralyzed the country for three days.
Islamist movement Tehreek-e-Labbaik (TLP) took to the streets on Wednesday after the Supreme Court acquitted Asia Bibi, who had been on death row for almost eight years.
The terms of the TLP agreement, reached Friday night, include a pledge by the government not to oppose an application by movement members to add Bibi to a list preventing her from leaving the country.
Bibi was still in jail Saturday at an undisclosed location in Pakistan, her lawyer, Saiful Malook, told CNN. Earlier in the week, he said she would need to move to a Western country for her own safety. At least two Western countries have offered Bibi asylum after her release, CNN understands.
Pakistan's government also agreed not to oppose a review petition filed against the Supreme Court's judgment in Bibi's case, to release everyone detained in connection with the protests and to take legal action regarding deaths that may have occurred during the protests.
The agreement was signed by Noor-ul-Haq Qadri, the religious affairs minister, and Raja Basharat, Punjab's minister for law, on behalf of the government. TLP leaders Pir Muhammad Afzal Qadri and Muhammad Waheed Noor signed on behalf of the protesters.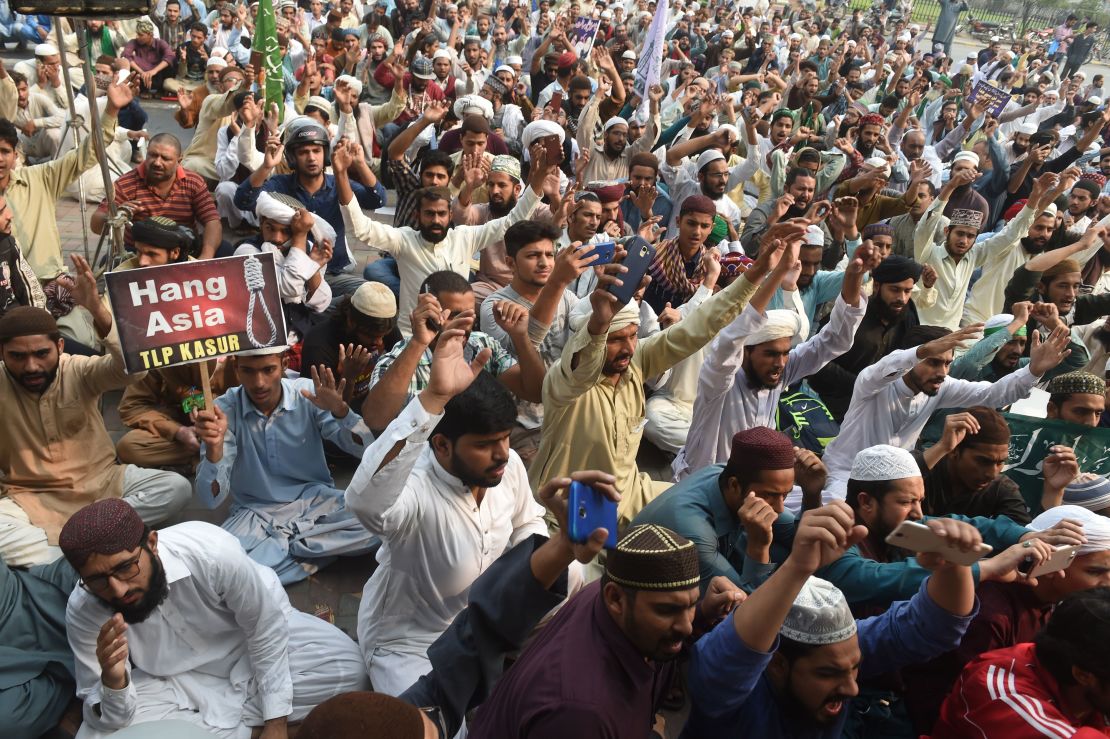 Earlier Friday, Pakistan's army had warned protesters on the streets that "law and order should be respected."
"The army is showing patience with regards to this situation; there is only so far our patience can be tested," army spokesman Major General Asif Ghafoor told Pakistani state media.
"When we call ourselves Muslim, we should behave like Muslims," he said. "We should walk in hand in hand with the law and the love of the prophet. Things cannot get out of hand."
The army would only get involved if the government asked it to do so, he added.
Pakistani Prime Minister Imran Khan on Wednesday had urged the TLP to halt the protests.
"This government will not stand aside and see property and livelihoods being destroyed," he said in a statement on state-run TV. "Do not force us to take action."
'Taking revenge'
Bibi, a mother of five from Punjab province, was convicted of blasphemy in 2010 and sentenced to hang after she was accused of defiling the name of the Prophet Mohammed during an argument a year earlier with Muslim colleagues.
The workers had refused to drink from a bucket of water Bibi had touched because she was not Muslim. At the time, Bibi said the case was a matter of women who didn't like her "taking revenge."
On Wednesday, she won her appeal against the conviction and death sentence.
The TLP had previously vowed to take to the streets if Bibi were released, and large protests broke out in Islamabad and Lahore soon after the ruling was announced.
Under Pakistan's penal code, the offense of blasphemy is punishable by death or life imprisonment. Widely criticized by international human rights groups, the law has been used disproportionately against minority religious groups in the country and to go after journalists critical of the Pakistani religious establishment.
Bibi's case has attracted widespread outrage and support from Christians worldwide. Conservative Islamist groups in Pakistan have demanded the death penalty be carried out.
'Father of the Taliban' assassinated
Meantime, a Pakistani political and religious leader known as the "father of the Taliban" was assassinated after calling Thursday for the reversal of the Supreme Court's decision to acquit Bibi, officials said Friday.
Maulana Sami ul Haq was a religious leader and a former Pakistani senator who ran an Islamic seminary in northwest Pakistan that produced many of the Afghan Taliban's leaders during the Afghan jihad against the Soviet occupation in the 1980s.
The deputy commissioner of police for Islamabad, Muhammad Hamza Shafqaa, confirmed Haq's death on his official Twitter account.
Khan's party, Pakistan Tehreek-e-Insaf, said the Prime Minister "strongly condemns the attack" on Haq, according to a statement posted to Twitter.
"We express grief and sorrow over his martyrdom," the statement said.
Khan on Wednesday had slammed the protests over Bibi's acquittal as a "disgusting response" to the top court's decision.
"You are not aiding Islam by talking about killing judges and by killing our generals who have sacrificed so much for our country," the Prime Minister said in defense of the verdicts. "I am appealing to our people: Do not get caught up by the worlds of these people who only want to increase their vote bank."