Near Sofia, Bulgaria
CNN
—
"Why are you here?" That was the question that echoed when I visited COP Keating in 2009.
Back then, it was just another American outpost stuck between two Taliban-infested hills in the middle of nowhere strategically important.
Now, it's the subject of Hollywood movies, books, two Medals of Honor (the highest award the US military can give) and a history lesson the United States is teaching itself about a war that it's still fighting.
At the time, the war in Afghanistan was reaching a climax as the Obama administration's surge began to get underway. During the few days I was on the base, it was repeatedly attacked by the Taliban, who would crawl down the hills in the shrubbery to fire through the fence.
On one patrol, only meters outside the base's gates, I remember seeing Taliban bullets literally landing as puffs of dust, slowly moving toward me. Fifty-two days after I filmed a report, back then for the UK's Channel Four News, the base experienced a 13-hour long, almost overwhelming attack. Seven Americans died defending the the base, and another succumbed to his injuries later.
A massive internal military review was launched. Why put a base there, in the Pakistani border regions, in the first place? Who overlooked the burned-out shells of Soviet-era tanks that lined the base – a dark message from the valley's previous occupants that things did not end well?
Why did the US seem to value a display of its reach over what its fist could actually punch that far away?
It turned out all these questions, as COP Keating (Combat Outpost Keating – named after a soldier, Ben Keating, who died when his vehicle overturned nearby) had already been addressed. Keating was scheduled to close six days after it was attacked.
Exactly nine years later, I find myself standing in COP Keating again. Yet this time it's in Bulgaria. A short drive from Sofia, Millennium Films has painstakingly recreated the base. It is larger in scale, which at first bewilders me, and without the deadly hills – they would have to be added later by CGI.
The tiny place that had seemed so forlorn in person now comes across as the stuff of painful legend. Orlando Bloom, Scott Eastwood and Caleb Landry Jones lead a cast that contains actual survivors from the battle: some playing themselves, others their platoon colleagues. A West Point graduate, Rod Lurie, is even directing the film.
It is more than a little jarring to see it all again. At one point, fake Taliban pop up from behind rocks and pretend to opened fire on us. It's difficult to resist the instinct to duck down.
In truth, I had put the entire COP Keating episode in a box and dropped it deep in my subconscious. You can't linger over every story you cover or you will lose yourself. And after Keating was hit, I had been told the unit we had spent time with had left before the attack.
That was wrong. Our Channel Four News report, I discovered only recently, contained some of the last pictures of some of the eight who died.
There is a scene where I ask 1st Lt. Andrew Bundermann, who led the unit in the base's defense and survived, why they are there. He says: "We don't ask questions." He turns to Staff Sgt. Joshua Hardt: "Right, Hardt? You don't ask the question why are we here?"
Hardt replies: "F**k no. We don't ask any questions, we get in trouble for asking questions."
Hardt was found dead on the base after the battle, with three bullet wounds in his skull.
The battle – its aftermath and the errors that preceded it – were the topic of a book by CNN's Jake Tapper, who accompanies us on the visit to the set. "This battle happened in October 2009," he says, "and here we are at the end of 2018 and I am sure the average American still has no idea how many troops we have in Afghanistan, why they are there, what they are accomplishing, what they are doing."
He describes writing "The Outpost" as the most intense work he has ever done, stemming from the obligation to get the facts right for the families of those killed.
That same sense of duty hangs over the set. In the words of producer Jonathan Yunger: "The weight of telling this story is insane. I feel it every day".
Scott Eastwood, who plays Clint Romesha, one of the two recipients of the Medal of Honor for his valiant acts during the fight for Keating, says: "It's a lot of responsibility to try and make sure everything's right … Definitely more pressure. We're still in Afghanistan."
The other Medal of Honor recipient, Ty Carter, who made five selflessly brave runs across the base during the battle to help others, is played by Caleb Landry Jones.
The night before, we trawled Sofia's bars with Jones and Carter, who make an odd couple, one trying still to absorb the battle he survived, and the other trying to absorb that Keating survivor.
But during the long night in Sofia, Jones doesn't mention one fact: that his brother, Staff Sgt. John Jones, lost both legs in Iraq as a Marine. The role seems intensely personal to him, further burdened by the need to get Carter right on screen. It is likely to be a startling performance.
"When I received the script," says Jones, "my older brother was visiting for Thanksgiving and I asked him to read it. He read it and said 'you are doing this.' I got to meet Ty…" he sighs. "And now we are here. But…" Much of what Jones says is punctuated by him rubbing his palm over his shaven head, and exhaling hard.
I ask what the movie means to him. "I don't want to talk about that … We are halfway done, there's a lot more to do. It feels like we have shot a week even though it's really been four. It's hard to talk about it in that kind of way. I don't know if I'll understand how to answer that question [of whether their role has been hard work] maybe two years from now."
For Carter, who plays another soldier, but also technically advises on set to bolster authenticity, being here may be part of the recovery process. "I got so uncomfortable when I first came on the COP or set," he says, "and I think that's a good feeling. It's going to make me stronger."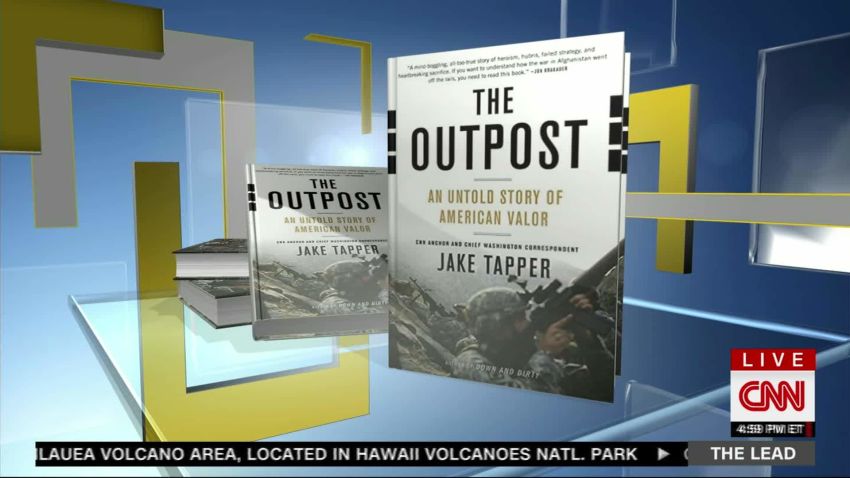 'The Outpost' book becoming a movie, starring Eastwood
The set is a bewildering mix of Hollywood's ridiculous priorities – the fake smoke, special chairs, walkie-talkies and trailers – and fragments of the tiny part of an American generation that has been at war for about 17 years, and is still recovering. Two Hollywood movies will address the battle next year – the other with Casey Affleck – as America teaches itself a history lesson, about valor and love, from a war that's still raging, arguably at its most violent peak.
"You think, in a battle like COP Keating," says Tapper, "that they'd be motivated by their hatred of the enemy, their anger. And the truth of the matter is they are motivated by the love they have for their brothers in arms. The desire to save each other. There's such a chasm between the 1% of the country who serve and the 99% who don't – of which I am in the latter group – there's such an inability to understand why they do what they do. But every one of the eight guys who was killed was killed in a mission of trying to help somebody else."
The war in Afghanistan is the only part of President Trump's foreign policy he has devoted a singular and lengthy speech to – pledging victory.
Yet it remains far from most America TV screens. And so, when the movie is released – likely on the 10th anniversary of the Keating assault, October 3, 2019 – it's likely the war will still be going on then, and that the movie becomes how many Americans learn that's the case.
The last word goes to Daniel Rodriguez, who is a Keating survivor and plays himself in the movie. "If you think of the Vietnam-era films and the WWII films, you do them after the war has already been done. But we live in a here-and-now generation. Let's show the world how horrific it is, yet still leave our people over there at the same time."
CNN's Salma Abdelaziz contributed to this report.