Editor's Note: Alice Driver is a freelance journalist and translator whose work focuses on migration, human rights and gender equality. She is based in Mexico City. Driver is the author of "More or Less Dead: Feminicide, Haunting, and the Ethics of Representation in Mexico." In this piece, Driver is using first names only, so as not to compromise any future asylum cases. The opinions expressed in this commentary are those of the author. View more opinion articles on CNN.
At 27 days old, Rachel had already traveled 316 miles with the migrant caravan, mostly in her mother Yesenia's arms. The pair left Guatemala with Yesenia's husband, Ernesto, and their 4 and 6-year-old daughters. Ernesto had recently lost his job and Yesenia was unemployed, and they were afraid of not being able to provide basic necessities for their daughters. Although the couple admitted that it had been difficult to read the news that President Donald Trump would send troops to the border, they hoped to request asylum in the US and prayed that God would help the President understand the hardships they had lived through.
Yesenia, who had delivered via C-section, was unable to carry anything except Rachel, and she and Rachel depended on the kindness of strangers to give them a ride while her husband walked long, hot miles each day pushing the other two girls in a stroller. Were Rachel, Yesenia and their family the "bad thugs" and "gang members" of the migrant caravan that Trump had warned of on Twitter?
They were not – in fact, they were representative of the roughly 3,500 migrants of the caravan, of which an estimated 2,300 are children, according to UNICEF. The truth about this migrant caravan is that it is made up of grandparents, parents and children, of individuals fleeing such a level of violence and poverty that they are ready, like Yesenia, to walk and hitchhike thousands of miles in hopes of finding a new life further north.
The caravan, which had about 7,000 members when it began in San Pedro Sula, Honduras on October 12, continues to shrink. This is, in part, because, according to the United Nations refugee agency, around 1,500 migrants have requested asylum in Mexico, while others in the face of sickness or injury are sometimes forced to turn back. By the time the migrant caravan reaches the US-Mexico border, the numbers will likely drop further.
As I interviewed members of the caravan while they moved from Niltepec, Mexico to Juchitán, Mexico, I met families with babies and young children, pregnant women, adolescents looking for work, and old men and women with severe, oozing blisters. Almost everyone was wearing flip flops, hardly the ideal footwear for terrorists, as the President had suggested, and not one of the people I met was from the Middle East, yet another claim made by Trump without any seeming evidence to back it up. Even he later admitted "there's no proof" to the claim.
I observed residents of a working-class neighborhood in Juchitán, who despite living in homes with dirt floors in an informal settlement, organized to provide both food and showers to the migrants, who they called their brothers and sisters. They want to support the migrants if they choose to request asylum in Mexico, which some could do, or to go on to the US, where many migrants have at least some family members.
The migrants were provided shelter in an old bus station, and community volunteers and aid organizations like the Red Cross handed out blankets, clothes and medicine.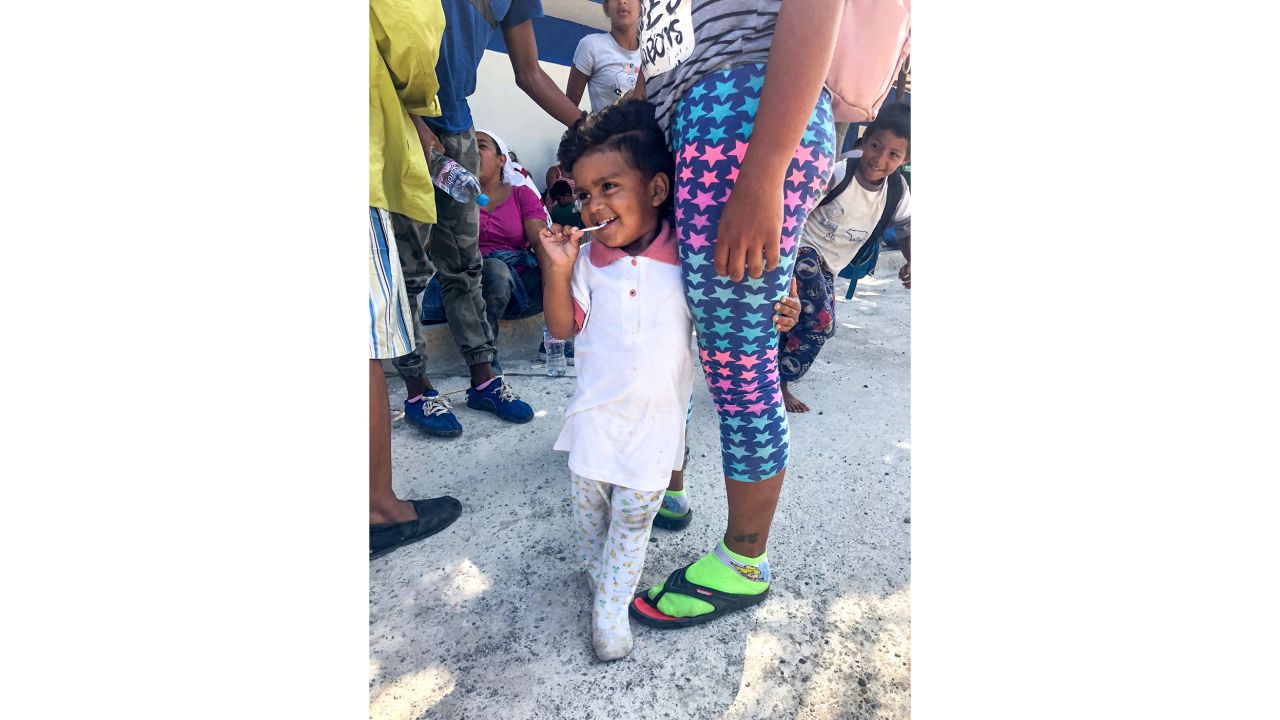 That night, I met 4-month-old Esmerelda, who was nestled between her mother Kayla's legs. The two had walked from Santa Bárbara, Honduras, and along the way kind citizens had given Kayla diapers and milk for the baby. Kayla, like so many others in the caravan, wanted to escape extreme poverty and a country in which daughters like her own were often forced to quit elementary school to work and help support the family.
Paola, 22, a single mother, had traveled from San Pedro Sula, Honduras with her sons age 2 and 3. She left Honduras because she wanted to be able to offer her sons a better life, one in which violent gangs like MS-13 were not a part of their daily reality. Her mother lived in Canada and she hoped to start a new life there.
Lillian, a young mother wearing a hat to combat temperatures that hovered around 100 degrees during the day, was traveling with her 1-year-old son, Tiago, and her husband. As she stood on the side of the road with Tiago in her arms, she talked about her husband, a farmer, and how difficult his work had become due to water scarcity and extreme temperatures. Their family was among many migrants propelled to move by climate change. They had sold everything except her child's clothes to have money for the journey. They wanted to request asylum in the US, but their dream was to one day return to Tegucigalpa, Honduras and build a house.
As I stood in the old bus station surrounded by a sea of humanity that night, I saw kids playing with balloons, girls from plates heaped with beans and tortillas, babies sleeping soundly, community members handing out diapers, and volunteers setting up a viewing of the movie "Coco" powered by solar energy.
I met a single mother and her four children who had fled the political unrest in Nicaragua, a country where over 300 people were killed in protesting the government's decision to cut pensions. When I met her, she was standing in the grass trying to brush her youngest daughter's hair.
I also met a US pediatric doctor who had spent a week volunteering with the caravan, and who said that it was irresponsible for Trump to call members of the migrant caravan criminals.
"Don't treat them like criminals," he said. "So much of the blame for this migration falls on the United States."
Get our free weekly newsletter
Sign up for CNN Opinion's newsletter.
Although President Trump has suggested he may limit how many migrants can apply for asylum, according to US and international law, these migrants all have the right to request asylum at the US-Mexico border. Members of the migrant caravan, who have suffered more than most US citizens can imagine, must be given the opportunity to go through the legal process that will determine if they get to stay in the US.
At heart, we have always been a nation of immigrants, a nation that has faith in our institutions and that has provided refuge to those fleeing extreme violence and poverty. Trump has tried to erode that faith and turn a hungry, tired mass of migrants with sunburned faces and bleeding feet into something to fear. Regardless of whether Trump actually sends 15,000 troops to the border, the migrants that I talked to said they would always be more afraid of hunger and death than of a president who disliked them based on the color of their skin.