Speaking before an elite audience in Washington in March 2000, then US President Bill Clinton summarized much of Western thinking on the internet when he hailed a new century in which "liberty will be spread by cell phone and cable modem."
This would occur, Clinton said, despite the efforts of countries like China to fight the spread of information.
"Now there's no question China has been trying to crack down on the internet," Clinton said, his eyebrows arched as he neared the punchline. "Good luck! That's sort of like trying to nail jello to the wall."
In the decades since that speech, Clinton's jello comment has become a something of a dark joke among internet freedom advocates, as China continued to build up the Great Firewall, the world's most sophisticated system for controlling and surveilling the web.
A new report out this week shows that China is by far the most effective censor of the internet, and far from retreating, is exporting its model around the world.
Beijing has consistently defied all the confident predictions (including by people far more knowledgeable about the internet than Clinton) that this would be impossible. China's censors have reigned in blogs, social media, and US search giants, and repeatedly defeated or stymied any attempts to undermine the Firewall, from virtual private networks (VPNs) to the dark web.
Sunday Yokubaitis, chief executive of VPN company Golden Frog, told CNN they have "witnessed a massive increase" in attempts to block their services in China.
"We used to see blocks roughly once every six weeks; they now try to block our service multiple times every day," he said.
As I document in my book, "The Great Firewall of China: How to Build and Control an Alternative Version of the Internet," Beijing's model of the internet is now spreading beyond its borders, with China's censors working actively with their counterparts in Russia, Uganda and a host of other countries to build up internet controls and crack down on online dissent.
A new report from Freedom House – a US government-funded NGO – supports this. During 2018, the authors found, "internet freedom declined for the eighth consecutive year."
"A cohort of countries is moving toward digital authoritarianism by embracing the Chinese model of extensive censorship and automated surveillance systems," Freedom House said.
China's Foreign Ministry spokesman Lu Kang told a regular press conference Thursday that the report's findings "are sheer fabrications."
"They are unprofessional, irresponsible and made with ulterior motives," Lu added.
Forlorn hope
During the early decades of the internet, many influential thinkers claimed the internet – by its very nature – would spread democracy and freedom of speech.
The combined forces of globalization and the web were, Thomas Friedman wrote in 2000, "acting like nutcrackers to open societies."
But as writer Evgeny Morovoz has demonstrated, this assumption was often based on a willful misreading of the events of the Cold War, and the effectiveness of strategies like smuggling photocopiers and fax machines through the Iron Curtain and Radio Free Europe broadcasts.
"Viewing it through the prism of the Cold War, they endow the internet with nearly magical qualities; for them, it's the ultimate cheat sheet that could help the West finally defeat its authoritarian adversaries," Morozov writes. "In other words, let them tweet, and they will tweet their way to freedom. By this logic, authoritarianism becomes unsustainable once the barriers to the free flow of information are removed. If the Soviet Union couldn't surprise a platoon of pamphleteers, how can China survive an army of bloggers?"
In fact, as the Freedom House report demonstrates, the internet is an excellent tool for social control, enabling surveillance and guiding of public opinion that would have been impossible in the past.
This has been further boosted by the ongoing panic in the US and other countries which have typically been the biggest proponents of internet freedom over fake news and alleged election interference online.
"Throughout (2018), authoritarians used claims of 'fake news' and data scandals as a pretext to move closer to the China," the report said. "Governments in countries such as Egypt and Iran rewrote restrictive media laws to apply to social media users, jailed critics under measures designed to curb false news, and blocked foreign social media and communication services."
Google alum rejects Pichai's Dragonfly remarks
Global model
Since the first virtual blocks were laid in the Great Firewall, China has acted as a potential model for online censorship, with everyone from Bono to US lawmaker Joe Lieberman citing Beijing's policies in arguments for greater internet controls.
In recent years, however, especially since President Xi Jinping came to power, China has actively worked with foreign governments to help them build firewalls of their own, and lobby at the United Nations and other bodies to reduce protections for internet freedom worldwide.
This week, the UN's International Telecommunication Union gathered for its quadrennial meeting in Dubai. In the past, the ITU has been a key body for China and other leading internet censors, particularly Russia, to push for changes to international regulations to legalize or enable their controls.
In 2015, China succeeded in expanding the ITU's powers and those of national governments to set internet policy, though Chinese delegates failed to remove the terms "freedom of expression" and "democratic" from a key internet governance document.
While the meeting has only just got underway, most experts expect the issue of internet governance – the key argument over which boils down to whether only governments should be able to set global policy, or if civil society and industry should have a role as well – to dominate matters again in Dubai.
China's position is that national governments have the ultimate right to control the internet within their borders, and that this covers foreign companies, citizens, and anyone who attempts to interfere by, for example, creating software to undermine the Great Firewall.
The doctrine of cyber sovereignty, as advocated by Xi Jinping, will be on full display next month at China's own World Internet Conference in the southern Chinese river town of Wuzhen.
This year's forum "will further enhance the establishment of an internet development outlook characterized by mutual trust and collective governance among countries worldwide," according to Liu Liehong, deputy director of the Cyberspace Administration of China, the country's top censor.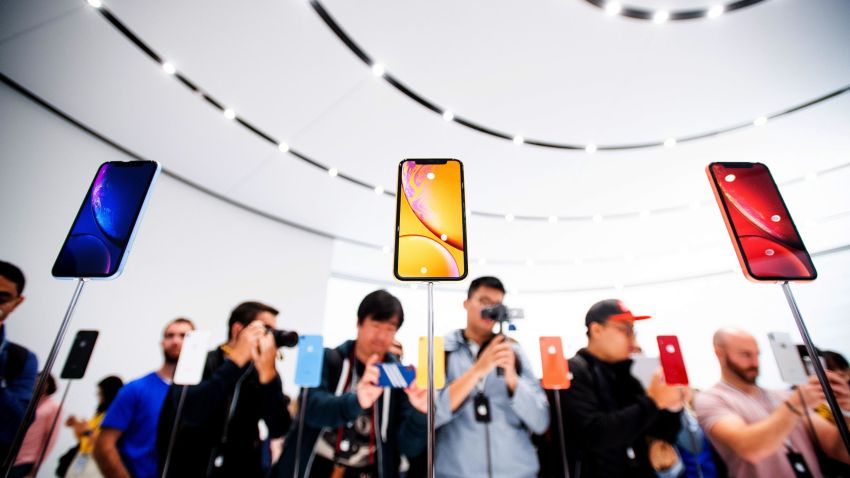 Apple may have most to lose with China tariffs
Worrying trend
As well as working to change international law and craft a model of internet control that can be easily adopted by other countries, Chinese officials and companies have also been actively engaged in the groundwork of building censorship networks overseas.
Golden Frog's Yokubaitis said his company had seen Chinese-style tactics being adopted in Russia and the Middle East, adding that China is "exporting blocking technologies to countries with repressive regimes."
The Freedom House report said that Beijing was taking steps to "propagate its model abroad" with large-scale trainings of foreign officials, providing censorship and surveillance technology, and pressuring international companies to comply with Chinese standards even when operating outside the country.
"These trends present an existential threat to the future of the open internet and prospects for greater democracy around the globe," the report said.
It listed 57 countries, from European democracies to Central Asian autocracies, which had bought telecom infrastructure, AI surveillance tools, or attended or hosted trainings by Chinese censors and propaganda operatives.
"Democratic governments will have to devote much greater diplomatic and other resources to countering China's charm offensive on the international stage," Freedom House added. "More governments are turning to China for guidance and support at a time when the United States' global leadership is on the decline, and the acquiescence of foreign companies to Beijing's demands only emboldens the regime in its effort to rewrite international rules in its favor."