More than a year since Aaron Hernandez killed himself in a prison cell, the former NFL star and convicted murderer shows no signs of fading from the news.
The latest focus on the former New England Patriots tight end comes from his brother Jonathan, who writes about his own childhood and his brother's secrets in the brisk read "The Truth About Aaron: My Journey to Understand My Brother."
The book comes on the heels of several Hernandez pieces in the past few months, including best-selling author James Patterson's "All-American Murder," defense attorney Jose Baez's "Unnecessary Roughness," and a six-part investigation from The Boston Globe's acclaimed Spotlight team.
For all we know of Hernandez – and it's a lot – his brother's book reveals a number of new stories, details and quotes of the mercurial football player, including new stories of his abuse and sexual molestation.
Let's break down the most intriguing new lines from the book.
"I found out much later, when Aaron was in prison, that the older boy had actually forced Aaron into the tent."
The Globe's Spotlight series reported that Hernandez disclosed as an adult that he had been sexually molested as a young boy. And on just page seven of the book, Jonathan writes about a situation that is suggestive of that incident.
When Jonathan was 9 and Hernandez was 6, they played a game of indoor hide-and-seek with two older boys. They hid in different places, and when Jonathan came out, he didn't understand why his brother and the older boy hid in a tent together.
"'Why would the two of you hide in there together?' I asked Aaron that afternoon. "That's not a smart hiding spot.' Aaron didn't say a word," he writes.
"I had no idea what he had just been through," he adds a few sentences later.
"We saw our dad slamming our mom's head against the white sink, over and over until she slumped to the ground."
Some of the most shocking stories from the book tell of their father's violent abuse. In one incident, their parents, Dennis and Terri Hernandez, get in a fight that ends with their mother bleeding from her forehead.
Jonathan and Aaron were also victims of their father's abuse, he writes.
"Our father would hit us for anything from a bad grade to disrespectful behavior to sheer clumsiness," he writes. At one point, Jonathan told his dad he would call the Department of Children and Families.
"He handed me the phone before saying, 'Call them. As soon as you hang up the phone, I will beat you boys harder than you've ever been beat before. They will have to pull me off of you after they break down the door.'"
"I am the luckiest father in the world"
Still, Jonathan sometimes writes fondly of his father, who died suddenly in 2006 due to an infection contracted during hernia surgery. When the boys were in high school, they became teammates, with Jonathan at quarterback and Aaron playing receiver. In their first game together, Jonathan threw aaron a touchdown, leaving their father in tears of pride and joy.
"Our dad opened his arms and pulled us in – a giant bear hug, holding the two of us so tight and not wanting to let go. 'I am the luckiest father in the world,' he said in a whisper. 'I love you boys. I could hold you both here forever.'"
The acknowledgments of the book include an ode to his father, who "taught me the value of family," he writes.
"That wasn't Aaron's only hard collision as a child."
After Aaron killed himself, an examination of his brain found a severe case of CTE, the brain condition found in a number of dead football players that experts believe is related to repeated hits to the head.
Jonathan's book recounts a number of times Aaron was hit in the head as a child, including at football games, in a collision at an ice-skating rink and while hammering in the backyard.
In retrospect, Jonathan is left with unanswered questions about these childhood memories.
"Many years later, I'm left to wonder," he writes. "Was this the first hit of many that affected my brother's brain?"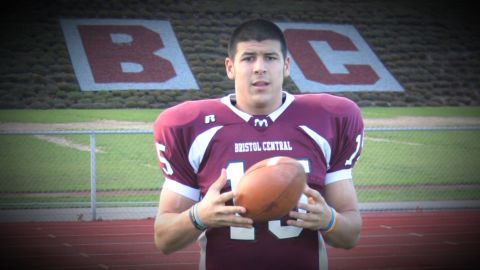 "I asked Aaron if he was gay."
Aaron's sexual orientation has been a particular focus of tabloid gossip since his death, and his brother's book does not shy away from the subject.
Jonathan writes of an incident at his bachelor party in which he walked in on Aaron and two male friends lying in bed together without a shirt. But more important than his orientation is Aaron's response to his brother's question.
"'If you are, I don't care,' I said. 'I love you. You are my brother.'
'Don't you ever ask me that again,' Aaron said. 'If you say that again, I'll f—ing kill you.'"
"Aaron slammed down on the gas pedal, nearly striking the cop in front of us and the oncoming traffic."
The book repeatedly returns to Jonathan's own confusion about his brother's increasingly bizarre and paranoid behavior. One startling incident occurred on the night that Aaron and the New England Patriots won a playoff game in January 2012.
After the game, Aaron meets with Jonathan, Jonathan's wife, and two friends and volunteers to drive home. But when a police officer directing traffic signals for the vehicle to stop, Aaron slams on the gas and flees the scene, setting off a sudden police chase.
"Stop the car, Aaron, please stop the car!" Jonathan pleads. "Aaron ignored my words; it was as if he were alone in the vehicle," he writes.
They somehow manage to evade the police, but the incident leaves Jonathan shaken: "What is going on with my brother?" he asks himself.
"Aaron, why the hell is that big knife in your nightstand?"
Jonathan soon noticed that Aaron was gathering weapons amid his paranoia. When Jonathan visits his brother's home, he sees a big kitchen knife in the top drawer of his nightstand and asks him about it.
"'I sleep with it because people are after me,' he said. 'I've got it for protection.'
'Who is after you, Aaron?' I asked.
'Everyone,' he said. 'The FBI, everyone.'"
They later move outside to take out the trash, and Aaron's eyes shift to his neighbor's windows.
"They are watching us and listening to us right now," he said.
"I visualized pushing the knife through my chest."
One of the through-lines of the book is the sprawling damage that Aaron's behavior and murder conviction caused to the people around him.
Jonathan, who looks very similar to his brother, writes of an incident when random people cruelly mock him over his brother's arrest. Feeling angry and depressed, Jonathan goes home and grabs a large knife and comes close to injuring himself.
"I was ready to end the pain. I was convinced that the blade was my escape, my only answer," he writes.
He suddenly comes to and drops the knife. He writes that he went into counseling not long after.
"Mom, I'm gay."
While Aaron was behind bars, he confided to his mother several secrets that had haunted him for years, which she then relayed to Jonathan, he writes.
Aaron told her that an older boy from his childhood would force him to perform oral sex, and that it started when he was 6 years old and continued for several years, Jonathan writes.
Hernandez also said that he was gay and that he had a "true love" whom he had been hiding from everyone, according to the book.
"I hated living a secret, and I hated all the lies, but I felt like I had to do all those things because people wouldn't accept me," Aaron said, Jonathan writes in the book. "There was no way I could come out as an NFL player."