(CNN Business) —
Ford and Baidu are teaming up to develop self-driving cars in China.
The US automaker and Chinese internet company said Wednesday they plan to start testing autonomous vehicles together on Beijing roads by the end of the year.
The project combines Baidu's (BIDU) "technological know-how and understanding of China together with Ford's vehicle expertise," said Zhenyu Li, head of Baidu's Intelligent Driving Group.
Ford (F) is the latest international company to move into self-driving technology in China, the world's largest auto market.
Waymo — the driverless car division of Google's parent company, Alphabet (GOOGL) — set up a business in Shanghai earlier this year. And Daimler (DDAIF), the owner of Mercedes-Benz, announced this summer that it was the first foreign company to be granted a license to test automated cars on the streets of Beijing.
Ford has outfitted some of its cars with Apollo, Baidu's self-driving system, and the companies will try them out "on open roads in Beijing that are specially designated for [autonomous vehicle] testing." They may expand the program, which is expected to last two years, to other cities in the future.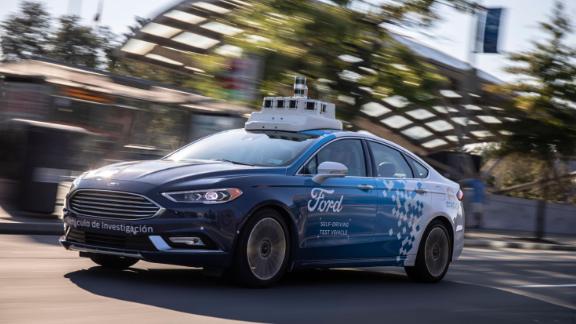 Ford
Baidu is already testing its self-driving technology independently in China. Beijing regulators granted the company licenses to road test autonomous vehicles on thinly populated streets in the city's suburbs in March. In the United States, Ford is trying out its autonomous vehicles in Miami and plans to bring them to Washington DC early next year.
Around the world, top carmakers like Toyota (TM) and General Motors (GM), and tech companies like SoftBank (SFTBF) and Alphabet are pumping resources into driverless car technology, which has the potential to hugely disrupt the auto industry.
Wednesday's announcement builds on the existing relationship between Baidu and Ford. The companies said earlier this year they would work together broadly on artificial i