A man has been charged with breaking into the home of missing teen Jayme Closs and stealing girl's underwear and other clothing, but he has been cleared of involvement in her disappearance, police said.
Wisconsin investigators saw via motion-activated cameras a man in a skull cap break into the home through a patio door, according to a criminal complaint.
Law enforcement officials responded to a call and set up a perimeter around the home, about 90 miles east of Minneapolis. They ordered the man to come out with his hands up.
After seeing movement inside the home, the deputy returned to his squad car to retrieve his dog. Upon returning to the property, he heard the DCI agents ordering a man inside to come out with his hands up.
School holds 'gathering of hope'
The man wore glasses and carried a flashlight, according to the complaint, and was identified as Kyle Jaenke, 32, of Cameron, Wisconsin.
Police: Man concedes stealing girls' things
The man conceded he had broken into the home and stolen items, the complaint says. In his coat pocket, a sergeant found items, including a small pink tank top and girl's underwear, according to the complaint.
He also had black gloves and a mask with a skull on the front, the complaint alleges.
The man faces charges of burglary and felony bail jumping. He'd been released on bond August 11 on another burglary charge, and a condition of the bond was that he commit no other crimes, according to the complaint.
Jaenke told police that after leaving the store, he rode his bike to a laundromat in Barron and then walked to the Closs home, the complaint says. The patio door was unlocked when he arrived, he said, according to police.
"The defendant was asked how many items he took and he stated three or four items, including some underwear that he believed belonged to Jayme," the complaint says.
Jaenke said he did not know the Closses and he stole items that he thought the family wouldn't miss, according to the complaint.
"Additionally, the defendant stated he was curious about what size Jayme was," the complaint says.
Previous charges
Jaenke faces charges of burglary and felony bail jumping. According to the complaint he was released on bond August 11 for another burglary charge, and a condition of the bond was that he commit no other crimes. Arraignment in the first case is scheduled for December 19.
He appeared in court Monday for the latest case, where a judge set bail at $5,000. Jaenke is not allowed near the Closs home if he makes bail.
Andy Knaak, the attorney who represented Jaenke at Monday's hearing, had no comment on the case. It was not clear if Knaak will continue representing Jaenke, as court documents indicate the defendant does not qualify for a public defender.
Knaak also declined to say whether he would remain Jaenke's lawyer, referring the question to a spokesman for the public defender's office, who could not be immediately reached. Attempts to reach Jaenke were also unsuccessful.
The Barron County Sheriff's Office says it has received more than 2,000 tips about the 13-year-old's disappearance. It has cleared 1,875 of them.
Last week, the Closs family broke its silence when Jennifer Smith issued a message to her missing niece, saying, "We all love you to the moon and back, and we will never stop looking for you."
She added, "Your dog, Molly, is waiting for you. She's sleeping in one of your sweatshirts."
2,000 tips so far
Jayme Closs, 13, vanished early October 15 and her parents were found fatally shot in their home near the town of Barron in northwestern Wisconsin.
Authorities have said a mysterious 911 call led deputies to discover Jayme's parents – James Closs, 56, and Denise Closs, 46 – had been shot dead at the family's home.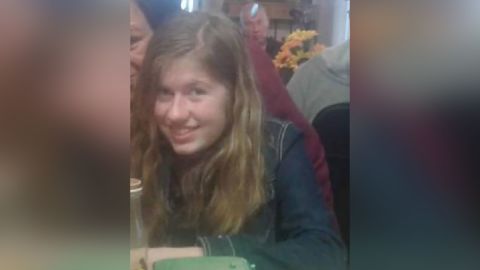 When the dispatcher called back, the call went to Denise Closs' voicemail. Police arrived to find the door kicked in.
Jayme was missing and an Amber Alert was issued. Many tips have come in but authorities said Wednesday they weren't any closer to developing a suspect profile.
The FBI is offering a reward of $25,000 for information that leads agents to Jayme's location.
Jennie-O released a separate statement saying the company employed Jaenke from 2012 to 2016. Since then, he has worked for Jennie-O as a temporary employee via an agency the company uses, it said.
CNN's Steve Almasy and Sheena Jones contributed to this report.