(CNN) —
With one week until the 2018 midterms, will voters hold candidates who ignore protecting public health and the planet accountable?
They certainly should since the risks could not be greater. Several weeks ago, an alarming report issued by 91 scientists who comprise the UN Intergovernmental Panel on Climate Change warned that the planet will reach the crucial threshold of 1.5 degrees Celsius (2.7 degrees F.) above pre-industrial levels by as early as 2030. This brings an increased risk of extreme drought, wildfires, floods and food shortages for hundreds of millions of people.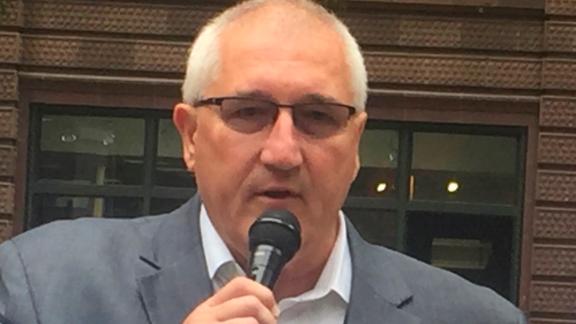 AFGE Local 704
And the threats are only mounting. Scientists who worked on the study concluded that we have a dozen years to change our economies radically if we are to keep the effects of global warming to even manageable proportions.
You would think that world leaders have a moral obligation to initiate drastic action on the looming climate crisis in the wake of the new UN report. The consequences of failure to act are dire. But the muted response by the conservative governments of the United States, Britain and Australia underlines the immense political challenges facing adoption of climate-change thwarting policies at home and abroad.
So, how do we fix this? This midterm election demands a green wave that guards Americans from air pollution, contaminated water and toxic land. It means voting for candidates who support regulating the environment to protect all Americans, but particularly communities of color, which are disproportionately threatened by smog and dangerous levels of lead in drinking water.
Incumbents and other candidates for office should take note – it's also good politics. Poll after poll show that the concern for climate change, clean air and drinking water is not just associated with one side of the political divide. Large majorities of Americans surveyed in a Quinnipiac University poll disagree with the Environmental Protection Agency's deregulation rollbacks of carbon control and public health protections.
In that same poll, 61% of voters nationwide disapproved of Trump's policies on the environment – more than twice as many voters who approved. Majorities of all age groups disagreed with Trump's approach, but the disapproval among younger voters is even more striking. Seventy-nine percent of Americans under the age of 35 disapproved of this White House's environmental agenda.
And while this poll was conducted only three months into Trump's tenure, it's not hard to see why Americans would be unhappy – and continue to be so. Just look at what his administration has done since January 2017. From scrubbing government web pages of any mention of climate change to crippling the EPA with cuts to staff to rolling back fuel economy standards for vehicles to proposing to withdraw from the Clean Power Plan to withdrawing from the Paris climate agreement to overturning bans on offshore oil drilling in the Arctic, the Pacific and Atlantic oceans, Trump and the EPA have not prioritized the health of Americans or America in setting their agenda.
Americans also now know that Trump's fervent deregulation agenda will make more of our children asthma sufferers, threaten the lives of the most vulnerable citizens among us and exacerbate chronic illness.
In 2016, electing a Republican president was the difference between selecting a candidate who would prioritize corporations and one who would safeguard the right to a pollution-free world for the American people. The American people made their choice, but they have a chance to reverse course now.
Get our free weekly newsletter
Americans must vote legislators into Congress who will finally listen to their constituents and undo the disastrous environmental policies imposed by the Trump administration. Our nation can never be strong if our President puts profits from so-called fossil fuel energy dominance over people and protects industry from regulations over public health.
It's time to vote like your health depended on it.