(CNN) —
The Duchess of Sussex – formerly known as Meghan Markle – said "Bravo New Zealand" during a heartfelt speech on Sunday marking the 125th anniversary of women's right to vote.
The Duchess, who is in New Zealand on the final leg of a Pacific tour with husband Prince Harry, said that the country's women's suffrage movement had "paved the way" for women and minorities around the globe.
In 1893 New Zealand became the first country in the world to give women the right to vote in parliamentary elections.
Reflecting on this achievement, the Duchess told dignitaries that, "Suffrage is not simply about the right to vote, but about what that represents – the basic and fundamental human right of being able to participate in the choices for your future."
The royal couple touched down in Wellington on Sunday, and were greeted at the airport by Prime Minister Jacinda Adhern, who made history last month after bringing her 3-month-old daughter Neve into the United Nations assembly hall.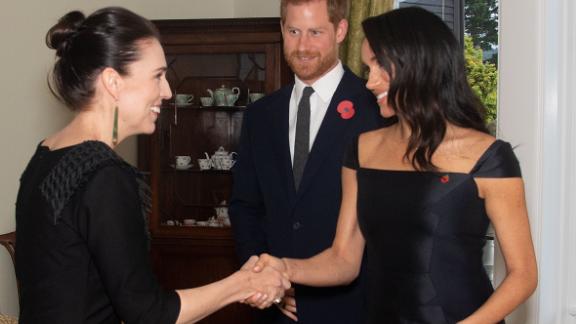 Marty Melville/Getty Images
Harry and Meghan were also welcomed with a traditional hongi greeting from Maori elders – involving touching noses and foreheads.
The Duke and Duchess also visited the Pukeahu National War Memorial Park, where they lay fern fronds at the Tomb of the Unknown Warrior.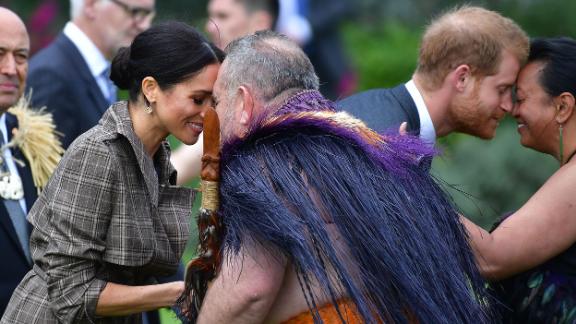 Marty Melville/AFP/Getty Images
The visit is the couple's first official trip since marrying in May, and they have already taken in Australia, Tonga and Fiji.
The tour coincides with the fourth Invictus Games – this year held in Sydney – an international sporting competition for wounded veterans and members of the military created by Prince Harry in 2014.
Earlier this month, the Duke and Duchess also announced Meghan was pregnant with their first child, due in Spring next year.