Cecil and David Rosenthal were familiar faces at Pittsburgh's Tree of Life synagogue.
The brothers from Squirrel Hill sat in the back of the temple and greeted people as they came in to worship, said Suzan Hauptman, who grew up in the synagogue.
Cecil, 59, was tall and gregarious, she said. His younger brother, 54-year-old David, was the serious one.
"They were like the ambassadors," she said. "They were always there. And they will always be there in our hearts."
The community bid farewell to the brothers on Tuesday in the first funerals for 11 worshippers who were killed in a mass shooting in the synagogue on Saturday morning.
Another service was held Tuesday for Dr. Jerry Rabinowitz, a primary care physician in Edgewood Borough known for his compassionate care – often to multiple generations of the same families and in the early days of HIV treatment.
The victims' lives will be remembered in services throughout the week. Here are their stories:
Irving Younger
Irving Younger of Mount Washington also greeted Tree of Life members and visitors with a big smile and a handshake, a friend said.
"He was a guy that, when you walked in, he was the first person that would meet you and help you find a seat," his pal and former Tree of Life president Barton Schachter told CNN.
"He liked to make sure you knew where you were in the prayer book. It was his duty. He felt responsible. He felt like his role was to help serve."
It was a role that came naturally to the charismatic 69-year-old, who had been frequenting the synagogue for at least 10 years, Schachter said.
A former real estate agent, Younger used to have an office on one of Squirrel Hill's main thoroughfares. More recently, he enjoyed spending time at one of the sidewalk tables in front of a local coffee shop, where he appointed himself as greeter, Schachter said.
Years ago, Younger coached Little League, said Meryl Ainsman, whose son played on his team. She remembered him as a kind man.
Melvin Wax
Melvin Wax's greatest passions were his grandson, his religion and the Pittsburgh Pirates. He was "always in a good mood, always full of jokes," his sister told CNN affiliate WTAE.
The 87-year-old accountant was usually among the first to arrive at Friday night and Saturday morning services, Bonnie Wax said. He was well-versed in reciting Jewish prayer.
"The synagogue for him was very important. We always used to kid with him that you should have been a rabbi," she said.
Upon learning of the shooting, she immediately feared that her brother could have been one of gunman's victims.
"He'd always be early, so when I heard this happened, I kind of said to myself, 'Ugh,'" his sister said. "I was hoping it wasn't Melvin, and unfortunately, he was one of the victims."
His family released a statement saying, "Known as Mel to everyone, he was a generous, sweet man who would help anyone. We recently found out that even though he was 88, he parked several streets away from the synagogue to leave the closer spaces to 'those who need them more.'"
Rose Mallinger
Friends and relatives say the 97-year-old Squirrel Hill woman lived for her family. She regularly attended Tree of Life with her daughter, Andrea, who was injured in the shooting.
And despite her age, Mallinger was spry, vibrant and full of life.
"To Bubbe, family was everything. She knew her children, her grandchildren and her great-grandchild better than they knew themselves. She retained her sharp wit, humor and intelligence until the very last day," her family said in a statement.
Family friend Stephen Neustein said he fully expected Mallinger to make it to at least 100. The mother of three children, with five grandchildren and one great-grandchild, still cooked family meals for high holidays.
Robin Friedman said Mallinger was a secretary in her school's office when she was growing up. Then, as in now, she was a sweet and lovely lady who was quick with a friendly greeting, a hug and a smile, Friedman said.
"She had a lot of years left," she said.
Relative Elisa Schwartz called Mallinger "one of the matriarchs of the family." Mallinger was a first cousin to Schwartz's grandmother. "We used to have a cousins' club to celebrate Hanukkah and gathered for Seders at Passover," Schwartz said on Facebook.
"Tree of Life is actually an appropriate name for how our community has come together. I will be mourning the loss of Rose and the 10 others who have lost their lives too soon as well as praying for the others that were injured," she said.
Bernice and Sylvan Simon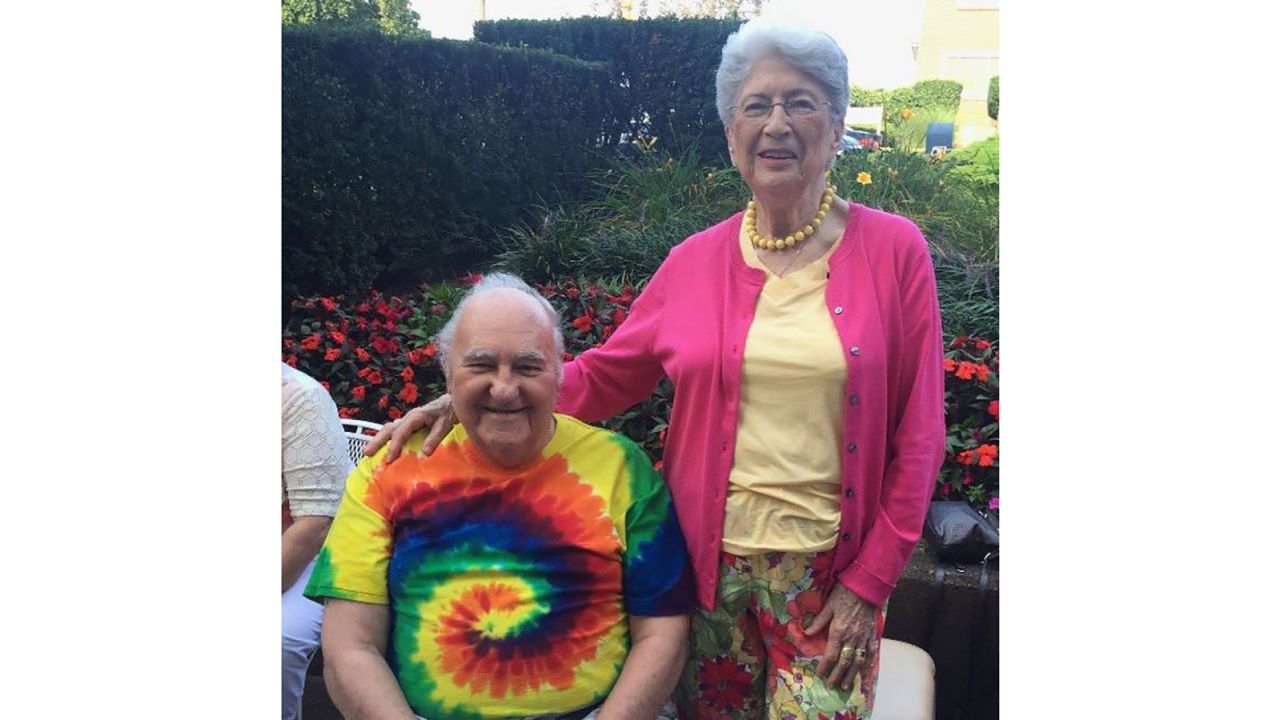 The Simons died together in the same synagogue where they wed more than 60 years ago.
According to their 1956 wedding announcement in the Pittsburgh Post-Gazette, the couple married at Tree of Life synagogue. The bride carried a Bible with white orchids and streamers of stephanotis, and wore a gown of ivory chantilly lace and tulle trimmed with sequins.
Their neighbor in Wilkinsburg described them as the "sweetest people you could imagine." Jo Stepaniak said she lived next to 84-year-old Bernice and 86-year-old Sylvan for nearly 40 years. They were the kind of people who regularly stepped up to help in their small neighborhood and in the Jewish community.
"They wanted to give back to people and be kind," Stepaniak said. "They were loving and giving and kind."
Jerry Rabinowitz
Jerry Rabinowitz touched the lives of many, both as a primary care physician in Edgewood Borough and a member of Dor Hadash – one of three congregations scheduled to celebrate Sabbath at Tree of Life on Saturday.
In the early days of HIV treatment, when stigma around the disease was high, Rabinowitz was known to hold patients' hands without gloves and embrace them whenever they left the office, one patient recalled.
Michael Kerr said Rabinowitz treated him for HIV in the 1990s until 2004. Back then, for HIV patients in Pittsburgh, "he was (the) one to go to," Kerr said in a Facebook post Sunday. Rabinowitz helped him stay calm and got him into trials for medications that Kerr believes saved his life.
"Before there was effective treatment for fighting HIV itself, he was known in the community for keeping us alive the longest," Kerr said. "Thank you Dr. Rabinowitiz for having always been there during the most terrifying and frightening time of my life."
Susan Blackman said she knew Rabinowitz for 35 years. He was the family doctor for her and her three children, and she said she saw him every quarter.
"He was like a member of the family," she said. "I can't imagine the world without him."
Rabinowitz was known for wearing bow ties that made people smile and put his patients at ease, his nephew, Avishai Ostrin said on Facebook.
"You know how they say there are people who just lighten up a room? You know that cliché about people whose laugh is infectious? That was Uncle Jerry," he wrote. "It wasn't a cliché. It was just his personality."
The Dor Hadash congregation was like a second home for Rabinowitz, said Deborah Friedman, another one of Rabinowitz's patients. When she spoke about Rabinowitz on Sunday, she started to speak in the present tense, but quickly stopped herself.
"He was a wonderful guy," she said.
Ostrin said his uncle was not in the basement where the congregation was gathered, but outside the room. "Why? Because when he heard shots he ran outside to try and see if anyone was hurt and needed a doctor. That was Uncle Jerry, that's just what he did."
Ostrin said if there was a message his uncle would want everyone to take from the tragedy, "it would be a message of love, unity, and of the strength and resilience of the Jewish people."
Joyce Fienberg
Joyce Fienberg, 75, had a long career at the University of Pittsburgh as a research specialist from 1983 until her retirement in 2008. Her employers at the Learning Research and Development Center called her a "cherished friend" and "an engaging, elegant, and warm person."
She was just as beloved by Ph.D. students of her husband, Stephen, an acclaimed statistician who taught at Carnegie Mellon University for 36 years. He passed away two years ago after battling cancer.
The couple opened their home to Stephen's students and treated them like family, former student Jason Connor said. Joyce would send cards to her husband's students long after they left Carnegie Mellon, Connor said.
"She was a very petite woman but lit up a room with her huge personality. We weren't just welcome in the classroom, but into their home," Connor said. "Everyone says this, but she really was an enormously caring person."
She had two sons, and was also a grandmother, Connor told CNN.
Fienberg grew up at the Holy Blossom Temple in Toronto, the temple said on its Facebook page. She lived in Pittsburgh's Oakland neighborhood, not far from Squirrel Hill.
Richard Gottfried