(CNN) —
Voters in Afghanistan's southern Kandahar province went to the polls Saturday in legislative elections postponed for a week after an attack killed the province's police chief.
More than 4 million people cast their ballots elsewhere last weekend despite violence and logistical issues, the Independent Election Commission (IEC) said.
No security incidents were reported Saturday in Kandahar, according to Zabiullah Sadat, deputy spokesman for Afghan Independence Election Commission.
The first parliamentary poll in eight years comes after three years of delays due to security issues and political infighting over electoral reforms.
Voting in Kandahar was pushed back a week after police chief Gen. Abdul Raziq Achakzai was killed in a Taliban-claimed attack October 18, two days before the election. The top US general in Afghanistan survived; two Americans were injured.
Security was stepped up for the rescheduled vote, with some 6,000 security force members deployed to Kandahar, the Afghan Interior Ministry said.
More than half a million people were registered to vote across the province, according to the IEC's media relations office, with women making up roughly 1 in 8 registered voters. Turnout figures have not yet been released.
Voters cast their ballots at 172 polling stations, one fewer than expected, Sadat said. Voting was not held in Marof and Nesh districts for security reasons, he added. Polling time was extended by one hour to ensure everyone could vote.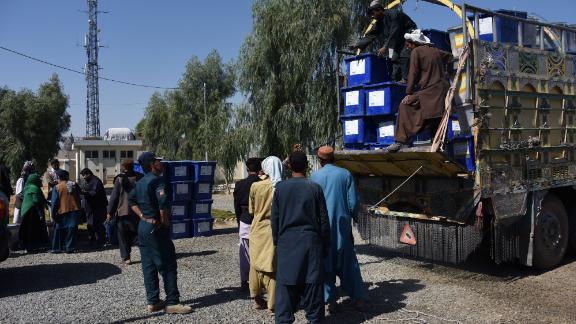 JAWED TANVEER/AFP/Getty Images
There are 112 candidates, of whom 12% are women, for Kandahar's 11 parliamentary seats, the IEC said. Three of those seats are reserved for women.
These legislative elections are the first in Afghanistan to make use of biometric devices at voting centers. The 2014 presidential election was plagued by accusations of widespread fraud and dragged on for several months.
The eastern province of Ghazni has also seen its polls delayed due to security and logistical issues. No time frame has been announced for rescheduling the ballot in Ghazni.
More than 2,500 candidates nationwide are running for 250 seats in the Wolesi Jirga, the lower house of the Afghan parliament, including more than 400 women.
CNN's Ehsan Popalzai and journalist Ali M. Latifi reported from Kabul, while Laura Smith-Spark wrote from Rome.