(CNN) —
The fiancée of the murdered Washington Post columnist Jamal Khashoggi declined an invitation from US President Donald Trump to visit the White House, she said Friday.
"The statements Trump made in the first days around his invite and the statements he made afterward opposed each other. They were simply statements to gain public sympathy," Hatice Cengiz said during an interview with the pro-government Turkish channel Haber Turk.
Cengiz had previously appeared open to visiting Washington, saying last week that if Trump "makes a genuine contribution to the efforts to reveal what happened inside the Saudi consulate in Istanbul that day, I will consider accepting his invitation."
But Cengiz said Friday that she would only go to the White House if the administration takes action on Khashoggi's case.
"I do not think of going to the United States," she told Haber Turk. "Whether I will go or not will depend on the formation of conscience."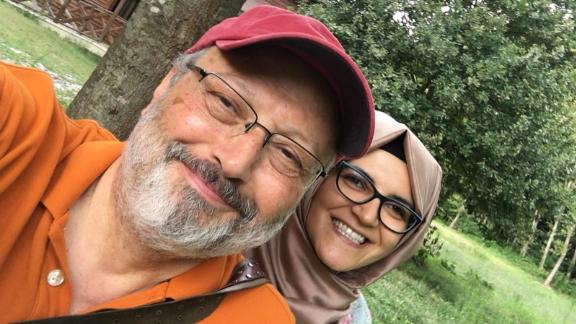 Hatice Cengiz
Khashoggi, who had been writing critical columns in The Washington Post, disappeared after entering Saudi Arabia's Istanbul consulate at lunchtime on October 2 to obtain paperwork that would have allowed him to marry Cengiz. She raised the alarm just before 5 p.m., while still waiting outside.
Since then, there have been several significant shifts in the Saudi version of events surrounding Khashoggi's death. Saudi Arabia initially maintained that he had left the consulate alive on October 2. It later claimed he died in a fistfight with Saudis in the consulate when a discussion turned violent. The attorney general of Saudi Arabia then said Thursday that the killing of Khashoggi was a premeditated murder.
Trump has condemned Khashoggi's killing, after initially saying that he believed the explanation offered by the Saudis. He has also insisted he has no plan to tear up an arms sales deal signed with the Saudis last year because it would cost the United States jobs.
Cengiz said that Secretary of State Mike Pompeo called her a couple of days after Trump's invitation, issued soon after her fiance's disappearance, and told her that the administration did not know anything so far.
"I think the call was about showing that they were serious after Trump's statements," she added.
CIA chief 'has heard Turkish recording'
Trump was briefed Thursday by CIA director Gina Haspel, who was dispatched Monday to Turkey apparently to assess information the Turks have collected on Khashoggi's killing.