(CNN Business) —
Wanna be driven around in a Mercedes-Benz S-class?
The German brand's parent company, Daimler (DDAIF), certainly hopes so. It's teaming up with Chinese automaker Geely to launch an upscale ride-hailing service in China next year.
Like other established car manufacturers, the companies are trying to adapt to the upheaval technology is bringing to the industry's traditional business models. It's no longer enough to make and sell vehicles, especially as car sales are on the wane in key markets around the world, including China.
Daimler and Geely will jointly develop the software for their venture, which will be based in the eastern city of Hangzhou where the Chinese automaker's headquarters are located. The fleet will start out with Mercedes-Benz S, E and V-class cars. Geely's high-end electric cars may be added later on.
The ride-hailing service is the first prominent business tie-up between the two companies since Geely Chairman Li Shufu took a 10% stake in Daimler earlier this year.
"The development of such services, in which both companies already have a presence, forms part of our transformation from a vehicle manufacturer into a global automotive technology group," Geely President An Conghui said in a statement Wednesday.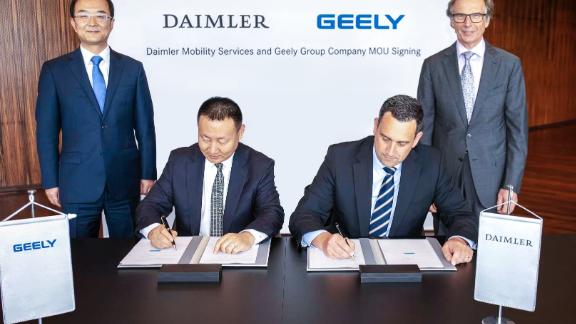 PHOTO: MediaPortal Daimler AG/Daimler AG
Geely has a ride-hailing service in China, CaoCao, which uses the company's electric cars and mostly operates in smaller cities across the country. Daimler has made various moves into ride-hailing, including developing a joint venture with BMW, partnering with Uber on self-driving cars and investing in fast-growing startups.
China's tough market
The Daimler-Geely service will be entering a highly competitive field in China.
Didi Chuxing, the country's leading ride-hailing company, already offers a premier service with high-end vehicles. Didi is famous for driving Uber out of China after a protracted battle that cost the companies billions of dollars.
Didi accounts for some 90% of the ride-hailing market in China, but its reputation has suffered this year. The company is battling to win back users' trust after a female passenger was raped and murdered by a Didi driver in August, according to police, the second such killing this year.
Chinese consumers also often order rides through other apps, like Baidu Maps or payments platform Alipay, according to a recent report from market consulting firm Bain & Company. Working with a popular app could give a new ride-hailing service an edge over established rivals.
There's a strong incentive to enter the Chinese market. Bain says it's worth $30 billion, more than the rest of the world combined, and predicts it could more than double in size by 2020.
There are definitely opportunities for new players in the market, according to Bain partner Raymond Tsang.
If Geely and Daimler are just offering luxury cars, people can already get that with Didi. To win over customers in China, their ride-hailing service will need to be "truly unique and high-end …They really have to differentiate themselves by service and reliability," Tsang said.
Some well positioned companies have struggled to make headway in the market.
Flush with venture capital money, online services company Meituan Dianping launched a ride-hailing service less than a year ago, hoping to take advantage of data from its delivery services and tap into its 290 million monthly active users.
But days before its IPO in September, Meituan executive Wang Huiwen said the company would be rethinking its approach to the business, which often requires burning a lot of cash to gain customers.
"Right now, our assessment of the ride-hailing business is we will not continue to expand," he said.