(CNN) —
As police carefully extracted an apparent bomb from Time Warner Center – home of CNN's New York offices – one image has spurred widespread curiosity.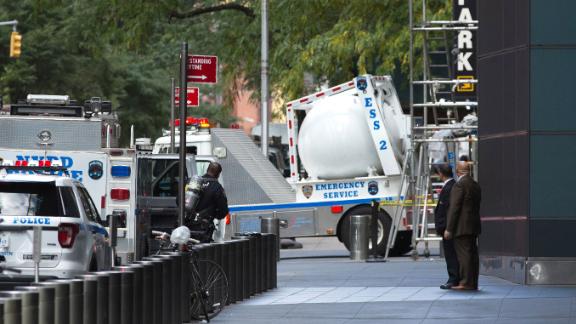 Kevin Hagen/AP
What was that big white sphere that hauled the device away?
CNN producer Anna-Maja Rappard shot footage of the giant bubble getting backed into Time Warner Center.
The capsule is called a "total containment vessel." Mark Torre, commanding officer of the NYPD bomb squad, said it's like the opposite of a diving vessel.
"Instead of keeping the pressure out and keeping you alive in five fathoms of water, it keeps the pressure in," Torre told The New York Times in 2016. If a bomb goes off inside, Torre said, small vents allow pressure to escape.
After a suspicious device is placed inside, the total containment vessel gets hauled away on the back of specially equipped flatbed truck.
Of course, the total containment vessel can't do everything. Real police officers still have to carefully enter the building.
Dr. Erin Olivio, a psychologist who was told to shelter in place near Time Warner Center, captured footage of a heavily suited NYPD officer going inside.
In all, NYPD has three total containment vessels, 16 bomb-sniffing dogs, several robots and a team of 35 bomb squad members that rushes into "literally explosive situations."
CNN's Carma Hassan and Justin Lear contributed to this report.